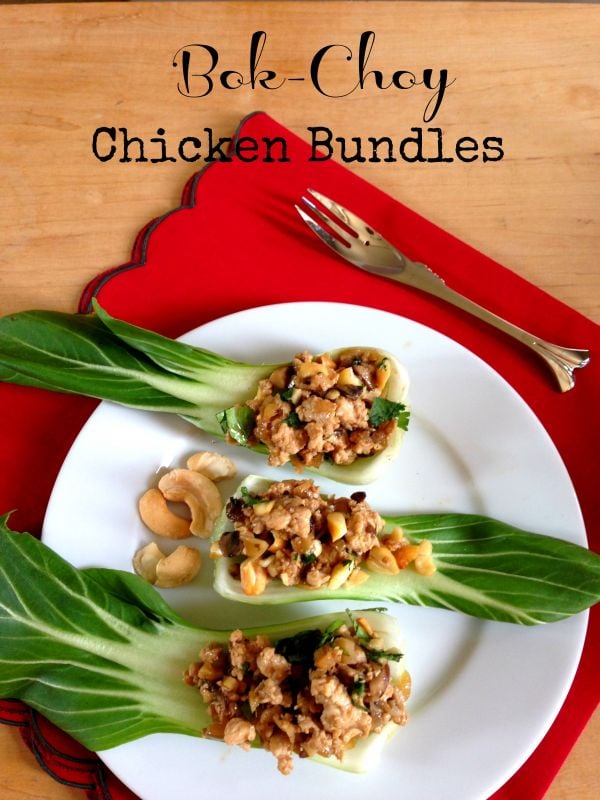 Once in a while I do look for new ways to serve up dinner for my family. Often enough you're stuck on the same 'ol recipes, which isn't a bad thing, but I like to explore new cuisines as well. I do order out lettuce cups because I love the cool-crunchy lettuce against the warm meat. I was working with bok-choy and wanted to use it in a very familiar way, and I needed a dish for lunch that day. Prepare the filling ahead of time if you wish, and you have a new twist to the old lettuce wrap.
Looking at the form of the bok choy and it's natural looking cup, I instantly thought of the typical iceberg lettuce cups. A quick chicken stir-fry and a couple of these bok-choy bundles and you have a complete meal for your family. In addition to the soy-sauced chicken spread, add a touch of fresh cilantro and chopped cashews for the topping. Celebrate the Chinese New Year and The Year of the Sheep by serving up this delicious meal the entire family can enjoy!  Bok Choy is available from Frieda's Produce or your local grocer who kindly sent along these delightful vegetables.

Bok Choy Chicken Bundles
Quick and easy to make for your family. no need for a wok, just a deep skillet and you are good to go. Tasty and enjoyable not too spicy or sweet a perfect match.
Author:
Mary Kate and Nate Kate
Recipe type:
Lunch or Dinner
Ingredients
2-3 bundles of bok choy
2 tablespoons soy sauce
1 tablespoon hoisin sauce
2 tablespoons rice vinegar
½ teaspoon salt
½ teaspoon sugar
3 tablespoons extra virgin olive oil
2 cloves garlic, minced
2 teaspoons fresh ginger, minced
⅓ cup minced green onion
1 cup chopped fresh white button mushrooms
½ cup water chestnuts
1 pound chicken breasts, minced
fresh cilantro,minced
¼ cup cashews, chopped
Instructions
Combine the soy sauce, hoisin, rice vinegar,salt and sugar in a bowl and mix thoroughly.
Heat 1 tablespoon of oil over high heat in a wok or skillet.
Stir-fry the garlic for for a second or two.
Add the onion,mushrooms, and water chestnuts and cook for 2-3 minutes. Remove onto a plate.
Heat the remaining oil and add the chicken and cook until brown.
Add the cooked vegetables back into the pan,lower the heat and stir in the sauce.
Stir for 2 minutes until mixture is warmed up.
Arrange cleaned boy choy leaves on platter and spoon on chicken. Top with cilantro and nuts.
Serve warm.
This recipe was adapted from Epicurious- Janaury 2012.
© 2015 – 2018, Mary Papoulias-Platis. All rights reserved.