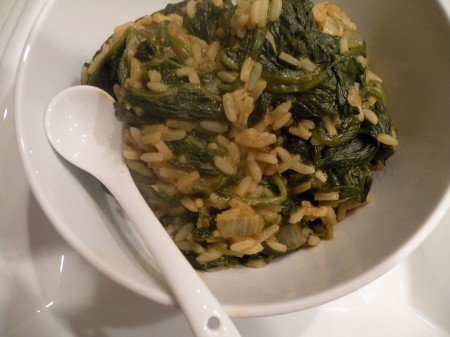 Many of you have requested the traditional Spinach and Rice dish often found in our Greek homes. We make this warm and nutritious meal in our home weekly, as a great meatless meal. For the rice, I use Uncle Bens converted long-grain rice. Serve this with a crisp green salad and you have a complete dinner. Don't forget the bread!
For a different version of this dish you may want see my Spinach and Quinoa recipe http://www.californiagreekgirl.com/?p=489.
3 bunches of fresh spinach,washed,ends trimmed about 2-3 inches
1 onion, chopped
1 cup long-grain rice
2 tablespoons olive oil
2 cups of water
1 chopped fresh tomato, or 1/2 can of tomato sauce
1 teaspoon salt
1/4 teaspoon pepper

In a deep heavy skillet or dutch oven. saute onions until soft, not browned

Add spinach.

Sprinkle rice on top of spinach.


Add water,tomato sauce,and salt and pepper.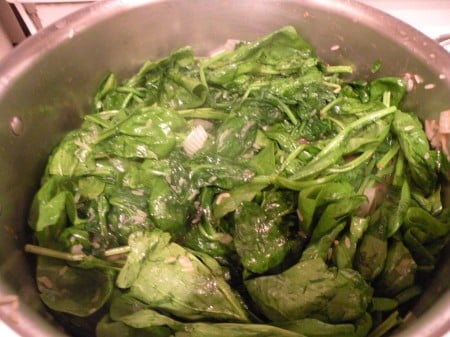 Cover and  reduce to a simmer, for about 20 minutes until rice is done.
Check often and stir until most of the juice is gone.
© 2010 – 2013, Mary Papoulias-Platis. All rights reserved.