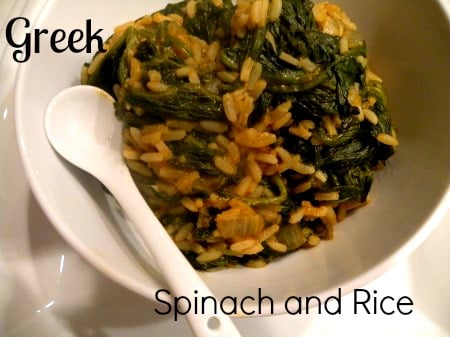 Many of you have requested the traditional Spinach and Rice dish often found in our Greek homes. We make this warm and nutritious meal in our home weekly, as a great meatless meal. For the rice, I use Uncle Bens converted long-grain rice. Serve this with a crisp green salad and you have a complete dinner. Don't forget the bread!
For a different version of this dish you may want see my Spinach and Quinoa recipe .

Greek Spinach and Rice-Spanokorizo
This is a weekly recipe in my home and I hope you add it to yours!
Author:
Mary Papoulias-Platis
Ingredients
3 bunches of fresh spinach, washed, ends trimmed about 2-3 inches
1 onion, chopped or 2 leeks, chopped (or both amounts of onions)
1 cup long-grain rice
2 -3 tablespoons olive oil
2 cups of water
1 chopped fresh tomato, or ½ of (8 oz.) can of tomato sauce
1 teaspoon salt
¼ teaspoon pepper
Instructions
In a deep skillet saute, the onions until soft, not browned on medium heat.
Add the fresh spinach.
Sprinkle the rice on top.
Add 2 cups of water, fresh tomato or canned tomato sauce.
Add salt and pepper.
Bring to a boil, reduce to low and simmer for 20 minutes until rice is ready. Keep your eye on the dish, you may need to add a little more water.
You may need to adjust the taste with more salt and pepper.
In a deep heavy skillet or dutch oven. saute onions until soft, not browned

Add the spinach.

Sprinkle rice on top of spinach.


Add water, tomato sauce,salt and pepper.


Cover and  reduce to a simmer, for about 20 minutes until rice is done.
Check often and stir until most of the juice is gone. You may need to add more water if needed.
© 2010 – 2019, Mary Papoulias-Platis. All rights reserved.