Thea Liza's Spanakopita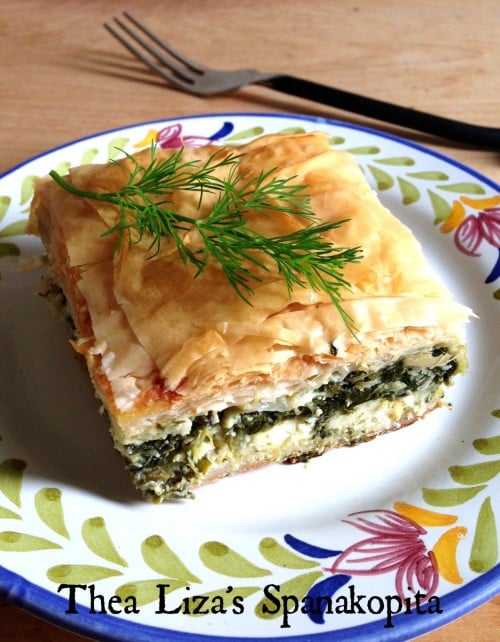 Author:
Mary Papoulias-Platis
Recipe type:
Main Dish/Side Dish
4-5 bunches of fresh spinach,washed, dried and chopped
1 onion, chopped
1 bunch of green onions, chopped
1 pound feta, crumbled
2-3 teaspoons of dried dill or ½ bunch fresh
4-5 large eggs, slightly beaten
½ cup extra virgin olive oil
salt and pepper
1 pound defrosted phyllo dough
½ cup melted butter
Preheat oven to 350 degrees.
In a deep pot saute onions and scallions in olive oil until tender. Add spinach and cook until slightly wilted around 2 minutes.Drain spinach in a colander if too much liquid remains.Cool.
Place spinach mixture in a large bowl and add the feta, dill, eggs, olive oil, salt and pepper.Mix gently but thoroughly.
Place ½ of the pound of phyllo in a 9x13 deep large casserole dish, buttering each layer.
Spread the spinach mixture on top.
Place the remaining phyllo sheets on top, buttering each layer.
Score the top layer only of phyllo sheets to desired pieces.
Bake in a 350 degree oven for 45 minutes until golden brown on top.
Let cool for 30 minutes before serving.