How - To Cook Gigante Beans wtih Kale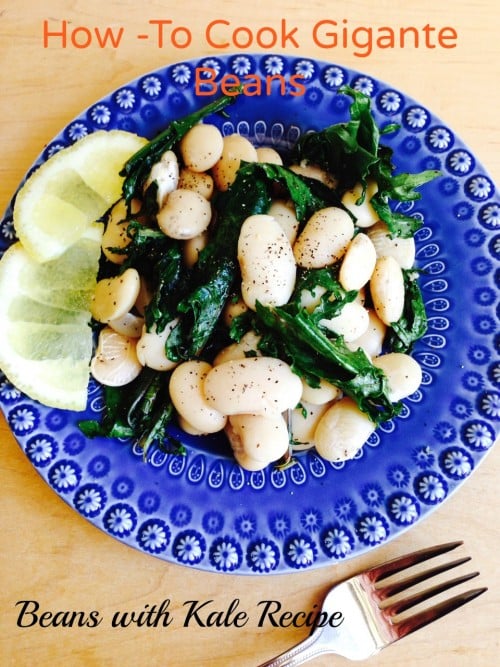 Author:
Mary Papoulias-Platis
Cuisine:
California greek
1 pound gigante beans
2-3 garlic cloves
2 sprigs each of parsley and oregano
1 bay leaf
2 pounds fresh kale, roughly chopped
½ teaspoon
¼ teaspoon pepper
4 tablespoons extra virgin olive oil
2 tablespoons of Bragg Liquid Aminos (or soy sauce)
2 tablespoons fresh lemon juice
1 tablespoon extra virgin olive oil
Soak beans in a large bowl filled with cold water, overnight. Drain.
Place beans in a heavy bottom pot and add enough cold water to cover plus 2 inches above beans.
Add garlic, herbs, and bay leaf.
Bring to as boil and reduce heat and simmer for 11/2 -2 hours until beans are tender.
Add chopped kale and simmer for 5 minutes. Drain.
Return to the pan and stir in salt, pepper, olive oil, liquid aminos (or soy sauce), and lemon juice. Season with more salt and pepper if needed.
Serve warm.
Before serving, sprinkle with a good quality extra virgin olive oil.
Recipe by
California Greek Girl
at http://www.californiagreekgirl.com/how-to-cook-gigante-beans-with-kale/