Buckwheat Crepes with Seville Orange Creme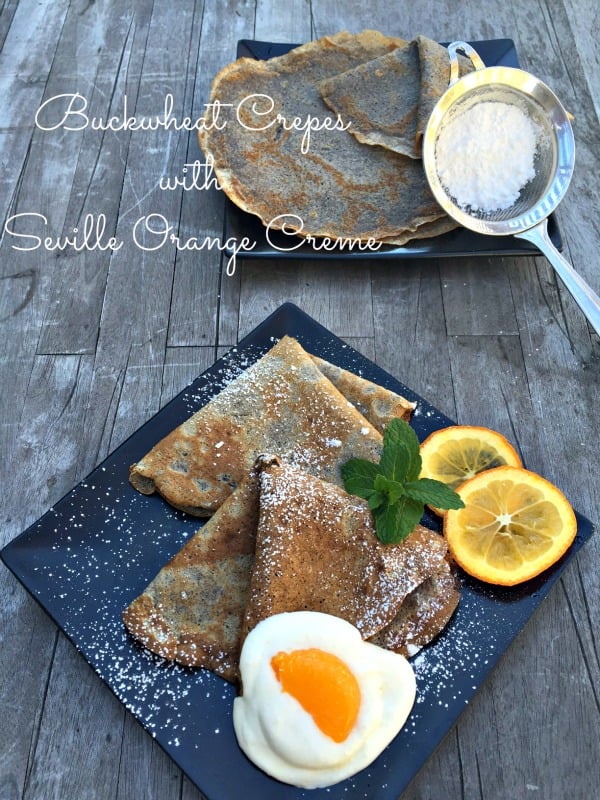 Author:
Mary Papoulias-Platis
1 cup buckwheat flour or regular flour
1 teaspoon sugar
¼ teaspoon salt
1½ cups whole milk
3 large eggs
2 tablespoons butter,melted
1 teaspoon oil
½ cup powdered sugar
In a medium bowl whisk the buckwheat flour, 1 teaspoon of sugar and salt together with a whisk. Set aside.
In a small bowl whisk milk and eggs together until smooth.
Add ½ the milk to the dry ingredients, and whisk until blended.
Add the melted butter and whisk together. Add the remaining milk and mix until smooth.
In a 12-inch non-stick skillet and add oil over low heat until warm and remove excess oil with a paper towel and discard.
Increase heat to medium, test the skillet by adding a teaspoon of batter. If batter becomes golden brown it's ready to cook the crepes. Adjust the heat as you go along if necessary.
Pour ¼ cup batter to pan and swirl the pan until batter is thinly covering the bottom of the pan. Cook for 20 seconds and flip gently. Cook for 25 seconds more. Remove and place on a to wire rack.
Stack crepes on top of one another and continue until all the batter is used.
Top with powdered sugar before serving.
Place creme inside crepes or place on top.
Crepes can be covered and refrigerated for 2-3 days. Reheat crepes in the oven before serving or serve at room temperature.
Recipe by
California Greek Girl
at http://www.californiagreekgirl.com/buckwheat-crepes-with-seville-orange-creme/