Custard with Orange in Phyllo Rolls "Bougatsa"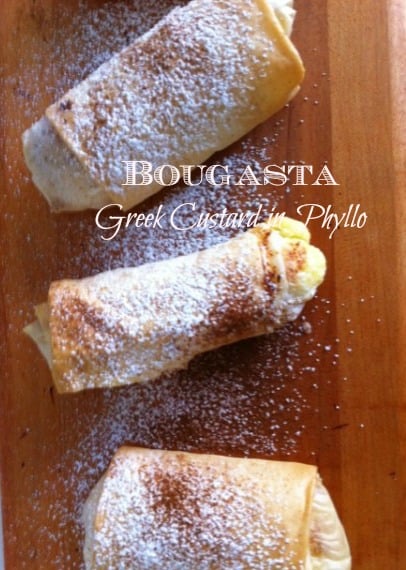 Author:
Mary Papoulias-Platis
3 cups milk
½ cup sugar
½ cup fine semolina
Zest of one orange
Juice of one orange
4 large eggs
½ stick butter, melted
1 tablespoon cornstarch with 1 teaspoon cold water
½ cup powdered sugar( might need more)
¼ cup cinnamon
½ cup butter, melted
½ pound phyllo dough (1/2 box), defrosted
In a medium saucepan add milk, sugar and orange zest and juice. Bring to a medium heat and cook until it begins to thicken.
Dissolve the cornstarch in cold water. Add the semolina, cornstarch, and water to the cream. Cook until it coats the back of your spoon about 3-4 minutes.
Remove from the heat, and add the eggs one at a time, stirring constantly. Place back on a low setting and cook the eggs for 3 minutes.
Remove from the heat and add the butter. Let cool slightly.
Pre-heat oven to 350 degrees.
Lay out one sheet of phyllo on wax or parchment paper. Brush with butter. Repeat with one more sheet. Cut in ½ lengthwise.
Place 2-3 tablespoons of mixture on the bottom of the sheet. Fold phyllo over cream and roll, folding sides inward as you roll.
Place seam side down on a buttered sheet pan, and brush with butter.
Bake in the oven for 25-30 minutes or until lightly brown.
Sprinkle with powdered sugar and cinnamon and serve warm.
Recipe by
California Greek Girl
at http://www.californiagreekgirl.com/custard-with-orange-in-phyllo-rolls-bogatsa/