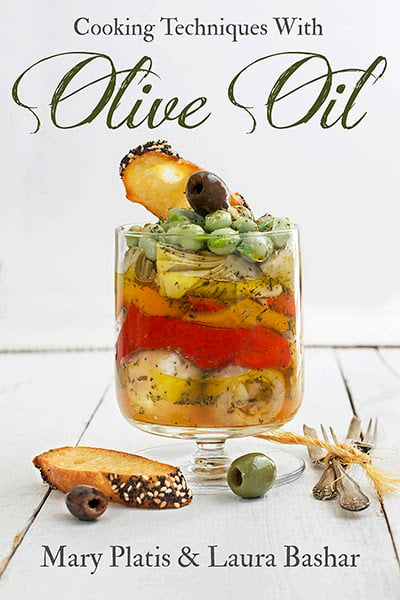 I am truly elated about my new eBook: Cooking Techniques with Olive Oil announcement. I have been working with my co-author Laura Bashar (aka Family Spice) for the past several months, this is why I have been away from you and not given you the posts you were looking forward to. I actually started thinking about writing a book many years ago and thought I would never get to this point. But it all started for me when my husband and I took a short trip to Greece and stopped on the glorious island of Kythera. While visiting the island in October, we experienced the beginning of the olive picking and oil pressing season. From that point on I couldn't stop dreaming of the authentic taste of this organic liquid gold and its elegant aroma.
This book was a true collaboration with Laura, my fellow food blogger. I must say we both worked rigorously over the text and photographs, and soon fatigue set in making our fingers numb as we cooked, photographed and edited over and over again. But those long and grueling nights paid off and our project was ultimately completed. This is quite an emotional post to write. Words cannot explain the excitement I have inside me, and I hope this book will demonstrate the commitment we had in writing the best book we could offer to you as our friends.
This book has beautifully photographed scenes of the Island of Kythera and Corinthos, birthplace of our parents. Unique to our book are Ethnic Greek and Persian recipes from both of our backgrounds interwoven throughout the book. You will also find 25 original recipes balanced with just the right amount of extra virgin olive oil to enhance your healthful delicious meals. Laura and I have included links to more recipes on our blog to further elevate your cooking aspirations and creativity. An essential section on buying tips for selecting your oil at the market, hoping to make your shopping trip effortless. And once you unpack that bottle at home, storing suggestions are listed for keeping your oil fresh and vital. Extra virgin olive oil is the only olive oil we suggest you purchase to guarantee superior quality oil.
Cooking Techniques With Olive Oil was born from a series of questions my students consistently would ask in class to have repeated during my lessons. They wanted to be able to take home a hands-on experience using techniques to further their own skills at home as a cook. You already know the olive oil story and the two have come together in the form of a student-friendly cookbook. As we created this book we kept the beginner, caterer, private chef and cook who loves dappling in the kitchen in mind. It will enable you to master the nine individual skills; poaching, braising, marinating, steaming, baking, infusing, whipping, blending, and roasting with olive oil. We even have a surprise "raw" drink for you to enjoy: our version of an olive oil shot! The healthful and heart-friendly Mediterranean Diet was emphasized, only for the simple reason that olive oil has thrived in this region for thousands of years.
Join my newsletter and hop aboard, as we continue and bring back new ideas we have discovered on our olive oil journey. We will be presenting cooking classes, olive oil tastings and traveling to California's olive ranches to unearth the many possibilities of this endless world of olive oil. Stay tuned and up to date with olive oil trends, facts and news by joining us on Facebook, Google+ and Twitter.  Currently you can find our new cookbook, Cooking Techniques with Olive Oil on Amazon and Barnes and Noble. We are also selling an enhanced PDF version over at Family Spice. A printed book will be in the works as soon as we can catch our breath!
I have missed you all during this time of sequester cooking, writing, and photographing, so that you will have a book you will be proud to keep in your kitchen library. The two of us are so happy to be back to our everyday duties (well some of them), that we wanted to bring to you a giveaway.
Giveaway for You!
This is an opportunity to win a copy of our eBook (in any format) AND a fabulous Bragg Organic Healthy Eating Collection that contains their top-selling items:
Greek Organic Extra-Virgin Olive Oil
Apple Cider Vinegar
Two bottles of  Liquid Amino Acids
Organic Hawaiian Dressing
Organic Vinaigrette Dressing
Nutritional Yeast
Organic Honey Drink
Organic Concord Grape Drink
Bragg Organic Sprinkle
As a bonus: Three of Patricia Bragg's Healthstyle Books

These are the several ways you can enter to win this prize:
Leave a comment below telling me your favorite tip with olive oil.
Tweet about the giveaway and leave a comment below that you did: Learn different ways to cook with olive oil PLUS win an olive oil eBook and gift basket from @calgreekgirl @familyspice http://www.californiagreekgirl.com/?p=14389
Pin the eBook cover picture and include the following tag: Learn different ways to cook with olive oil PLUS win and olive oil eBook and gift basket from @CalGreekGirl @familyspice
Head over to Family Spice and enter to win over there!
Only residents in the U.S. can enter. Contest ends June 4, 2013.
Disclosure: The Bragg Company was kind to donate the products for this giveaway. I was not compensated for this post. This post does contain affiliate links.
© 2013 – 2017, Mary Papoulias-Platis. All rights reserved.