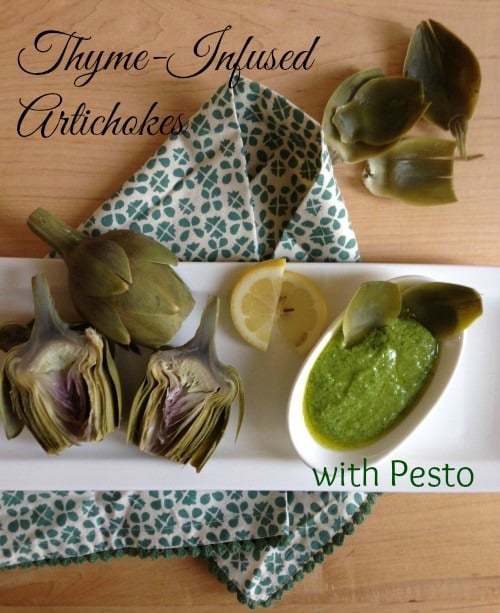 These thyme infused artichokes with pesto pair up beautifully with this delicious sauce as a last minute appetizer . I made them the other day for a drop by guest, and they were so flavorful and refreshing. They can easily pass as a side or main dish as well. I keep artichokes on hand because they do last in the refrigerator for a week or so. And with this easy method of cooking …
they're ready in no time. Use only fresh artichokes for this recipe. Frozen or canned artichokes can be dressed with pesto and can work as a nice salad or placed on a slice of baguette as an appetizer.
I simply trim the artichoke leaves with a pair of scissors and place them on to boil in water with a lemon and an herb of your choice. When they are ready I cut then in half and further clean the choke out and trim the stem. So much easier!!
Step 1 – Trim the leaves on the large globe artichokes, about the first three rows.
Step 2 – Cut off about 1/3 from the top of the artichoke.
Step 3 – Boil water and place the artichokes in the water with the juice of a 1/2 lemon. Add herbs.
Step-4 Insert a knife in the center of the stem to check for a soft center.
I used smaller miniature artichokes for the main picture to show you that a step can be eliminated when using the baby ones. No clipping of the leaves are necessary. But continue to cut the tops off for easier eating. (sorry for the bad picture!)
The pesto can be made from basil, arugula, herbs or any greens. Just follow my post
Pesto Three Ways
 and just substitute your choice of greens or herbs.  Make extra for deviled eggs, grilled  cheese sandwiches, or pasta, it's endless.
This is fresh lemon thyme from my garden.
© 2013 – 2018, Mary Papoulias-Platis. All rights reserved.