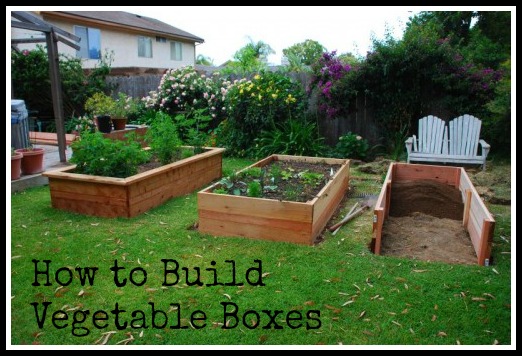 A garden in progress…building vegetable boxes for a Greek Garden.
Once I decided to write this blog, I asked my husband to draw up plans for garden boxes in our backyard. Our kids are grown now, and the lawn was not being used by our children any longer, so we decided we would change it into the Greek garden I have wished for, for so many years.
As I planned this garden I knew the type of herbs and vegetables I wanted to buy and grow. The layout of the boxes was up to my husband to design. A must in my planning was to include Greek vegetables and herbs in the boxes, since this will be something I could incorporate in the writing of this blog. And maybe along the way I could also encourage many of you to do the same.
Here, the boxes were designed to fit our property, whom my husband made with redwood lumber. Natural untreated lumber is  necessary, to prevent toxins seeping into your plants. As you can see in the first picture, this shows the progress of how the boxes were built. I asked for a sitting shelf so that I may weed without leaning over. This is optional of course.
A few tips to remember:
These boxes were built with 2-by members (1 1/2″)

They were placed right over the grass, no drainage to consider.

There was no concrete used.

Just a post placed in the inside of the corners for support.

Please use redwood, it doesn't  rot.
On the left side, in the first box completed, I planted all my tomatoes. The Greek tomatoes "Thessaloniki" are planted up front. They look quite healthy!  The middle box completed about two weeks ago, has Japanese eggplant, bell peppers, and green beans. And lastly, the third box has more eggplant (fat ones this time), cucumbers, and squash.
Herbs are placed all around the boxes to give it more interest. Growing herbs is what I enjoyed most of all! Included on my list is; Greek oregano, Greek Basil, Dill, Thyme, Fennel, Tarragon, Marjoram, Parsley, and Cilantro (for my Mexican food cravings!) I'll go into more detail about my plant selection in my next garden blog.
One more box to go….perhaps strawberries?
Dig in!
"A society grows great when old men plant trees whose shade they know they shall never sit in." – Greek Proverb
© 2010 – 2015, Mary Papoulias-Platis. All rights reserved.