Quinoa with Chickpeas with Pesto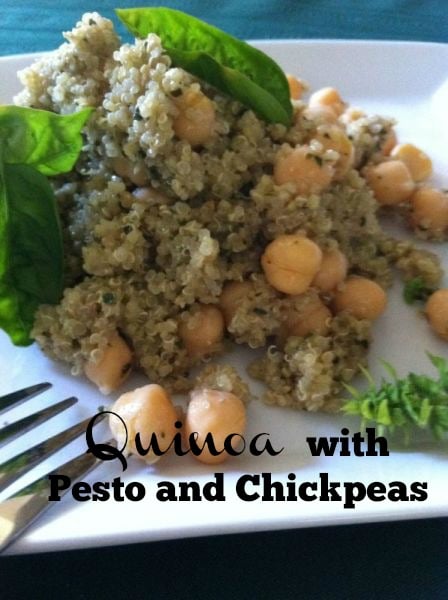 Author:
Inspired by Maria Speck- Ancient grains
2 cups of vegetable, chicken or water broth
1 cup of rinsed quinoa
½ can or more of canned chickpeas, rinsed
½ cup pesto
4 tablespoons freshly chopped basil
1 clove garlic, minced
½ teaspoon salt
¼ teaspoon pepper
Place the liquid (broth or water) into a medium saucepan and bring to a boil.
Add the quinoa, reduce the heat to low and simmer for 12-15 minutes until all the liquid is absorbed.
Remove from the heat and let set for 15 minutes. Fluff with a fork.
In a bowl add the quinoa, drained chickpeas, pest, garlic, salt and pepper and chopped basil.
Taste for added seasonings.
Toss gently and serve.
This recipe can be doubled for a large crowd.1 cup of quinoa makes 2 cups of cooked quinoa.Can be made ahead and stored in the refrigerator (plain) until ready to use up to a week.In Maria's book, the Ancient Grains; she uses couscous which can be substituted. (1 cup whole wheat couscous and 1½ cups liquid)
Recipe by
California Greek Girl
at https://www.californiagreekgirl.com/farmers-market-recipe-quinoa-and-chickpeas-with-pesto/