Apple Strudel with Raisins or Cranberries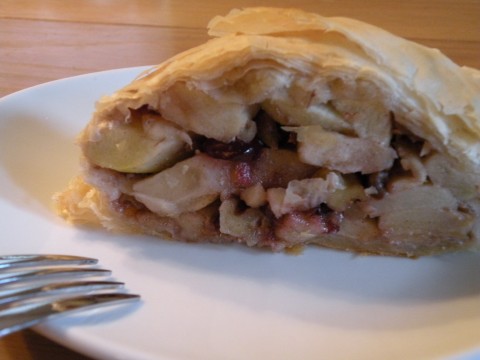 Author:
Mary Papoulias-Platis
4 large green and red apples
½ cup sugar
½ cup raisins or dried cranberries ( I used cranberries in the picture)
½ cup walnuts, chopped
½ teaspoon cinnamon
¼ teaspoon nutmeg
¼ teaspoon salt
½ 16 0z. package phyllo dough, thawed
½ cup butter, melted
Butter large cookie sheet or sheet pan.
Peel and thinly slice the apples. In a large bowl, toss apples with sugar, raisins or cranberries, walnuts, cinnamon, nutmeg, and salt.
Lay out two sheets of wax or parchment paper side by side. Place one sheet of phyllo on paper and butter.
Continue layering phyllo brushing each sheet with butter.
Pre-heat oven to 375 degrees.
Starting at the long end of the phyllo, place apple mixture to about ½ inch from edges and end, covering only 2-3 inches of one end.
Roll phyllo like an envelope, folding in sides, as you go along.
Place seam side down on cookie sheet. Score (cut phyllo just through the first layers) into 8 pieces. Butter roll.
Bake for 45 minutes or until golden brown. Cool on the cookie sheet for 30 minutes.
To serve: sprinkle with powdered sugar, or serve with ice cream.
Serve warm or cold.
Recipe by
California Greek Girl
at https://www.californiagreekgirl.com/apple-strudel/