Homemade Greek Yogurt with Fig Chips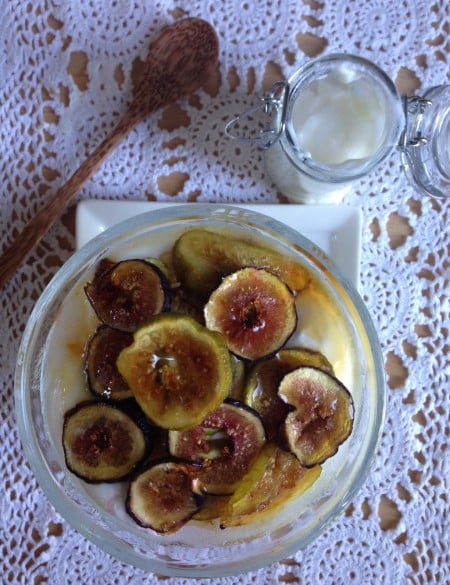 Author:
Mary Papoulias-Platis
4 medium figs - I used ½ green and ½ black
1 quart (4 cups) of whole, low fat or fat -free milk
2 tablespoons of plain yogurt with active and live cultures
⅔ cup fat-free powdered milk (use only if not using whole milk)
Honey for topping (optional)
In a heavy-bottom saucepan, bring the milk and powdered milk to a slow boil, constantly whisking until it reaches 180-190 for about 10 minutes.
Remove from the heat and allow to cool to 115-120 degrees.
Place 2 tablespoons of yogurt in a small bowl and add 2 tablespoons of milk and stir until well blended.
Add the starter to the milk and stir until well incorporated.
Reserve one cup for your next batch. Refrigerate.
Place in a large canning jar,container, or insulated bottle.
Cover tightly and leave out in a warm place for 4-6 hours or until yogurt has thickened.
Once thickened you can place it in individual cups and refrigerate.
For thicker Greek yogurt: Strain the yogurt using cheesecloth over a bowl to catch excess water.
Preheat oven to 425 degrees.
Using a chef's knife, thinly slice the figs about ⅛ -1/4 inch thick.
Place the figs on a lined sheet tray.
Bake until figs are dry, about 5-10 minutes. Let figs cool on tray.
Add the fig chips on top and drizzle with honey.
Makes 24 cups.
Recipe by
California Greek Girl
at https://www.californiagreekgirl.com/homemade-greek-yogurt-with-fig-chips-fig-fest-bloghop/