Greek Herbal Meatballs – Keftedakia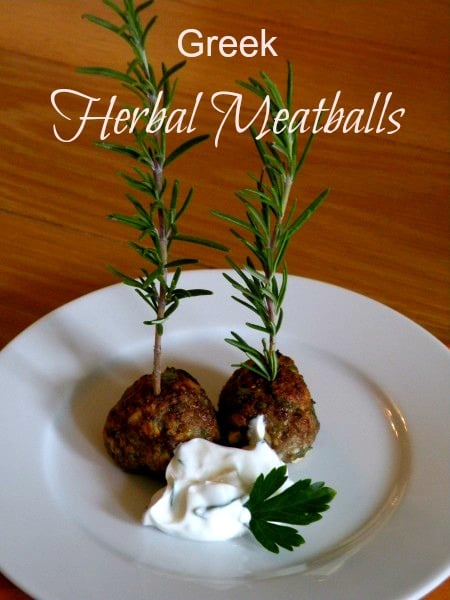 Author:
Mary Papoulias-Platis
Recipe type:
Appetizers, Main Dish
1 pound ground beef
½ cup grated onion, or finely chopped
1 tablespoon minced garlic
¼ teaspoon pepper
½ teaspoon dried oregano
½ cup fresh parsley, finely chopped
¼ cup fresh mint, finely chopped
½ cup Italian bread crumbs, or plain bread
½ cup white wine
1 egg, slightly beaten
¼ cup Greek Mizithra or Parmesan cheese
(When I use cheese, I do not salt the meatballs. Use salt if omitting cheese)
Place bread crumbs in a small bowl and add wine.(chicken broth or milk)
Mix meat, onions, garlic, pepper, spices, cheese, and egg in a large bowl.
Add breadcrumbs.
Knead until well blended.
Note: Roll and freeze at this point.
Pre-heat oven to 425 degrees.
Place foil in a baking sheet with or without a rack. Spray the pan and rack with cooking spray.
Roll the meatballs into 1 -inch balls, and space them ½ inch apart for even baking.
Bake in the middle of the oven for 30 minutes.
Let cool.
Serve these meatballs on a platter, or place two skewered meatballs in a plastic cup or Chinese take-out box, add Greek Tzatziki sauce.
For the Yogurt sauce see: http://bit.ly/fqe1hh
Yields 2-3 dozen meatballs.
Recipe by
California Greek Girl
at https://www.californiagreekgirl.com/greek-herbal-meatballs-keftedakia/