Marinated Greek Lemon Chicken Ka-Bobs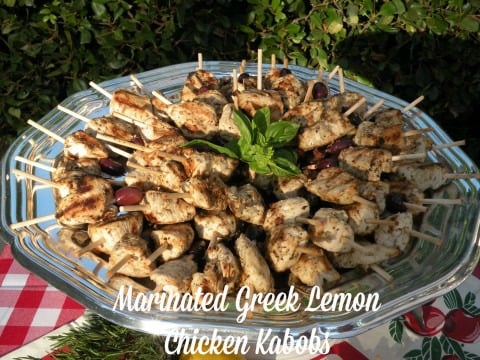 Author:
Mary Papoulias-Platis
4 skinless large chicken breasts
1 cup olive oil
½ cup freshly squeezed lemon juice
1 tablespoon dried oregano
1 teaspoon salt
¼ teaspoon pepper
1 lemon
Small wooden skewers
Your choice of: small tomatoes, olives, cucumbers chunks, feta squares
Lemons
olives, small tomatoes, cucumber
Cut the chicken breast in half lengthwise, then in thirds, so that you have six pieces per breast.
In a large bowl add the lemon juice and spices,salt, and pepper. Whisk in the olive oil.
Add the chicken pieces to the bowl.
Cover and refrigerate for at least a couple of hours or overnight.
BBQ the chicken pieces only.
Let cool then skewer. I prefer to skewer afterwards to keep the skewers from burning.
Add the olives or condiment of your choice.
Squeeze the fresh lemon over the warm chicken and serve.
Note: This recipe can be made the day before, and served at room temperature.
Recipe by
California Greek Girl
at https://www.californiagreekgirl.com/marinated-greek-lemon-chicken-ka-bobs/