Greek Stuffed Cabbage Rolls - "Lahano Dolmathes"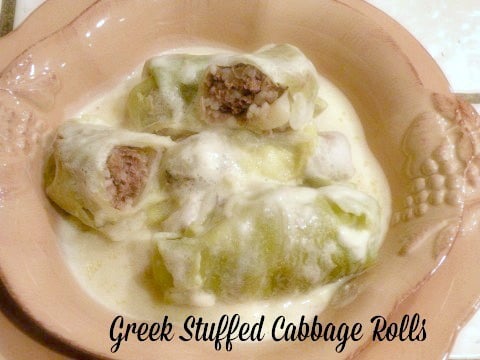 Author:
Mary Papoulias-Platis
1-2 heads of green cabbage
1 pound of beef or lamb
1 onion, finely chopped
½ cup rice
1 egg
½ cup parsley,chopped
½ cup tomato sauce
½ teaspoon salt
3 eggs
juice of two lemons
1 cup hot broth from cabbage water
pepper to taste
Place a large pot on to boil. Cut the core out from the center of the cabbage. Carefully drop the whole cabbage into the water.
Boil for 10 minutes. Remove from the water and allow to cool for a few minutes. Reserve the cabbage water for later.
Peel the leaves carefully, so they do not tear.
Mix the ingredients for the filling. Place a tablespoon of filling on each leaf near the end of the stem.
Roll tightly like a cigar. See Cooking Techniques for how to instruction.
Pack rolls tightly in the bottom of a dutch oven pan.
Place a small plate on top.
Pour 3 cups of the reserved cabbage water to the pot. Cover and bring to a boil.
Reduce heat and cook for 45 minutes.
Beat eggs in blender or mixer, or food processor until thick and light in color.
Add lemon juice slowly, then slowly add broth.
Take pot off the heat, then add the lemon sauce to the pot.
Stir gently.
Recipe by
California Greek Girl
at https://www.californiagreekgirl.com/greek-stuffed-cabbage-rolls-lahano-dolmathes/