Tabbouleh - Bulgur Salad with Greens, Mushrooms and Mandarin Oranges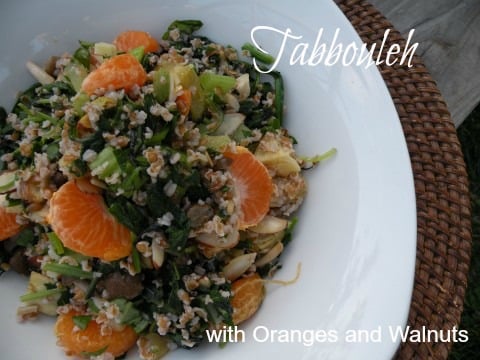 Author:
Mary Papoulias-Platis
1 cup bulgur
1½ cups boiling water
½ cup fresh orange juice or mandarin juice
Place bulgur in a large bowl and add boiling water, 1 tablespoon olive oil, orange juice and 1 teaspoon salt.
Cover and let sit for one hour.
2 sweet potatoes, peeled and cut in 1 inch cubes
Place on a sheet pan and toss with 1 tablespoon of olive oil.
Add salt and pepper and roast in the oven 45 minutes or until soft at 350 degrees.
Let cool.
1 cup mushrooms,sliced or chopped
1 leek, chopped
2 gloves garlic, minced
4 cups greens (combination of spinach,kale,chard,mustard greens, your choice)
½ cup fresh parsley, chopped
1/ cup fresh basil, chopped
2 stalks celery, chopped
Juice of two oranges
2-3 tablespoons olive oil
¼ cup toasted sliced almonds
3 mandarin oranges, peeled and sectioned (juice one for cooking bulgur )
In a frying pan place 1 tablespoon of olive oil and saute mushrooms and garlic together until soft.
Remove and place in a small bowl to cool.
Add 1 tablespoon of olive oil to the same pan and saute leeks, greens,salt, and pepper until slightly wilted.
Greens will reduce to 1-1/1 cups.
Add to mushrooms and let cool.
When greens have cooled add to bulgur.
Add potatoes, almonds, and oranges, orange juice, and 2-3 tablespoons of olive oil.
Combine gently. Taste for extra seasonings.
Recipe by
California Greek Girl
at https://www.californiagreekgirl.com/tabbouleh-bulgur-salad-with-greens-mushrooms-and-mandarin-oranges/