Greek Salad "Horiatiki"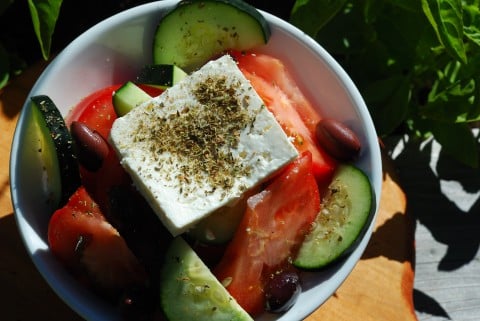 Author:
Mary Papoulias-Platis
3 medium tomatoes, cut into wedges
1 large green pepper, sliced
1 cucumber, sliced
1 small red onion- thinly sliced
1 cup Kalamata olives, pitted
½ pound feta. sliced or crumbled
salt and pepper
⅓ cup extra virgin olive oil
2 tablespoons red wine vinegar
2 teaspoons dried oregano
Place the sliced tomatoes in a serving bowl.
Add the peppers,cucumber,onion, and olives.
Sprinkle with salt and pepper
Add olive oil and vinegar and gently mix.
Crumble feta on top. Or add a slice of feta on top.
Sprinkle with oregano and serve.
Serve with fresh bread.