Coconut Walnut Pumpkin Bread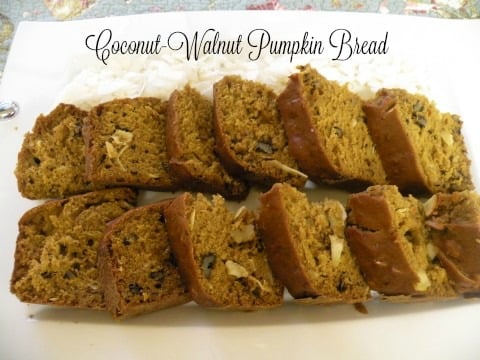 Author:
Mary Papoulias-Platis
3½ cups organic flour
2 cups organic brown sugar
½ cup sugar - optional
2 teaspoons baking soda
1½ teaspoon kosher salt
1 teaspoon nutmeg
1½ teaspoon cinnamon
2 cups pumpkin puree
1 cup extra virgin olive oil (or vegetable oil)
⅔ cup whole organic milk
4 large organic eggs
1¼ cup sweetened flaked coconut
1 cup toasted walnuts, chopped
Preheat oven to 350 degrees.
Butter and dust with flour two loaf pans.
Sift in a large bowl the flour, brown sugar, sugar, soda, salt, nutmeg, and cinnamon.
In a separate bowl whisk together pumpkin puree, oil, milk, and eggs.
Stir pumpkin mixture into dry ingredients, mixing only until combined.
Fold in coconut and walnuts.
Divide batter between the two prepared pans. Bake at 350 degrees for 45-55 minutes or until the top of the bread springs back when pressed gently and a tester inserted in the center comes out clean.
Allow bread to cool on a wire rack for 10 minutes before turning out of pans.
In this photo you see chunks of coconut because I switched to an organic brand that had larger flakes.To use this product in the bread again, I would place it in the food processor and blend it until it is finely chopped.
Recipe by
California Greek Girl
at https://www.californiagreekgirl.com/coconut-walnut-pumpkin-bread/