Freshly- Made Refried Beans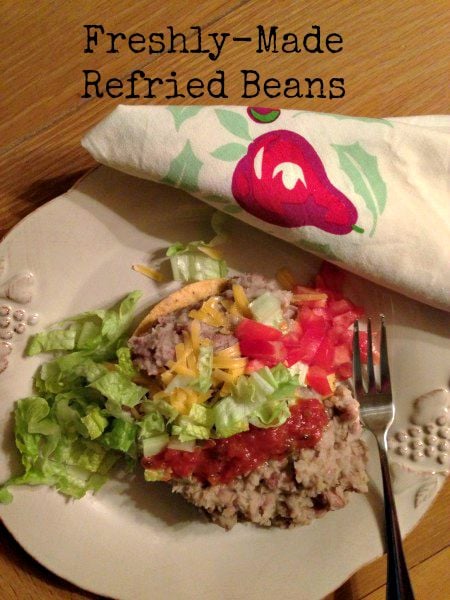 Author:
Moosewood Cookbook
2 cups dry pinto beans, soaked
2-3 tablespoons olive oil
2 cups minced onion
5-6 medium garlic cloves, minced
2 tsp. cumin
1 ½ tsp. salt
¼ tsp.black pepper
1 small green pepper, minced or 1 can green chilis
Cover the beans in water and soak overnight in a large bowl.
The next day drain the beans.
Add the beans and fresh water to cover in a large pot.
Bring to a boil and simmer for 20-30 until very soft.
Heat olive oil in a skillet and add onion, garlic, cumin and salt until onions are soft.
Add the bell pepper or chilis and sauté another 5 minutes. Add pepper to taste.
Turn heat to low add beans and mix well.
Mash with a fork or masher and cook for a few minutes.
Taste for additional cumin, salt, or pepper.
Serve right away, or store in the refrigerator.
If you soak or quick pre-cook the beans, always begin with a fresh pot of water. You may want to reserve a little of the cooked water to add back to the pot while mashing them for extra smoothness.

Beans freeze well.
Recipe by
California Greek Girl
at https://www.californiagreekgirl.com/freshly-made-refried-beans/