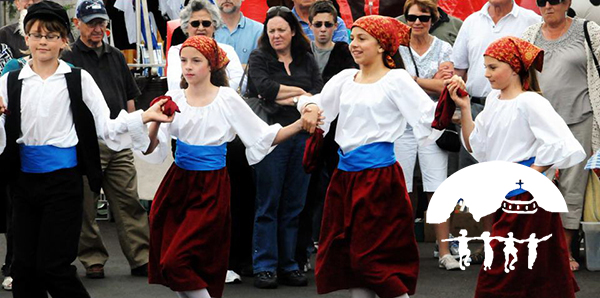 It's that time again, the beginning of the season for Greek Festivals in California. Most church parishes sponsor a Greek festival once or twice during the year. The festival called (Paniyiri) is similar to those typically held by churches, cities, and towns in Greece to celebrate a name day. The general public is invited to eat wonderful food, dance, hear music, and browse the Greek crafts and art work. Every effort is made to be authentic, such as roasting lambs on a spit, deep fried loukoumathes, and brewing fresh Greek coffee while offering many Greek pastries. The Paniyiri presents Greek culture to the broader community, and it gives Greek Americans an opportunity to teach others about their culture and celebrate their heritage.
St. George's Greek Orthodox Church in Palm Desert will be presenting their festival for the weekend of February 17th,18th, and 19th.
Here is a sample of the courtyard menu. What caught my eye was the Lamb chops and Greek Fries! A sure hit for me. Could I throw a little Tzatziki on that?
Many more items are featured on the menu here including:  Appetizers, Coffee Cafe, and A la cart items.
For more information about St. George Greek Orthodox church visit  their website.
COURT YARD
Gyros ~ Savory meat on warm Pita bread with tomato, onions and topped with
Tzatziki Sauce, a subtle blend of yogurt, garlic and cucumber – $7.00 side Tzatziki – $1.00
Loukaniko ~ Seasoned Greek sausage grilled and served in warm Pita
bread with feta cheese and black olives – $6.00
Souvlaki Plate~ Greek seasoned & skewered Pork or Chicken served in warm
Pita bread with feta cheese and black olives – $6.00
Lamb Chops ~ Four Lamb Chops & Greek Fries – $14.00
Individual order of Greek Seasoned Fries ~ $3.00
Greek Salad ~ Lettuce, tomatoes, peperoncini, dressing, Feta & Olives – $7.00
  Don't miss a spectacular weekend of good food and Greek music, and on the way out don't forget to pick up a bowl of the fried donuts that we all crave…loukoumathes for the ride home.
© 2012 – 2015, Mary Papoulias-Platis. All rights reserved.