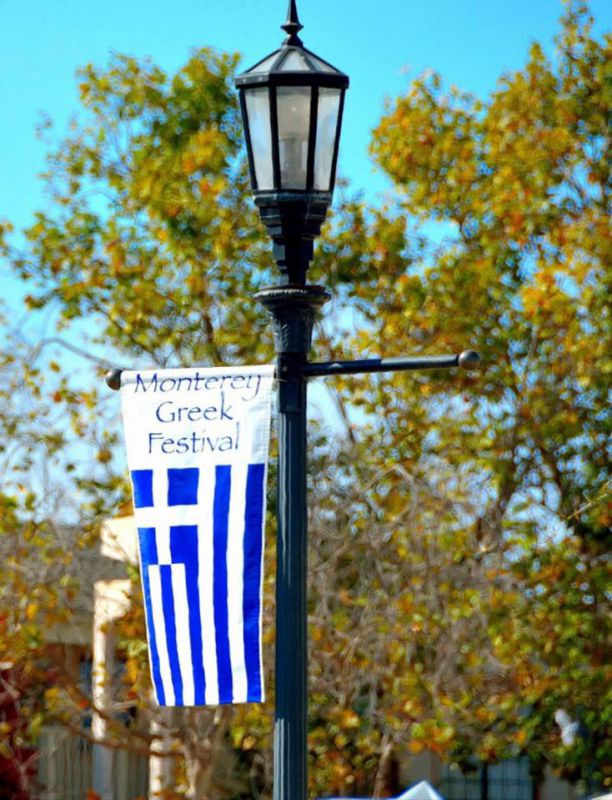 What a wonderful month ahead as we celebrate 12 Greek Festivals in the state of California.  Take a look from the northern region all the way down to the southern portion of the state, we have several dates and events for you to select from. Place the entire day or evening aside in September and take in all the aromas, live music, and the hospitality of the Greek community. Go Greek for the day, it's an experience for the entire family.
Here are my top 6 tips before arriving at a Greek Festival.
Don's eat before attending the festival – There will be plenty of food , drinks, and desserts for you and your guests to enjoy!
Wear comfortable shoes – Greek dancing will be happening all day and into the evening, so kick up your heels and learn to dance!
Come with an open mind – Relax and enjoy the "Kefi"and experience the entire Greek culture.
Beware of the YiaYia's – If they see you coming, they will kiss and hug you and become your new best friend.
Bring your wallet – Trust me on this one, you will want to indulge in all the traditional foods, desserts, booths and crafts, they're irresistible!
 Step out of your comfort zone, and experience The Big Fat Wedding LIVE at any of these locations.
September 2 – 4th  St John the Baptist Greek Orthodox Church, 9th and Lincoln (Seccombe Hall at All Saints), 93923 Carmel
September 2-4th  Assumption of the Blessed Virgin Mary,  5761 E. Colorado, Long Beach, Ca.  Festival
September 2-4th    Greek Orthodox Church of the Holy Cross , 900 Alameda, Belmont Festival News
September 8-10th Santa Cruz Greek Festival,  223 Church St, Santa Cruz, CA 95060 Santa Cruz, Festival News
September  9-10th  St. Constantine and Helen Greek Orthodox Church, 3459 Manchester Ave., Cardiff By The Sea  Festival News
September  15-17th St. Demetrios Greek Orthodox Church  1955 Kirker Oass Road, Concord Festival News
September 22-24th Saint Anthony Greek Orthodox Church, in Pasadena, Santa Anita Park, 285 Huntington Dr. Arcadia  Festival News
September 16th-17th  Saint Basil Greek Orthodox Church in San Juan Capistrano, 27129 Calle Arroyo, San Juan Capistrano Festival News
September 16-17th  Greek Orthodox Church of Annunciation of Modesto, 313 Tokay  Modesto,Ca. Festival News

September 22-24th  Annunciation Cathedral in San Francisco, 245 Valencia St., San Francisco  Festival News
September 22-24th  Saint Katherine Greek Orthodox Church, 9165 Peeks Elk Grove Festival News
See you at the Cardiff Greek Festival this Year!
I'll be setting up a Greek Culinary Tent, where I will be teaching and offering free cooking classes, kid's competitions and events for all of you to enjoy!
A special thank-you to all my sponsors for the Culinary Theater. Bragg Live Foods, Melissa's Produce, Fillo Factory, Athenee Importers and Continental E and J Foods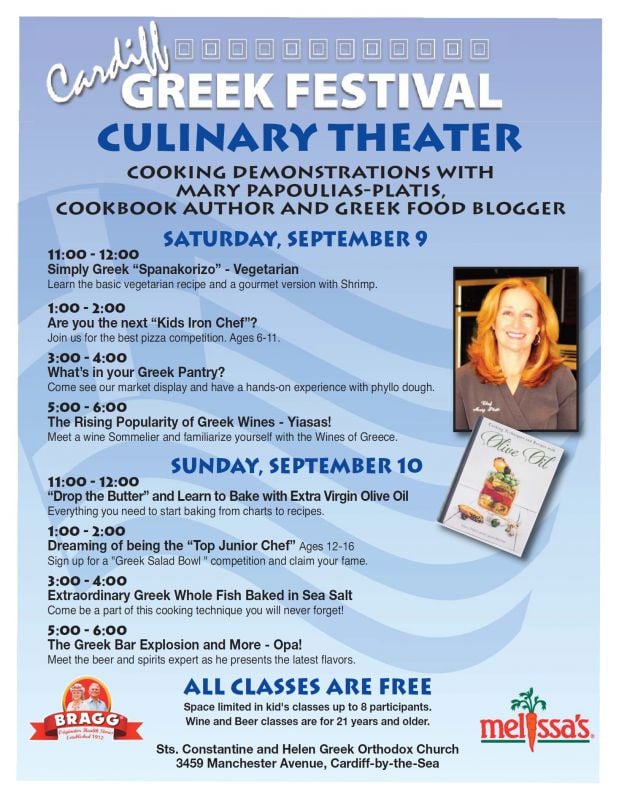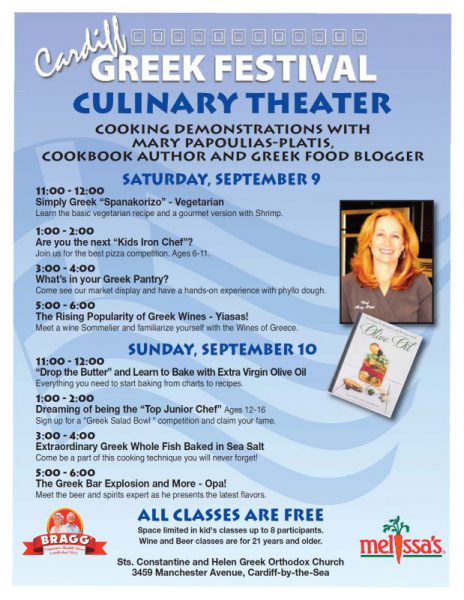 See you there,
Mary
© 2017, Mary Papoulias-Platis. All rights reserved.