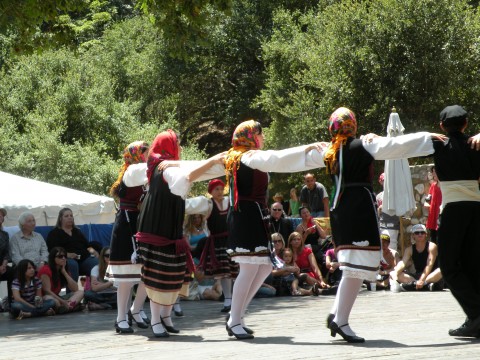 July's sunshine sends us outdoors for fun family days, or perhaps a day at the beach, a summer picnic, and why not a traditional Greek Festival in California?  This month we have festivals at two Greek churches that run along our beautiful California Coast. One is located in sunny Santa Barbara, so as you travel on down the coastline, stop by this festival and take a moment and grab a bite to eat at the many Greek food booths offering traditional  delicacies.  During a visit or stay in Los Angeles we have the Redondo Beach coastal Greek church preparing for a weekend of entertainment along with food, pastries and Greek coffee.  Bring your friends and family for an island experience, enjoy live music with Greek dance lessons to get your"kefi" going!
July Festivals
South Bay Festival in Redondo Beach  
July 13, 14, 15
Fri. 5-10, Sat. 12-10, Sunday 12-9 p.m.
722 Knob HIll, Redondo Beach, Ca 90277
1-310-540-2434
www.sbgreekfestival.com
St. Barbara  Greek Festival
July 28-29
Sat-Sunday 11:00-7:00
Oak Park, 300 West Alamar
Free   www.saintbarbara.net
1-805-683-4492
© 2012 – 2015, Mary Papoulias-Platis. All rights reserved.