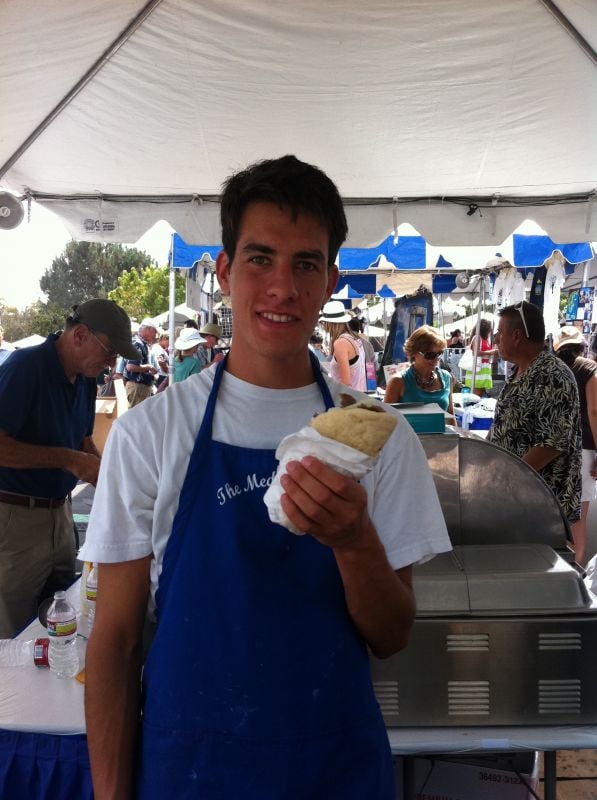 Looking for delicious home-made Greek Food Festival in California while traveling or just visiting a new city? Look no further because this is the busiest month for festivals in the state! September brings Californians perfect weather for outdoor activities, so print this schedule and hop in your car and head over to one of the many festivals and enjoy shopping, eating, or just a lazy afternoon in the cafe, sipping Greek coffee with a scrumptious piece of baklava!
September Festivals in 2012
Saint John the Baptist Greek Orthodox Church in Salinas
September 1-3
http://stjohn-monterey.org/

Saint Constantine and Helen Greek Orthodox Church Festival in Lancaster
September 1-2
http://www.avgreekfestival.com/
Assumption of the Blessed Virgin Mary in Long Beach
September 1-3
http://www.assumptionlb.org/
Saint Sophia Greek Festival in Los Angeles
September 7-9
http://www.lagreekfest.com/
Saint Basil Greek Orthodox Church  in Stockton
September 7,8,9
http://www.gosaintbasil.org/
Saint Constantine and Helen Greek Orthodox Festival in Cardiff, San Diego
September 8-9
http://www.cardiffgreekfest.com/cf/CGF_HOME.html
Saint George Greek Food Festival in Bakersfield
September 7-8
http://www.stgeorgebakersfield.org.php53-27.dfw1-2.websitetestlink.com/
The Prophet Elias Greek Orthodox Church in Santa Cruz
September 14,15,16
http://propheteliassantacruz.org/
Saint Demetrios Greek orthodox Church in Concord
September 14,15,16
http://www.stdemetrios.ca.goarch.org/
Saint Anthony's  Greek Orthodox Church in Pasadena
September 14,15,16
http://pasadenagreekfest.org/
Greek Orthodox Church of Annunciation of Modesto
September 15,16
http://www.goannunciation.org/
Saint Serephim Orthodox Church in Santa Rosa
September 15-16
http://www.saintseraphim.com/glendi1.html
Saint Constantine and Helen in Vallejo
September 16th
http://www.greekchurchfest.com/
Saint Nectarios Greek Orthodox Church in Covina
September 23rd
http://www.saintnectarios.org/Files/FESTIVALFLIER2011.pdf
Annunciation Cathedral in San Francisco
September 21,22,23
http://www.annunciation.org/

Saint Katherine Greek Orthodox Church in Elk Grove
September 22-23
http://www.saintkatherine.org/
Due to the large number of Greek Festivals this month, please visit their church websites for more information.
© 2012 – 2015, Mary Papoulias-Platis. All rights reserved.