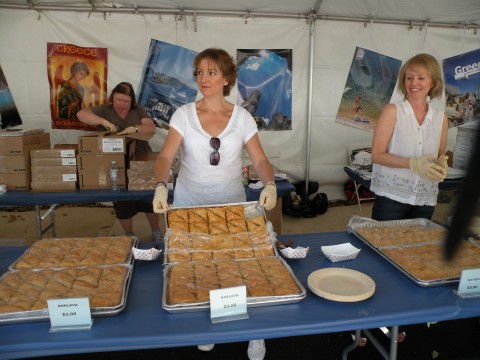 Take a  trip back to the Mediterranean this month, pack your bags and head to your local Greek Festival for some Greek coffee and phyllo pastries. Although, I prefer dessert over dinner, all festivals serve appetizers, lunch, and dinner. From BBQ kabobs to gyro sandwiches they have it all. Kick up your heels to the bouzouki music, and join the dancers for a "hasapiko" or two.
June 2-3      St. George Greek Festival in Downey
10846 Downey Ave. Downey,Ca. 90241
Sat. and Sunday 11a.m.-10p.m.
ph.#  1- 562-862-6461
www.stgeorgedowney.org
June 8-10         St. Spyridon Greek Festival in San Diego
Friday 5-10p.m. Sat. 11:00-10:00p.m. Sunday 11:00-8:00p.m.
3655 Park Blvd. San Diego,Ca. 92103
www.sdgreekfestival.com
June 22-24        St. Demetrios Greek Festival in Camarillo (Ventura County)
400 Skyway Dr. Camarillo Ca. 93010
Fri. 5-9p.m. Sat. 10:30-9p.m. Sunday 10:30-7 p.m.
www.vcgreekfestival.org
ph.# 805-482-1273
June 22-24        St. Paul's Greek Festival in Irvine
4949 Alton Parkway, Irvine, Ca.
Fri. 5-10p.m. Sat. 12:00-10p.m. Sunday 12:00-9:00p.m
ph.# 949-733-2366
www.stpaulsirvine.org
© 2012 – 2015, Mary Papoulias-Platis. All rights reserved.