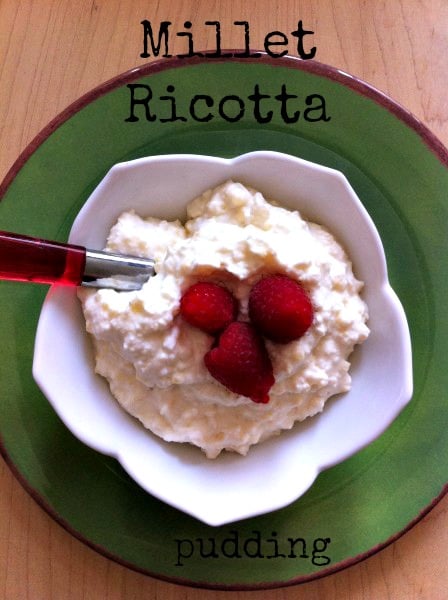 Millet is a grain very few people use in their daily meals. Millet is produced in America, but is only used as a food source for only 1/3 of the population. There are many varieties of millet, most of which have a high content of protein. Millet has a bland flavor which lends itself to the addition of new flavors. It's prepared like a rice by boiling it in water and it's used to make hot cereal and dishes like pilaf.
Ground millet is used  as a flour to make puddings, breads, and cakes.  Millet is also toasted before cooking them as this adds aroma and allows the kernels to cook up more distinctly. Toast millet in a dry skillet until slightly brown, then begin to cook it.
I came across this recipe in Ancient Grains for Modern Meals by Maria Speck.  She constantly amazes me with her creative ways to cook and use grains for today's dishes. This was a farmer's market recipe I made for a sample to taste for a millet demonstration. and everyone boasted about its creaminess and lemony flavor. Another hit from Maria's fantastic cookbook! I omitted the raspberry compote for the market, but I would definitely add it to this dish for a complete flavor profile.
Millet Ricotta Pudding with Warm Raspberry Compote
Millet is the key ingredient in this updated rice pudding recipe. Select various berry topping, or simply add raisins or nuts for a nutritional dish.
Author:
Maria Speck's Cookbook - Ancient Grains
Recipe type:
dessert or side dish
Ingredients
Millet
1 cup water
½ cup millet
⅔ cup whole milk or lowfat milk
½ teaspoon vanilla extract
Pinch of fine sea salt
Pudding
1 ½ cups part-skim ricotta cheese
¼ cup honey
1 tablespoon finely grated lemon zest
2 teaspoons freshly squeezed lemon juice
1 cup heavy whipping cream, chilled
¼ cup sugar
Raspberry Compote
2 ½ cups fresh or frozen raspberries (do not thaw if using frozen)
¼ cup honey
Instructions
Millet
Bring the water and the millet to a boil, reduce to a simmer, cover, and cook until water is absorbed.
Combine the milk, vanilla, and salt in a small bowl and stir into millet.
Return to a simmer and cook until liquid is absorbed. Remove from the heat and let sit covered for 5 minutes. Uncover and allow to cool.
Pudding
Place the ricotta, honey, lemon zest, and lemon juice in a large bowl and beat vigorously with a wooden spoon until blended. Loosen the millet with a fork and stir in ricotta mixture.
In a deep bowl whip the cream by hand or with a mixer, gradually adding the sugar, until medium-firm peaks form.
Using a rubber spatula , fold the whipped cream into the ricotta –millet mixture in 3 additions.
Divide the pudding into bowls and chill for at least 2hours or overnight.
Raspberry Compote
Place raspberries and the honey in a saucepan and cook over medium heat, gently stirring until compote is hot and the berries are just warmed up.
Spoon the compote over the chilled ricotta pudding and serve a t once.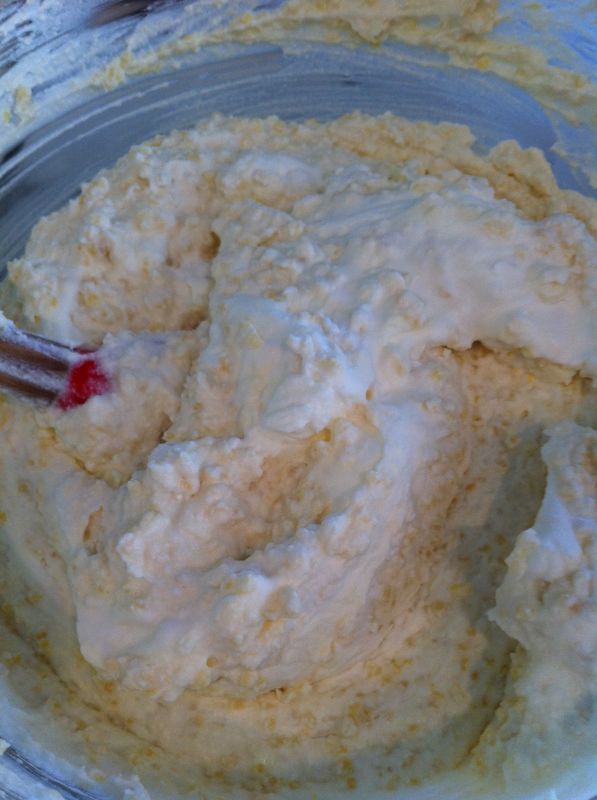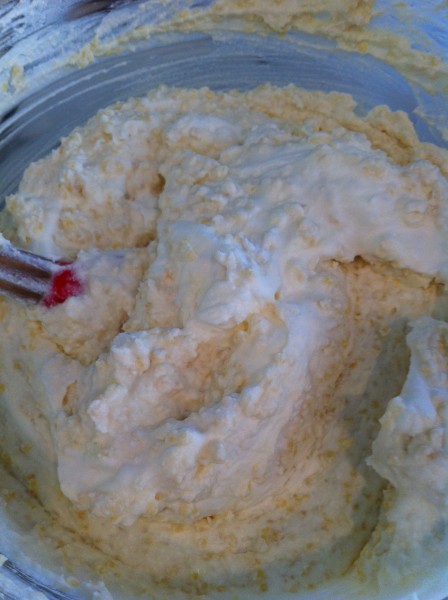 Gently folding the whipped cream into the ricotta mixture gives it a lighter texture.
© 2012 – 2019, Mary Papoulias-Platis. All rights reserved.