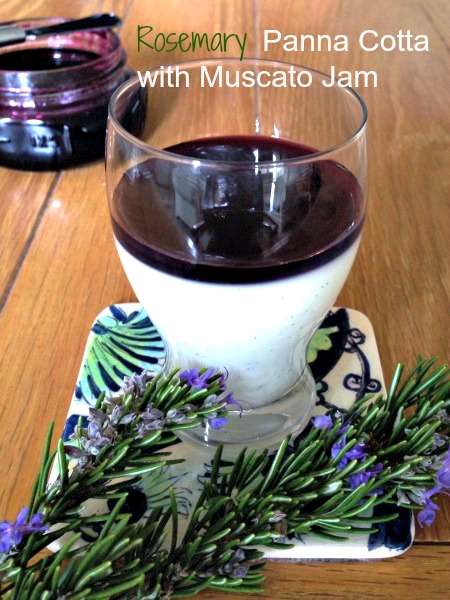 I know what you're thinking…Italian dessert for a Greek site. Well, I happen to love Panna Cotta and love to experiment with flavors. Melissa's Produce happen to ship me these grapes and I instantly thought of preserving them for another time.
So I made jam.
As the days went by I began thinking of what flavor combinations I could use and frankly I'm a huge fan of the herb rosemary. So, I tried it and loved the earthiness it brought to the panna cotta. Fall brings grapes and rosemary to our gardens so I felt they were a good match. So I hope you enjoy this basic recipe and use it all year long varying the herb and jam.

Rosemary Panna Cotta with Muscato Grape Jam
Use this basic Panna Cotta for the perfect dessert when planning ahead for a dinner. Use herbs of your choice and top with any jam and create this elegant presentation.
Author:
Mary Papoulias-Platis
Ingredients
1 cup heavy cream, room temperature
1 vanilla bean, split
½ cup sugar
1 6-inch sprig fresh rosemary
1 tablespoon lemon zest
pinch salt
1¼ teaspoon unflavored powdered gelatin
1½ cups buttermilk
1 cup grape jam
Grape Jam
½ pounds of dark grapes (I used Muscato)
3 tablespoons fresh lemon juice
1 cup granulated sugar
pinch of salt
Instructions
Panna Cotta
Pour the heavy cream into a medium saucepan.
Scrape all the seeds from the vanilla bean and add to the cream.
Add the sugar, basil,lemon zest and salt.
Cook over medium low for 5 minutes.
Remove from the heat, and set aside for 30 minutes.
Remove the vanilla bean.
Bring mixture to a simmer, remove from heat and whisk in the gelatin.
Strain the mixture,through a fine strainer, into a clean bowl.
Discard the rosemary and zest.
Add the buttermilk to the mixture and mix well.
Pout into 6 individual glasses. Cover the glasses with plastic wrap and refrigerate for 8 hours.
Serve with grape jam.
Jam Instructions
Combine grapes and lemon juice in a medium pan over high heat.
Cook, stirring until grapes begin to break down. About 10 minutes.
Stain through a fine sieve.
Place the juice in a pan with the sugar and salt bring to a boil, reduce heat to a simmer until temperature reaches 220 degrees on a thermometer and thickens.
Place in a bowl,cool and place in refrigerator.
Carefully, place chilled jam on top of the panna cotta .
Keep in refrigerator until ready to serve.
 Just changing up the glass can give  you a more formal look for a special dessert.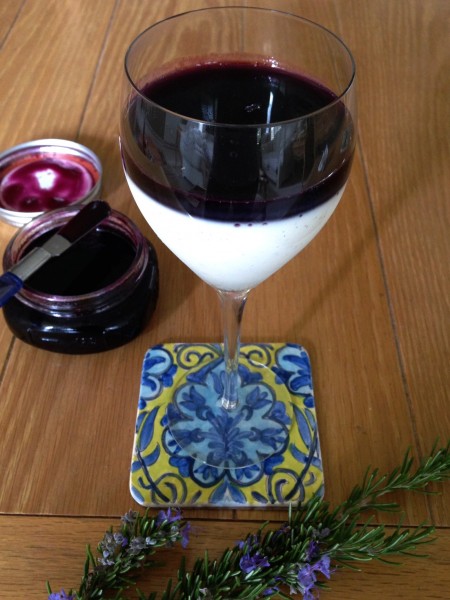 Other combinations to use: peaches and mint, strawberry and  basil, cherry and thyme.
Enjoy~
© 2013 – 2015, Mary Papoulias-Platis. All rights reserved.