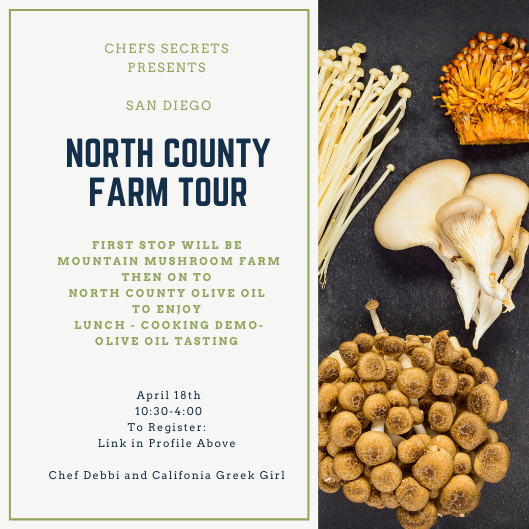 CANCELLED BUT WILL BE RESCHEDULED!
STAY SAFE
Hosted by Chefs Secrets which is a new collaboration between
Debs Kitchen
&
California Greek Girl
Meet up at
Mountain Meadow Mushroom Farm, Escondido
San Diego County Farm Tour
Sat, April 18th
10:30-4
$125.00
Farm Tour!
Do you know how mushrooms grow? You'll learn everything about mushrooms that you need to know! Did you know that mushrooms are a nutrient dense food? Good for you!
Here's a link to their website for more info
Mountain Meadow Mushroom Farm
Here's a blog post about the farm & yummy Mushroom Risotto recipe from Mary at California Greek Girl
Mushroom Risotto
Next we'll head over to
North County Olive Oil Co. and meet Sue Rober at her Sunshine Gardens location where we will taste and experience their True California Olive Oils with style.
Their vision is to share with you their experience in the California olive oil industry. They have selected a portfolio of top producers who make both extra virgin olive oils and vinegars from California olives and grapes. They represent a variety of regions which offer unique styles from many varietals and cultivars of local California olives. We look for producers that promote sustainable practices in the grove and throughout their day to day practices.
Our Olive Oil Tastings offer a unique experience created around a variety of artisan producers of California extra virgin oil, wine and specialty artisan products.
A cooking demo & lunch will be served by
Chef Debbi & Chef Mary
Menu*
Cheese Platter with Seasonal Vegetables & Fruit
Winter Salad with Pixie Tangerines
Mushroom Risotto Demo
Road Home Brownies
*Menu subject to availability
One glass of wine will be served with lunch.
Lemonade & Spring Water will be available.
Don't miss the great swag bags that you'll get to take home!
We encourage car pooling, need a ride or want to provide a ride?
Please email me at mary@californiagreekgirl.com for any questions, or leave a message below.
© 2020, Mary Papoulias-Platis. All rights reserved.