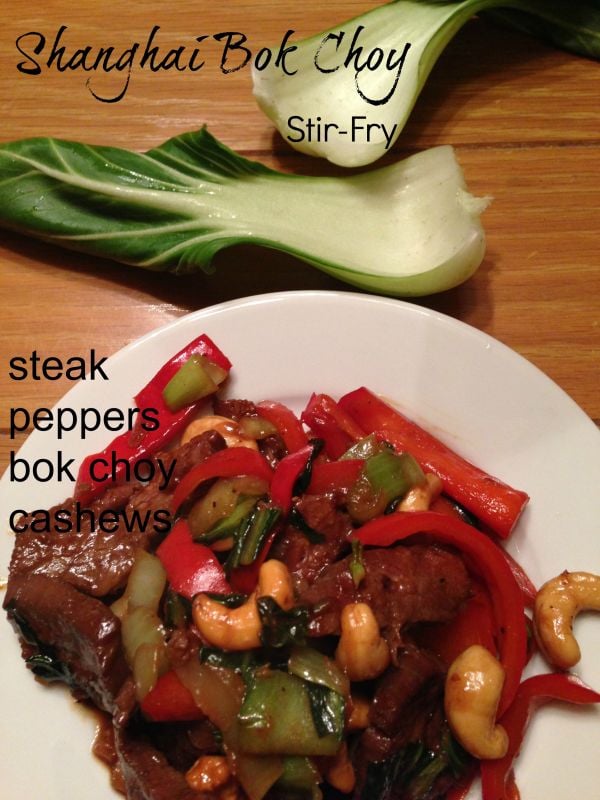 Hold on!  I know exactly what you were thinking. Stir- fry for a Greek household. Where's the feta? Where's the lamb? Continue reading and you will see the many reasons I chose this recipe and why a I have selected to write about Stir-Fry and Bok Choy.
Having raised three children, and having to run a happy household, my number one goal was to prepare a delicious dinner on the table every night. But who was I kidding.  I tried as much as I could to get dinner on the table at least 5 days a week.  And, stir fry was one of my go-to meals I had mastered over the years. In my freezer I always had on hand chicken, meat, pork for a quick and simple meal. With all the varieties of vegetables and grains we have today, many choices are available. Just add the basic to a great stir-fry and you have dinner on the table in minutes. (reason#1)
This month, Chinese New Year's is approaching on February 19th in celebration of the Year of the Sheep! Greeks love their sheep for all their milk, yogurt and  feta! Recently, Frieda's  Produce sent over some flavorful fresh vegetables to accent our stir-fry meals. I have chosen Shainghai Bok Choy for my first recipe. Like most, any family-centered holiday, everyone gathers around for a family feast, making Chinese New Year one of the biggest food holidays of the year. (reason #2)
Basic Stir-fry Ingredients
One type of meat, chicken, or pork cut in small 2-3″ slices. (marinate minutes before)
Choose your veggies: broccoli, greens, carrots, bok choy, cabbages, snap peas, sugar peas..
Keep beans, rice, grains on-hand for a base. Add stir-fry on top.
Keep soy sauce ( Bragg amino acids), Asian sesame oil, Hoisin sauce on hand.
Nuts and seeds can be added – cashews, sesame, peanuts…
How-To Stir Fry
Place the pan (large heavy bottom skillet or wok) on medium heat. Pour in the oil, and heat.
Add the meat mixture and cook stirring frequently. Remove to a plate and cover to keep warm.
Add the vegetables with the aromatics, seasonings, or glaze. and continue cooking.
Add back the meat, stir and serve.
Serve  with rice, beans or grains.
Tip: Prep all you  ingredients ahead of time before cooking.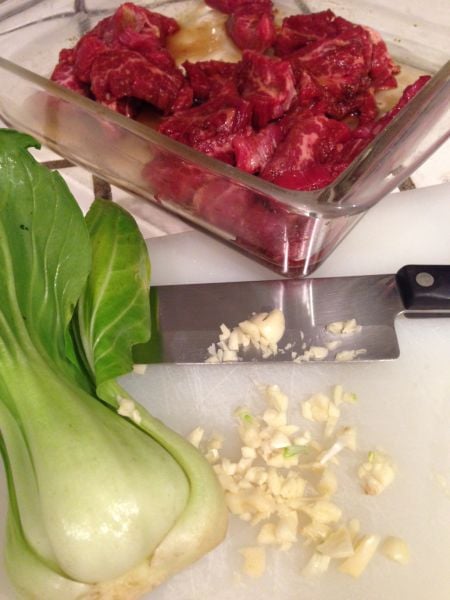 Shanghai Bok Choy Stir Fry with Steak and Cashews
Ready for an easy dinner? Try stir-frying with your family weekly with just a few tips to remember when you are out shopping.
Author:
Mary Papoulias-Platis
Cuisine:
Chinese Stir-Fry
Ingredients
1 pound flank or skirt steak
2 tablespoons soy sauce or Bragg amino acids
1 tablespoon Hoisin sauce
1 teaspoon brown sugar
1 teaspoon cornstarch or tapioca flour
¼ teaspoon pepper
4 teaspoon extra virgin olive oil
4 garlic cloves, minced
2 tablespoons fresh ginger, minced
2 -3 baby bok choy heads, sliced
2 red peppers, sliced thinly into strips
¾ cup cashews
2 teaspoons Asian sesame oil
Instructions
Cut the steak in half width-wise and cut ½ inch strips against the grain of the meat.
In a large bowl, add the soy sauce, Hoisin, brown sugar, cornstarch or tapioca, ¼ teaspoon pepper and stir well.
Add the steak strips and toss to coat. Marinate for 10-15 minutes.
Heat 2 teaspoons of olive oil in a heavy bottom skillet, add the garlic and ginger and cook for 15 seconds.
Add the steak and continue stirring until the meat is thoroughly cooked about 5-10 minutes.
Remove and place on a plate . Cover to keep warm.
Add the remaining oil to the pan over medium heat.
Add the bok-choy, red peppers, and cashews and continue stirring for 4-5 minutes.
Add the meat mixture.
Remove from the heat and add the sesame oil.
Serve over rice, beans, or grains.
Interesting Facts: Shanghai Bok Choy is a special baby variety with smooth spoon shaped leaves and pale green stalks. Like regular Bok Choy, it's entirely edible, with a mild sweet cabbage-like flavor.
Braised whole in a broth or saute with sesame oil.
Stir-fry alone or with other vegetables.
Halved and grilled.
Thinly sliced and added to soups, salads, and slaws.
Rich in vitamin A and C.
Select fresh looking heads and refrigerate up to 5 days.
Disclosure: This is my recipe I have developed for my cooking blog. Frieda's Produce sent me samples for my post in celebration of the Chinese New Year.
© 2015 – 2019, Mary Papoulias-Platis. All rights reserved.