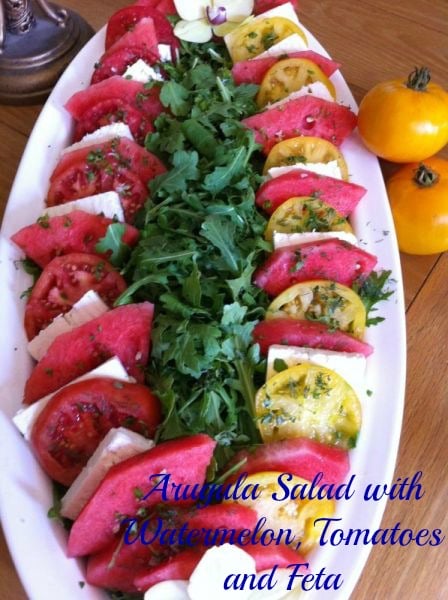 Arugula Salad with Tomatoes, Watermelon and Greek Feta is this summer's new makeover for the traditional Greek salad.  During the summer this is so easy to do when you have fresh tomatoes available from your garden or your nearby farmer's market. These tomatoes did come from my garden, two of my favorites, Lemon Boy and Big Boy. Adding the arugula will give this salad the kick it needs without the need for a heavy dressing.  I chose a simple vinaigrette so it doesn't overpower the fresh garden tomato flavor. When purchasing the feta buy a block in it's brine from the deli counter at your supermarket so the slices are uniform in the salad. Fresh herbs such as oregano, basil, or dill are added to enhance the sweet tomato flavors. Take this delicious and fast arugula salad with tomatoes, watermelon and Greek feta to your next party for a fresh new way to enjoy the season.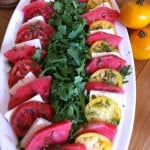 Arugula Salad with Tomatoes, Watermelon and Greek Feta
Take your summer tomatoes and turn them into a special seasonal salad for your next outside party!
Ingredients
Salad
1

or 2 bags of fresh arugula

1

medium seedless watermelon, sliced 1/4 inch think

2

red tomatoes, sliced 1/4 inch thick

2

yellow tomatoes, sliced 1/4 inch thick

2

pounds

of feta, sliced 1/4 inch thick

Fresh herbs: oregano, basil or dill
Dressing
1/2

cup

extra-virgin olive oil

1/4

cup

red wine vinegar

1

teaspoon

Dijon mustard

1-2

cloves

garlic, crushed

1

teaspoon

salt

1/4

teaspoon

pepper
Instructions
Cut and slice the watermelon, tomatoes, and feta into 1/4 inch slices, but not too thin to cause them to crumble.

Layer the tomato with feta and then with watermelon. Repeat around the plate.

Sprinkle with fresh herbs of your choice.

Make the dressing, and drizzle it on the tomato mixture and arugula.

Place the remaining dressing on the side.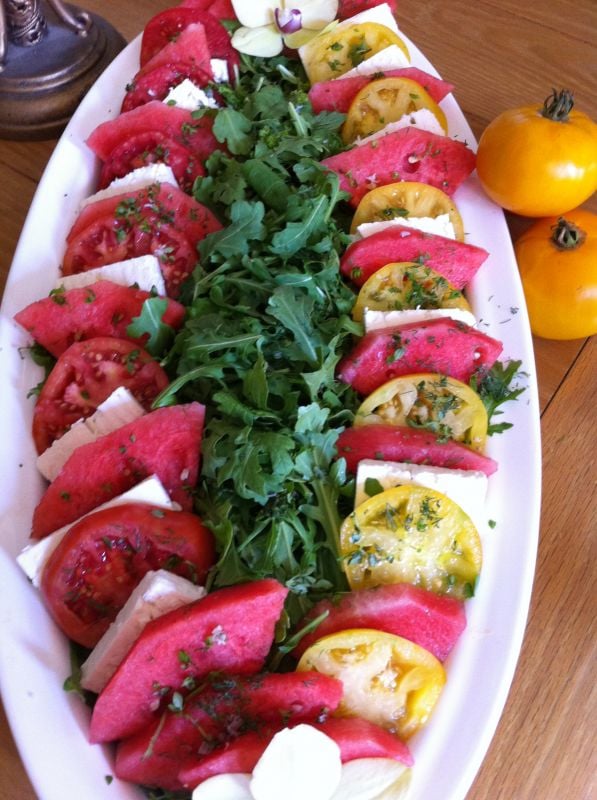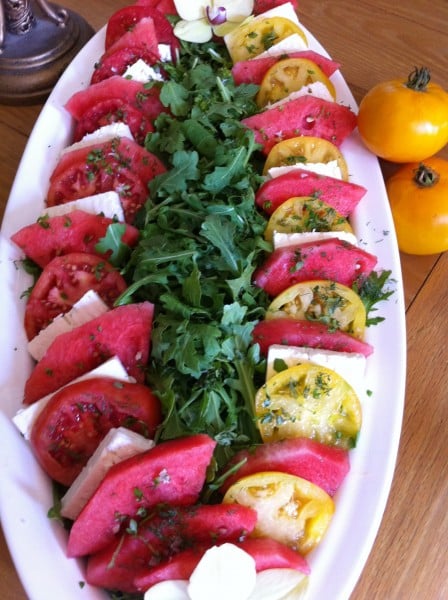 If you're interested in growing tomatoes for your garden, I suggest taking a look at The Tomato Fest site for information on varieties along with their heirlooms collection. I visit Quail Botanical Garden in San Diego for their Tomatomania  Feast every year to select my favorites along with any new varieties ready for experimentation.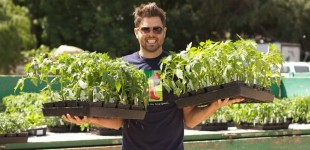 Scott's Tips for the best grown tomatoes! 
1. Read the labels!… and find the selections that are right for you. A good strategy? Choose early, midseason and late tomatoes. Let the "Days to maturity" on the label be your guide.
2. Go for color! Are you shocked to learn that all tomatoes aren't perfectly round and red? Have fun and amaze your neighbors!
3. Choose a sturdy seedling. Tomatoes are actually weeds, and they're tough…but still try to find seedlings with sturdy stems and bright green leaves.
4. Find the sun. Tomatoes want sun and heat. That's sun and heat. 6 hours of full sun is the minimum for success.
5. Amend the soil. When you find the sunny spot, get your hands dirty. Dig deep, add organic amendments liberally and toss in some fertilizer. The better the soil, the better the tomatoes. (Use good planting mix or mostly planting mix – not potting soil – in pots for best results.)
6. Plant deep. Tomato roots can grow ten feet deep, so get that started when you plant! Snip the lowest leaves and plant deep (yes, even some of the stem!) Leave only the top 3-4 inches of the plant above the surface.
7. Water correctly…every 3 or 4 days for the first few weeks. Watch your seedlings and give them only what they need. Once tomatoes start growing, water deeply and infrequently. As tomatoes grow, the plant will inevitably yellow in places… more water won't fix that. Avoid watering too much. Too much water dilutes taste!
8. Fertilize wisely. A couple handfuls at planting, and again once the plants begin to flower. That's all it should need unless you know your soil is desperately lacking in nutirents.. Foliar feeding along the way is a good idea, just don't overdo it. Container growers, you need to feed just a bit more – every ten to fourteen days.
9. Support your local tomato! Some of your plants may get enormous! Help them out… particularly the big guys…with bamboo stakes or the cage of your choice – or the side of the house. Just hold them up!
10. Be diligent! Watch your tomatoes each day in order to note any change that might signal a problem.
(from the Tomatomania site)
Enjoy the Season!
Mary
© 2012 – 2022, Mary Papoulias-Platis. All rights reserved.