Mary Platis' Media
Welcome to Mary Platis' Media Page and Press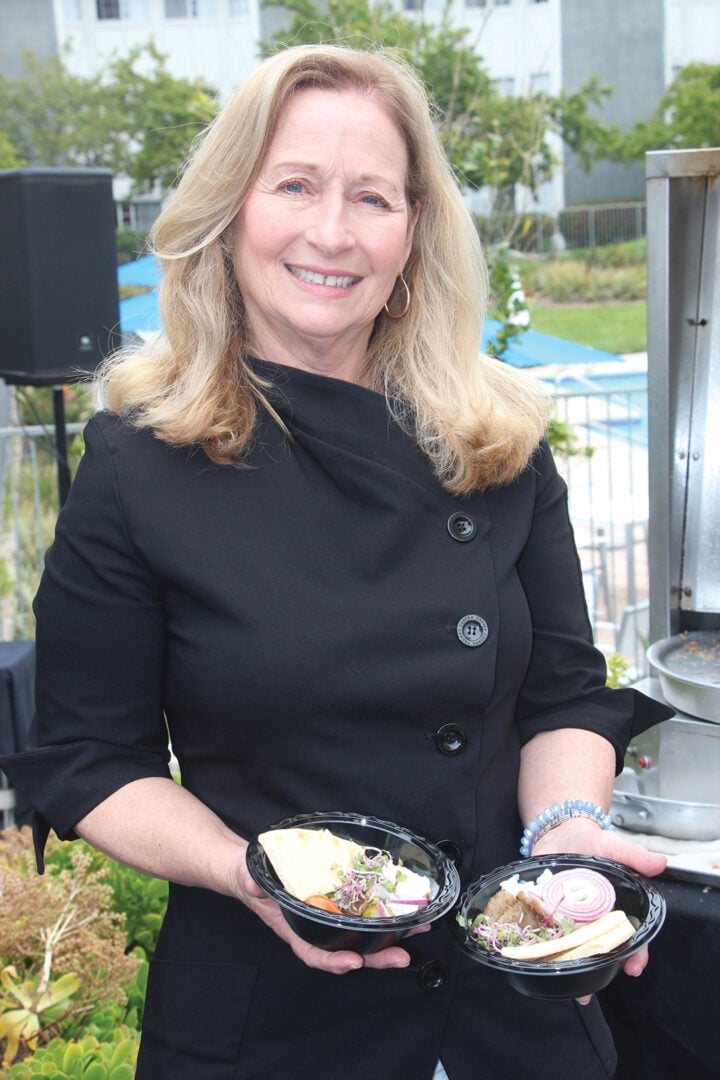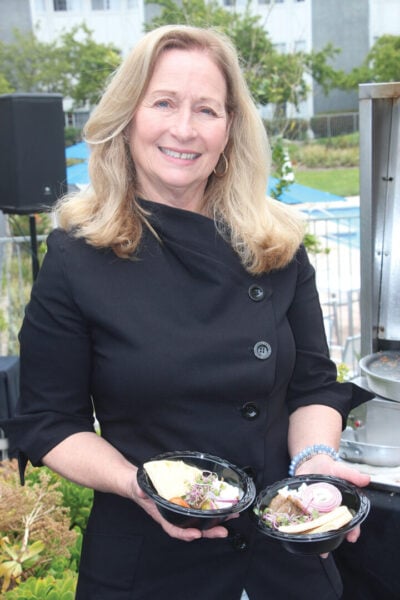 The following is a collection of articles that have been recently published in magazines, blog posts, and newspapers. Included are author presentations and book signings.
San Diego Tribune Food Section Visits Ethos Culinary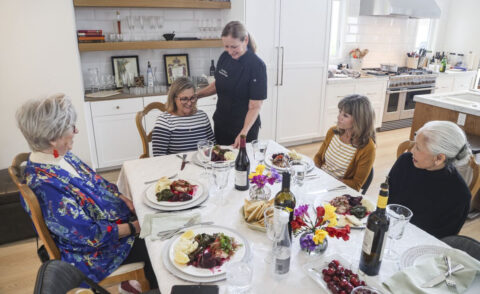 Feedspot Top 80 California Blogs – California Greek Girl
Top 5 this month – July 2020
Edible San Diego –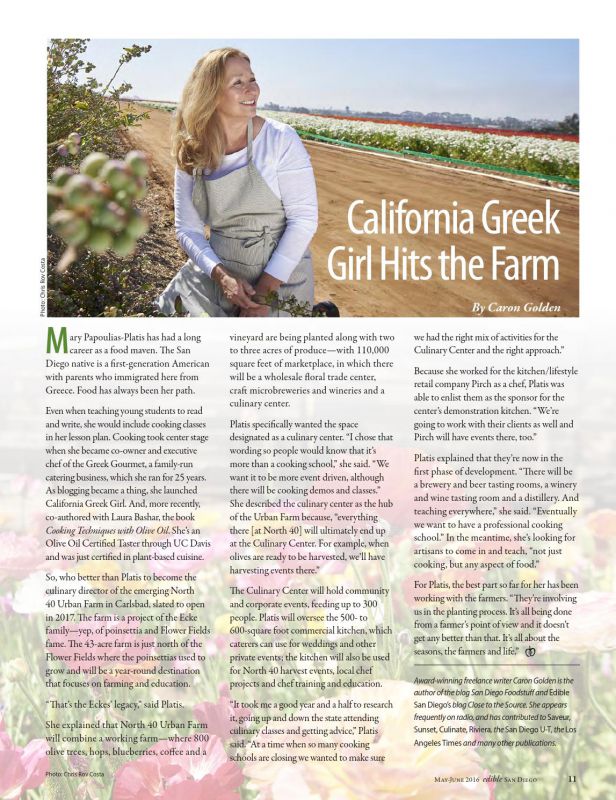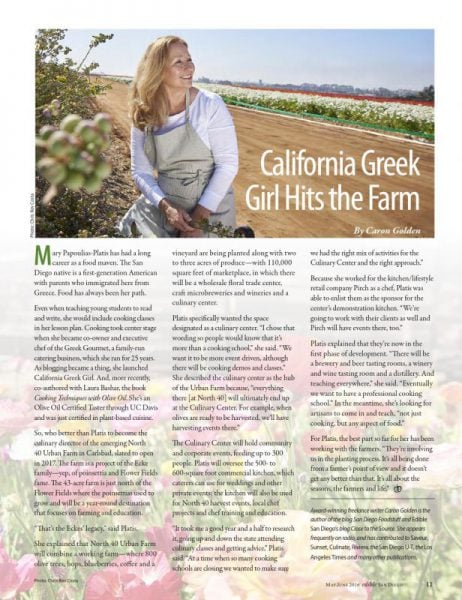 San Diego Edible magazine – What to do at the Carlsbad Flower Fields from Caron Golden
Food Network Article on New Year's Traditions – New Year's Cake Recipe
Our Favorite Christmas Cookies – Cooking Central Article
Les Dames of San Diego First Installation of the Disciples of Escoffier Event in La Jolla – member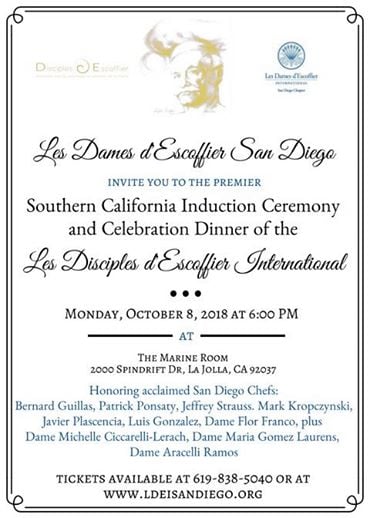 Greek Fest for 2018 – Food and Wine Festival from California Greek Girl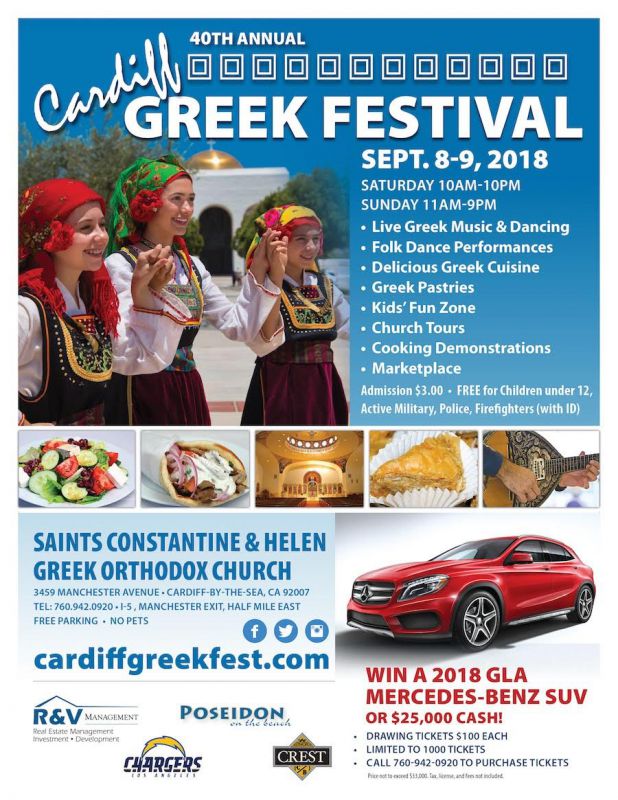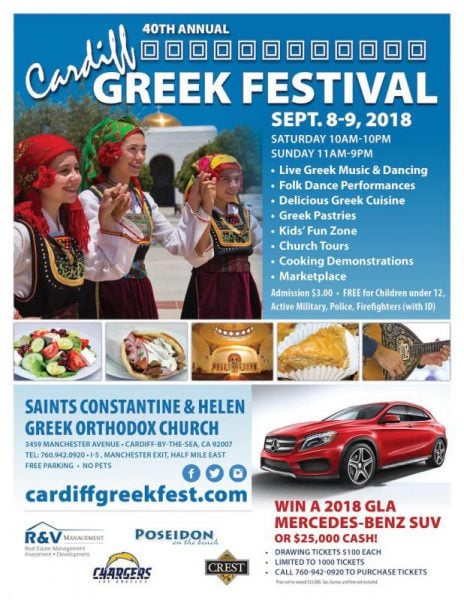 OLLIE and San Diego State University – Presentation on The Greek Diet and Olive Oil Tasting
Culinary Theater Director and Developer at the Greek Church in Cardiff ,Ca. 2017 – Union Tribune Newspaper
#910 on the America's Best Food Blogs of 2018
Contributor to October Unprocessed for the 10th Year – https://mail.google.com/mail/u/1/#inbox/15f07f0621da367d
MS Conference  – Presenting the Anti-Inflammatory Diet – October 8th at U.C.S.D. with Chef Candy Wallace – Profession Personal Chef.
Vista Women's Club – Olive Oil Presentation and Book Signing – October 6th 2017
Greek Culinary Tent by Mary Platis ,Television appearance on CW6 – Salt Baked Fish – September 7th – tape not available
Developer of the Cardiff Greek Fest: http://www.sandiegouniontribune.com/communities/north-county/sd-no-greek-fest-20170829-story.html
NEW! Cooking Classes at the Greek Festival
Farmer's Market Review of my booth at the Leucadia Farmers Market in San Diego.
The Cardiff Greek Festival – September 9th and 10th 2017- Directed the Culinary Tent of Events, the first Greek Pop-Up with cooking classes, kid's competitions, beer and wine presentations and more.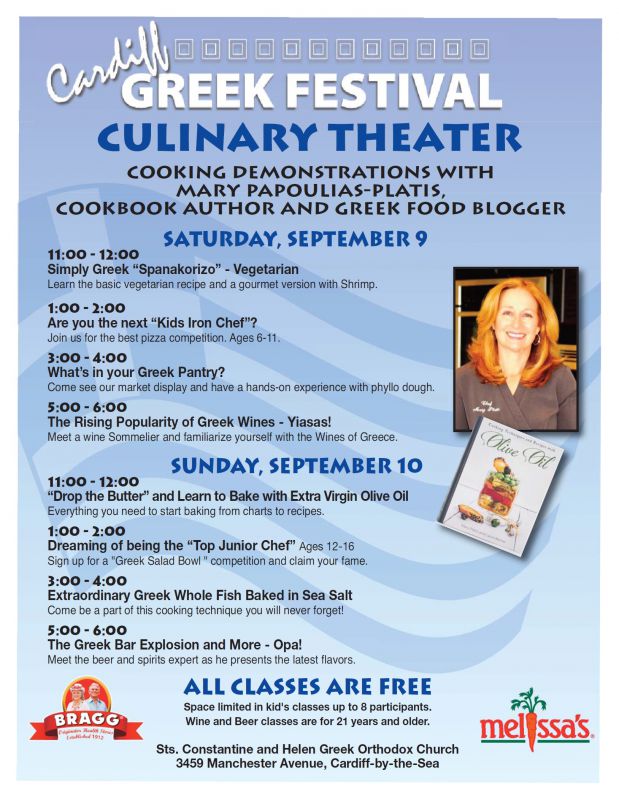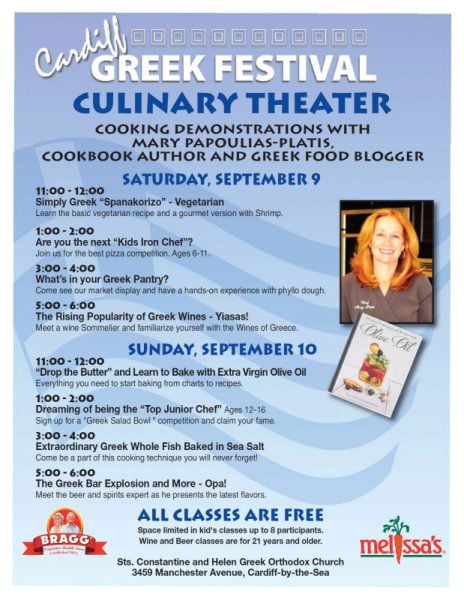 Osher Presentation in April 2017 – Olive Oil Presentation,Tasting and Book Signing in San Diego
MS Conference Presentation on a Nutritional diet ; March 2017 with U.C.S.D in Temecula
Best Cooking Blogs 3-12-2017 on Credit Donkey – http://www.creditdonkey.com/cooking-blogs-beginners.html
Cooking Classes and Culinary Events in September -December,  The Flower Fields in Carlsbad 
San Diego Edible Magazine: Chef's Edition June 2016 – California Greek Girl Hits the Farm 
Temecula Cooking Class on Saturday November 21st. Register here Temecula Olive Oil Site.
Speaker at the Greek Orthodox Church in San Diego, All About Olive Oil and Book Signing.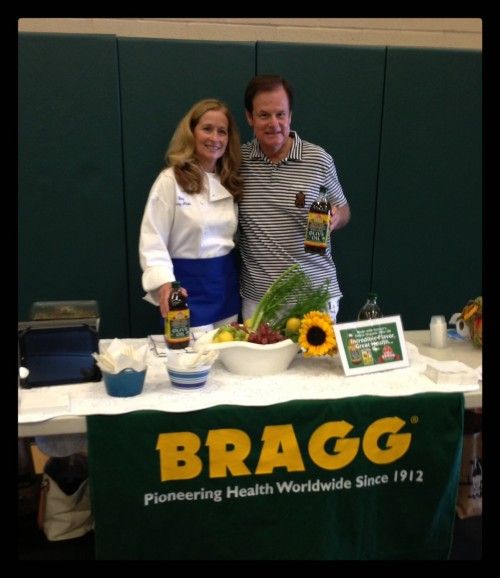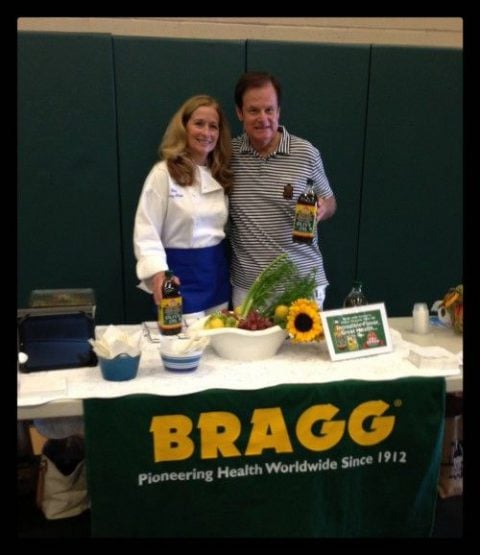 Spokesman for the Bragg Live Food Products with Dr. John Westerdahl
Listen Live on Health and Longevity Show with Dr.Ozner, Debbie Metenopoulos, and Me
Radio Interview on Southern California Restaurant Show : Radio
Radio Interview with IHeart Radio : All About Extra Virgin Olive Oil
California Greek Girl will conduct an olive oil tasting and food demo at the Downey Greek Festival June 6 and 7th 2015.  Article in the National Herald – recipe from the olive oil book. https://www.thenationalherald.com/129417/   Speaker at the Culinary Historians of San Diego in Saturday the May 16th at the Mission Valley Public Library.   Book signing and Olive Oil Tasting at the Graber House on May 9th in Chino,Ca.   Attending Camp Blogaway on May 1-3, sponsored by Bragg Live Products.    Book Signing at the We Olive in Ventura, March 25th.   Participating in the C.O.O.C Conference in Monterey , Ca. March 20-21st.   Expowest in Long Beach – olive oil event March 5-7    Book Signing at the Olive Press in Sonoma, Saturday the 14th of February.   Fancy Food Show in San Francisco, booth and signing, January 10-11th.   Culinary Instructor Explains Quality of Bragg Extra Virgin Olive Oil in Sunbelt Magazine . August 2014   Great news Cooking Class – Vegetarian Greek – March 2014   Great News Cooking Class – Marinating with Olive Oil – February 2015    Great News Cooking Class – Poaching with Olive Oil – January 2015   Great News Cooking School – The World of Olive Oil Tasting and Cooking Class   Temecula Olive Oil – Solana Beach Store – Book Signing and Talk   Culinary Institute of the Arts – Speaker and Book Signing   IFBC Conference – Olive Oil Presentation and Book Signing   Temecula on the Ranch – Book Signing and Talk/Presentation   Rains in Ojai- Book Signing   Viva Oliva – Book Signing   Baker and Olive – Book Signing and Presentation   Melissa's Produce – Olive Oil Presentation and Book Signing    EV Olive Oil and a Beet Salad –
The Table Conversation 
, October 4 ,2014    Chocolate Olive Oil Cake and Book Review by
The Spiced Life
, October 31st, 2014   Orange County Radio Station- All About Olive Oil    Cooking with Olive Oil is more than Salad –
Tom's Foodie Blog
 October 7,2014   Cooking on the Weekends – Olive Oil Thyme Poached Salmon Recipe and Introducing the "Two Extra Virgins" October 3, 2014
 Mama Like to Cook, Cooking Techniques with Recipes at Melissa's Produce – September 26,2014
She's Cookin', Two Extra Virgins' Olive Oil Lemon Curd, September 22, 2014
Shockingly Delicious, Tomatoes and Onions in Olive Oil with Fresh Basil – the Taste of Summer, August 24, 2014
Camp Blogaway – Author Presentation and Book Signing
Jolly Tomato, Cooking With Olive Oil, May 31, 2014
  Orange County Fair Food  Judge August 2014   Orange County Presentation on Olive Oil and Book Signing
New Jersey Monthly, Food for Thought, May 23, 2014
The Advice Sisters, 8 new books 2 Crave for Kindle (or print), May 19, 2014
Mommy's Memorandum, New Cookbook Tells Everything About Cooking with Olive Oil, May 16, 2014
San Diego Living on The CW San Diego Channel 6, Delicious Recipes with Olive Oil, May 13, 2014
 San Diego Six Television Episode – video no longer available – Cooking Demo on our Cookbook
Dad of Divas' Reviews, Book Review – Cooking Techniques with Olive Oil, April 29, 2014
BuzzFeed Food, 13 Vodka Shots You'll Actually Want To Take, April 11, 2014
Curvy Magazine, Cooking Techniques and Recipes With Olive Oil, April 3, 2014
 Greek Cooking Class at Temecula Olive Oil in Solana Beach -March 13th   Greek Cooking Class on February 11th to the Olivenhain Garden Club.   Member Profile in the February Issue of P.W.S.D. Check it out!   Member of  San Diego Chapter of P.W.S.D. – Publishers, Writers of San Diego   Bool Review by Caron Golden  on "Cooking Techniques with Olive Oil"
San Diego Food Stuff, Cooking Techniques with Olive Oil Review, September 10, 2013
Dan Poynter's 2013 Global Ebook Awards, Gold Medal for Cookbook Non-Fiction, August 18, 2013
Kid Kritics Approved Radio Show with Ellen Briggs, Family Food Experts Go Greek! – Recipes, July 11, 2013 The Olive Oil Times, E-Book Offers Tips on Cooking with Olive Oil, June 24, 2013
  Radio Show with Dr. John Westerdahl PHD from the Bragg Company   Four years writing for
October Unprocessed Blog
by Andrew Wilder   Vegetarian News – December Issue with Bragg Olive Oil Ad   Radio Interview with Neil Haily on  our new eBook "Cooking Techniques with Olive Oil"  
http://m.mixcloud.com/neilshaley/mary-platis-08-21-13
Kids Kritics Talk Radio Show September 25th at 1:00,
Meatless Mondays Pasadena Star-News  September 20-21
Pasadena Greek Fest -Cooking Classes and Olive Oil Tasting
Winner of the Dan Poynter Global Gold EBook Award for Best Cookbook- "Cooking Techniques with Olive Oil".
Radio Interview on Kid's Kritics – "Meatless Mondays"  September 18th, 2013
Member of the P.W.S.D. of San Diego. (Publishers Writers of San Diego)
Radio Interview on Author's Corner with Neil Haley from Total Tutor : Total Education Celebrity Show – Blog Talk Radio
Radio Interview on Dr. John's Westerdahl's Talk Show – Health and Longevity "All About Olive Oil" August 5th,2013
Initiated in the Les Dames De Esoffier Chapter in San Diego May 2013
Nominated for an eBook award – Dan Poynter "Global EBook Awards"  June 2013
Book Review in the Olive Oil Times on eBook "Cooking Techniques with Olive Oil"  7-13
eBook Launch at the Temecula Olive Oil Store in Solana Beach 7-13-13
Radio Station Interview on W4CY 0 Go Greek!
 Recipes and Discussion on the Greek Diet 7-10-13 Over 1,500 Hits on Health Cafe Blog Talk Radio and Family Food Experts 07-11-2013 = Show host Ellen Briggs (Kid Kritics Approved), Kathy Siegel, RD, Lauren Harris-Pincus, RD (Nutrition Babes).  Guest: Mary Papoulias-Platis, Chef, Author (California Greek Girl), TOPIC: GO GREEK – RECIPES! T.V.
Apperance on Fox 6 News – Segment on Mother's Day Cut 'N Clean – several recipes added to current blog Recipe developer for their food site.
Melissa's Produce Recipe Developer for seasonal vegetables.
Idaho Potato Commission  Two Greek recipes for the month of April 2013 for their food blog.
Delicious Living Magazine http://content.yudu.com/A1xnrw/DeliciousLiving0812/resources/45.htm
Whole Foods Magazine – Healthy Fun with Cooking Oils Greek American Magazine – Summer Issue 2012 
 Featured in a Food Article about Greek Food Chefs; Favorite Summer Dish Complimentary copies are also available at various distribution points where Greek Americans gather throughout the nation. If you are interested in serving as a distribution point for Greek America Magazine, please email info(@)greekamerica.org for details.
October Unprocessed- 2012 Third Year Today my guest post " Discovering the Greek Diet" has been posted on Andrew Wilder's Eating Rules Blog, for the month of October #Unprocessed. Over 6,000 people have taken this pledge to eat unprocessed, and it's sweeping the nation with those individuals who want a better eating diet and lifestyle for themselves and their families. It's not too late to join us on this incredible journey!
Farmers Market Article  October 2012
Kid's Kritic Radio Show Ocotber 2012 Talking to kids about Root Vegetables http://w4tsr.com/podcasts/family-food-experts/Family_
Ellen Briggs Family Food Experts Home of the Kid Kritics Approved Seal www.KidKritics.com
Greek American Magazine – Summer Issue 2012 Celebrity Style Greek Cooking – Food and Wine Recipe- Leek Pie 
Ellen Briggs Radio Show http://www.blogtalkradio.com/familyfoodexperts/2012/07/13/the-power-of-mediterranean-food Ellen
Briggs Family Food Experts Home of the Kid Kritics Approved Seal www.KidKritics.com The Bragg Company and Patricia  Bragg Products In the Greek Orthodox Observer with the same advertising articles. In the Vegetarian Times: June 2012 Issue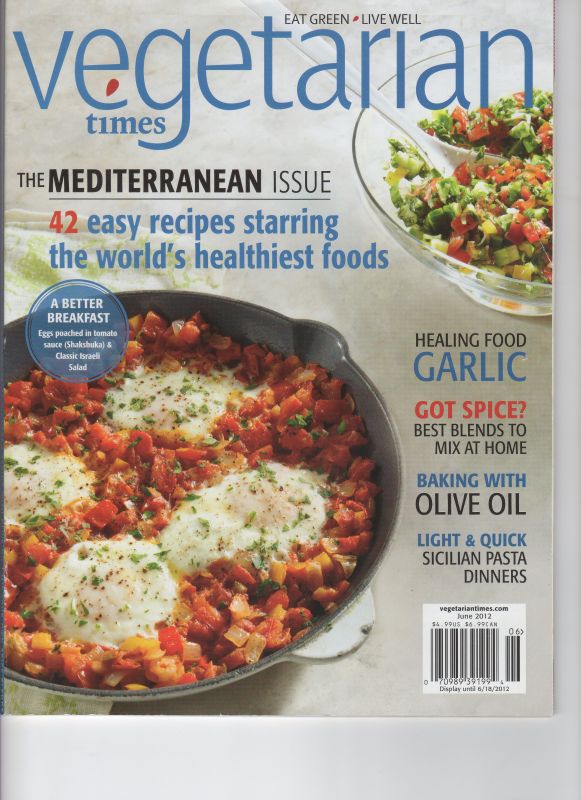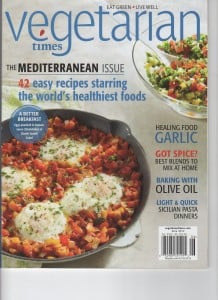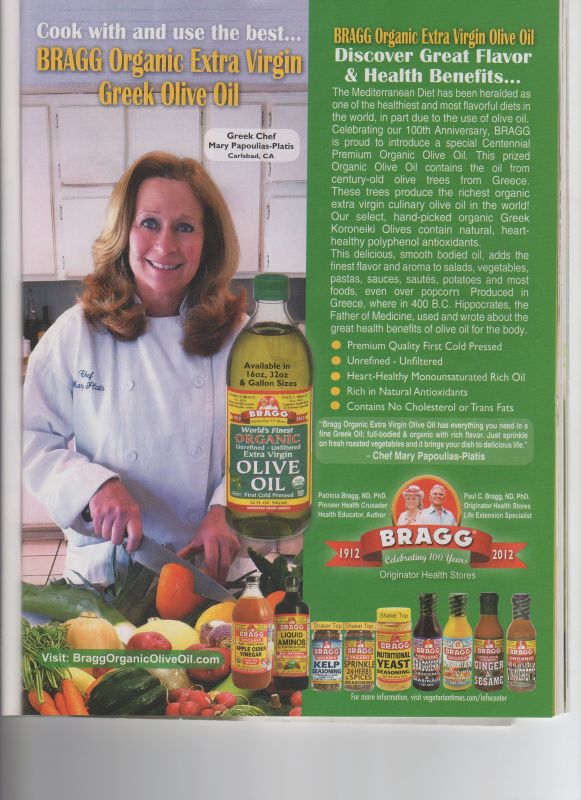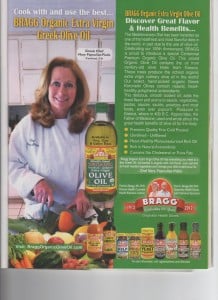 Representing the Bragg Company in their food booth at the Natural Product Show in Anaheim , March of 2012.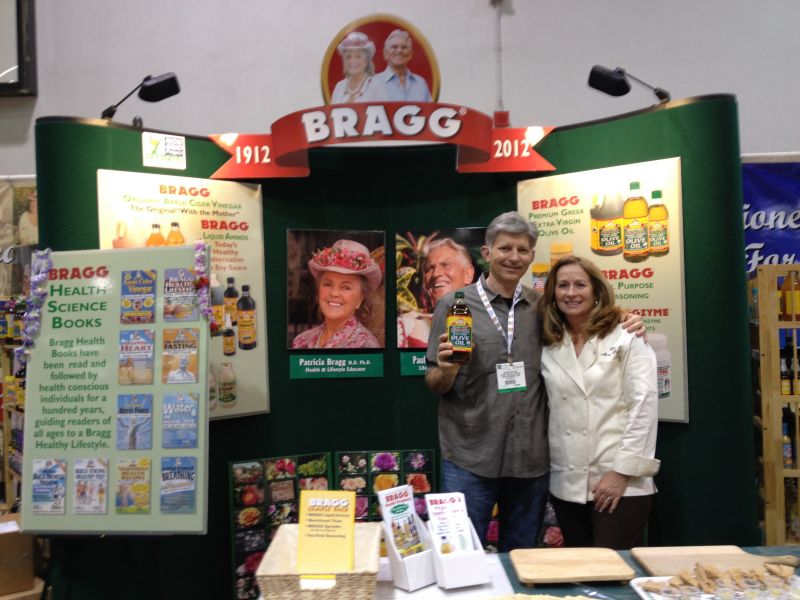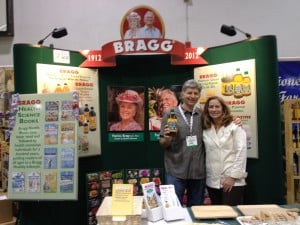 The Pappas Post This is my first post on the new blog Pappas Post. We have an arrangement where I write original California inspired Greek recipes for his monthly food and wine section. Here is my first post: Greek-Inspired Strawberry Cheesecake
I recently had the pleasure of working on an article for Whole Foods Magazine on Olive Oil and the health benefits of cooking with oil.  I currently use Bragg's Organic Extra Virgin Oil in my recipes and at the cooking school where I teach. Olive oil has been in the media due to the large study UC Davisconducted back in 2012. This article was just published for Whole Foods Magazine and written by Tim Person. Whole Foods Magazine informs and educates the Natural Product Retailers with a monthly magazine. This article appears in their February 2012 issue.
Bringing natural cooking oils home is a win/win for consumer palates and consumer health.
Living Better at 50!
Traditional Greek: Voula's Pumpkin and Almond Phyllo Pie – Kolokithopita

By Mary Papoulias-Platis –

When you feast on that special dish your mother created for the holidays year after year, memories from holiday past dinners begin to flood through your mind as you once remembered your first bite! 

 

October Unprocessed 2011 – Time for an Oil Change

Mary Papoulias-Platis

writes and creates the food blog, 

California Greek Girl

.  She is the director at 

The Rancho Santa Fe Garden Club

culinary school in southern California, and her classes emphasize sustainable and local foods from farmers markets and local food producers. Mary owns  

The Greek Gourmet

catering company, which also maintains a yearly Greek concession food trailer at the San Diego County Fair. You can also find her on

Facebook

and 

Twitter

.

Visiting Greece for the first time several years ago, I was encouraged to sit down and begin my blog.  Being raised in a large Greek community in southern California, my experiences as a first generation American-Greek girl were beyond normal, and definitely memorable. As I became a mother of three, it was then that I realized these stories, recipes, and travels should be documented for our next generation.

October Unprocessed 2010 Preparing Dried Chickpeas

Mary Papoulias-Platis is the co-owner of and executive chef at the Greek Gourmet, a family owned and operated concession and catering business, in San Diego since 1974. She teaches cooking classes and writes at 

www.californiagreekgirl.com

about Greek cuisine — with a California twist.

" Let's Cook Together" at The Rancho Santa Fe Garden Club with Mary Papoulias-Platis

Garden club introduces new culinary program

RANCHO SANTA FE — The Rancho Santa Fe Garden Club launched its new culinary program this spring and at its helm is Mary Platis, an experienced educator, caterer, foodie and blogger who is brimming with ideas on how to bring together the community, its food and the garden club. Read more:Coast News Group – Garden club introduces new culinary program

For more information regarding radio, newspaper or television please contact me at mary@californiagreekgirl.com or 760-942-9592