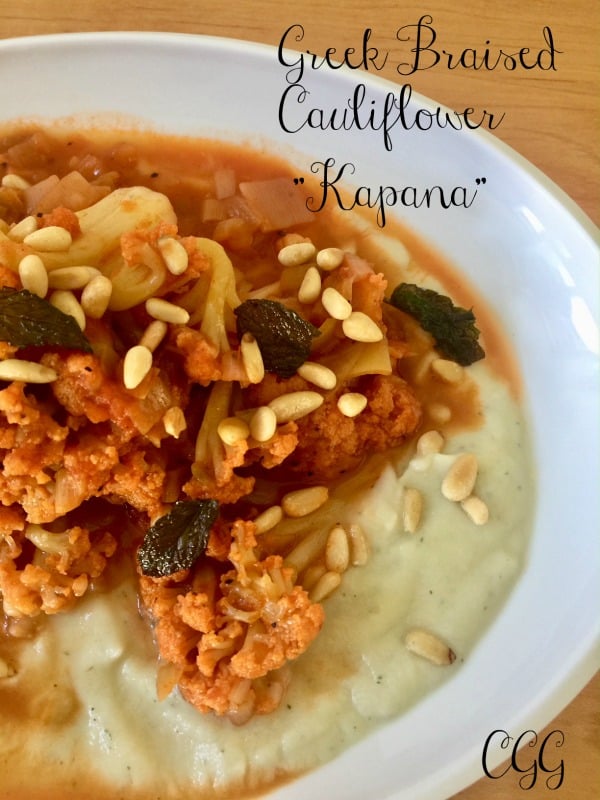 When I need a cauliflower recipe I tend to go simple, a steamed or roasted method. This time around, I wanted to elevate the traditional braised cauliflower I grew up on, making it a heartier version from my mother's recipe. She would serve this with a Greek salad and call it a day when she served this as a meal.  It's healthy and a quick meal for a weeknight, and can be served with brown rice or as a side dish. Or just bring out that homemade bread to catch all the drippings from the leftover sauce.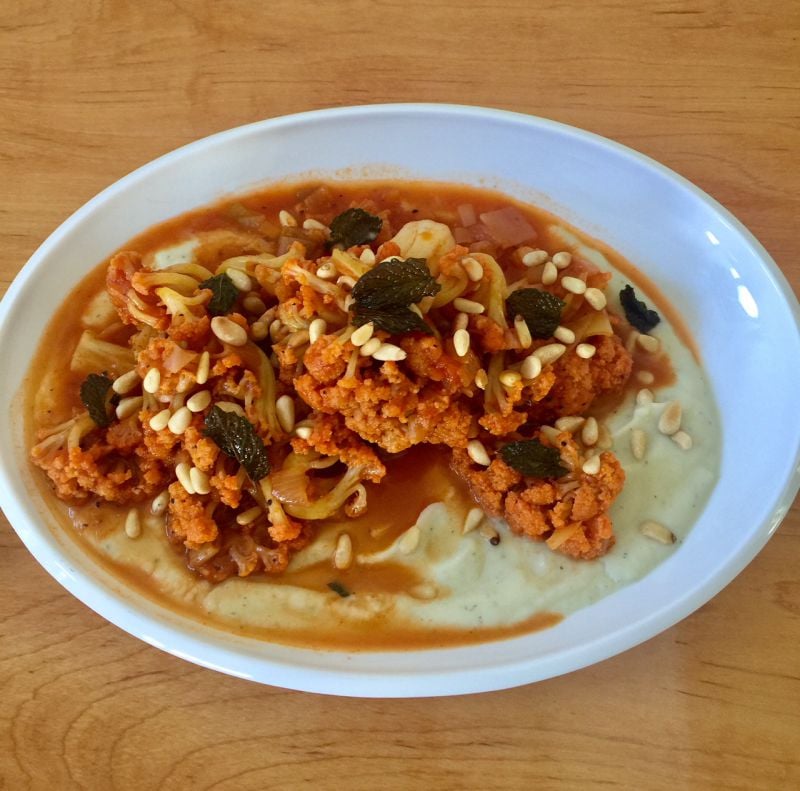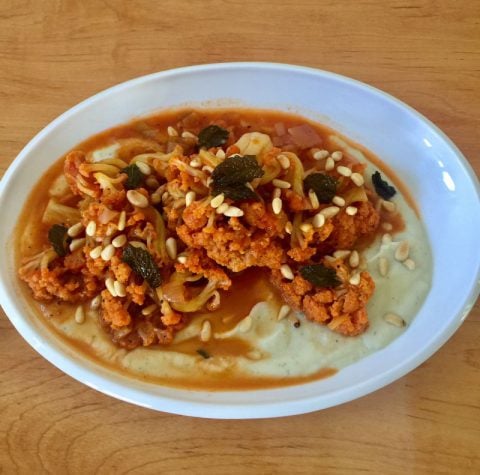 I made this a two-part recipe, to make it a hearty vegetarian meal. The puree is optional but it adds a more filling and complete dish. The braised cauliflower can be eaten as a side dish or with brown rice, quinoa, or any grain.
Start cooking the braised cauliflower on your stove.
As the cauliflower cooks, begin steaming the cauliflower for the puree.
Place the puree on a large dish or in individual bowls and top with the braised cauliflower.
Add a crunch, top with any fried herb, and a toasted nut.
Serve family style or in individual bowls.
For cauliflower I used Melissa's Produce, their new Fioretto Flowering Cauliflower. These are sweet flowering florets and an old world favorite. The stalks are tender with delectable buds similar to early Spring! They are packaged and ready to go, simply rinse and roast, saute, steam or microwave. Making even faster to get dinner on the table. You can use store -bought cauliflower to make this dish.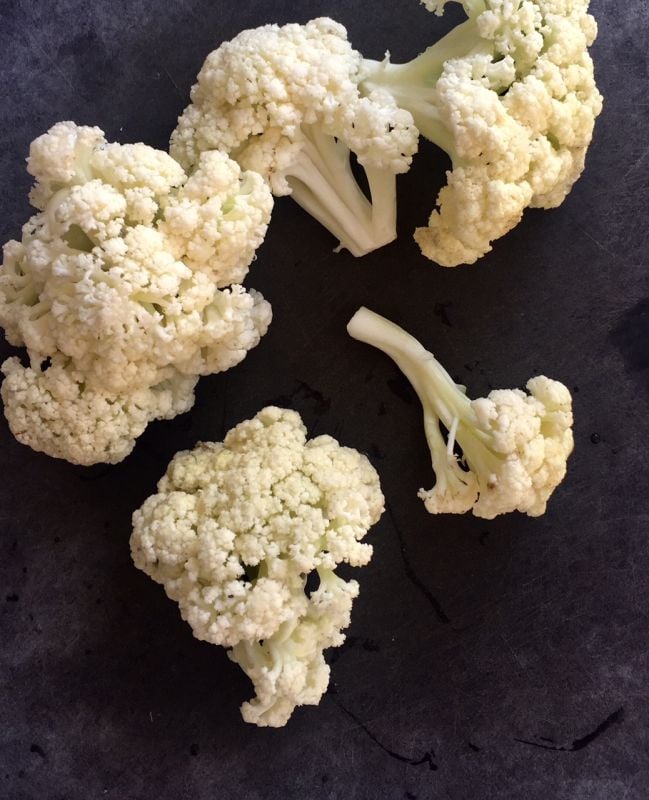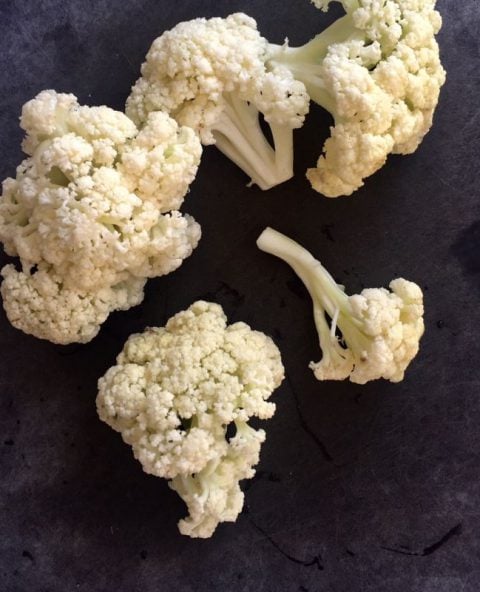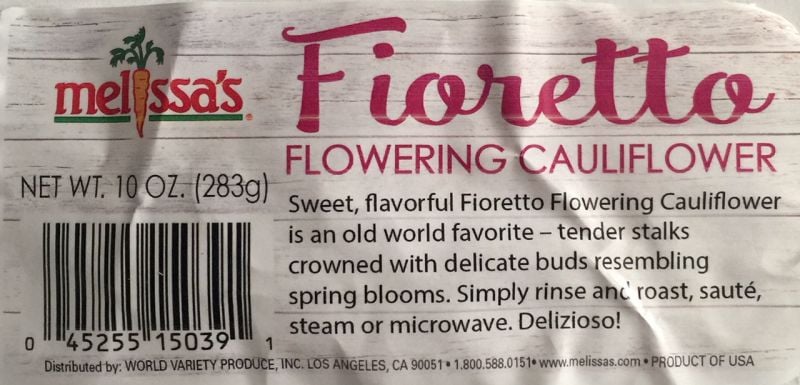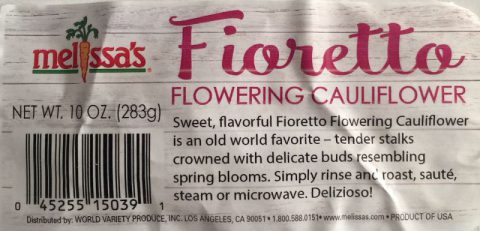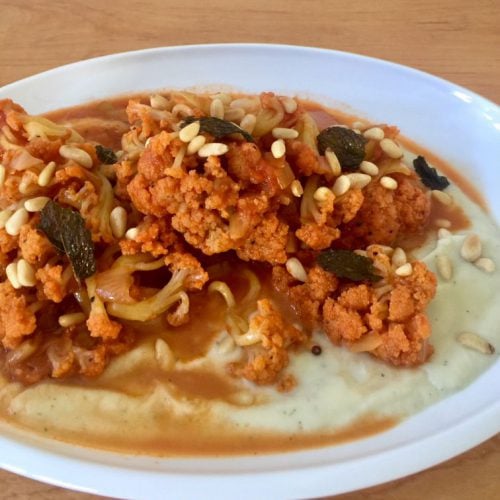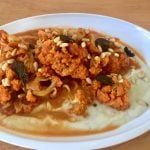 Cauliflower Braised in Tomato Sauce - "Kounoupidi Kapana"
This dish can't get easier. That's the beauty of authentic Greek cooking. They eat from the garden and cauliflower is a winter vegetable grown in Greek gardens. It's always in my garden as well. If you wish, you can add potatoes, cooked garbanzo beans, or fresh peas.
Ingredients
2-3

tablespoons

extra virgin olive oil

1

onion, chopped

1

leek, chopped

1

head

cauliflower, cut into floretts or pre-cut

1

small can tomato sauce

1/2-3/4

cup

water as needed

1/2

teaspoon

cinnamon

salt and pepper to taste
Instructions
In a large saucepan, add the olive oil and saute the onion and leek until softened.

Add the cauliflower florets, tomato sauce, water, cinnamon to the pot.

Cover pan and simmer until tender, 35-45 minutes.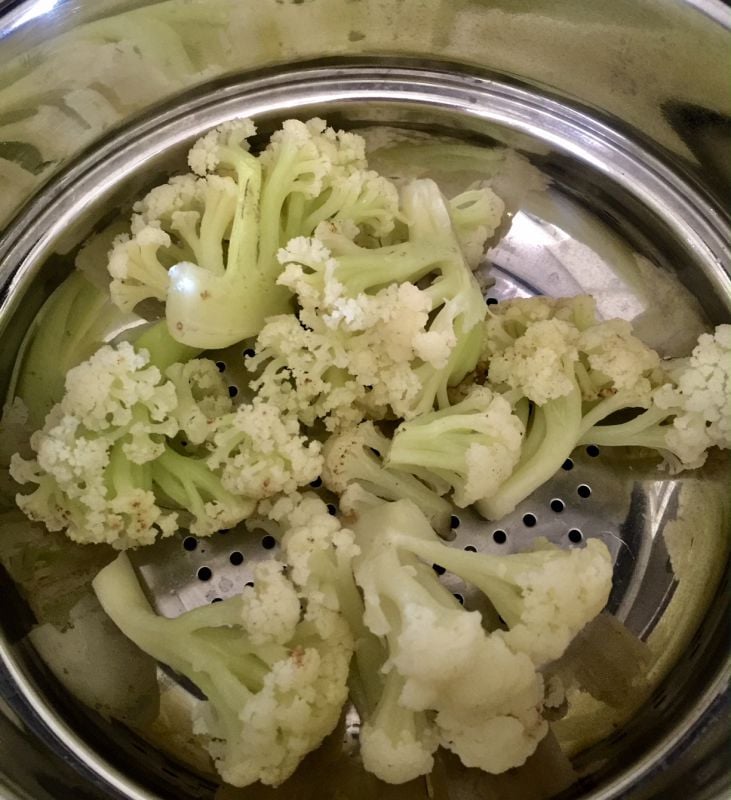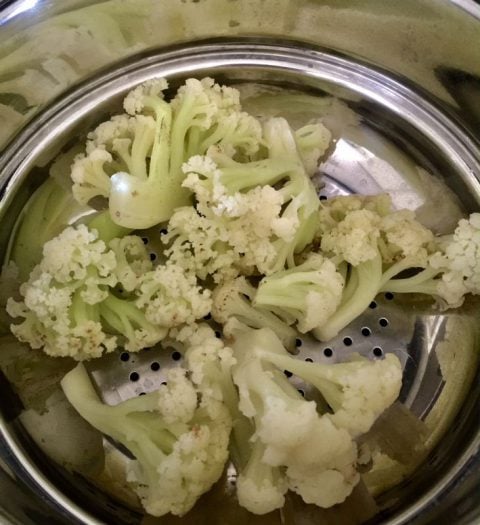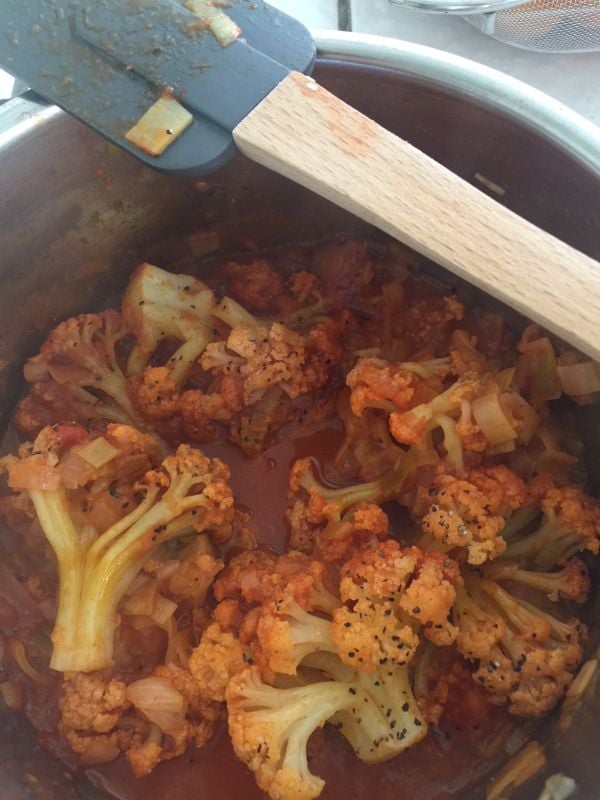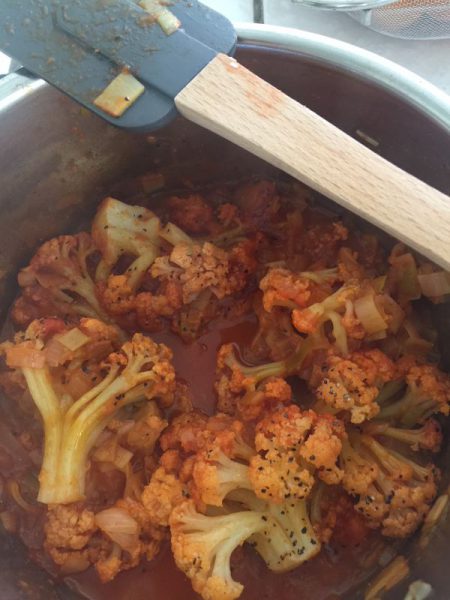 Steaming and Braising are the two cooking techniques in this recipe.
Cauliflower Puree
What a treat for any dish, this puree can be substituted for mashed potatoes and added to any vegetable or meat dish.
Ingredients
1

head cauliflower, chopped

water or vegetable broth for steaming

2-4

teaspoons

extra virgin olive oil or organic butter

salt and pepper

1

sprig

of fresh mint leaves or any soft herb
Instructions
Place the cauliflower and fresh mint leaves in a pot or steam basket and add water. Steam until cooked about 15-20 minutes until softened.

Remove cauliflower and set aside until cooled. Save the water.

Once cooled to touch, add the cauliflower and fresh mint leaves to a blender or food processor. Add steamed leftover water as needed to puree the cauliflower.

Add the salt and pepper as needed.

Place the puree on a warm platter and top with braised cauliflower. Add toasted pine nuts and fried mint leaves. Or place in individual bowls and serve.
Recipe Notes
Fried mint leaves are made by placing the leaves in a frying pan with little olive oil until crisp. Remove and dry on a paper towel.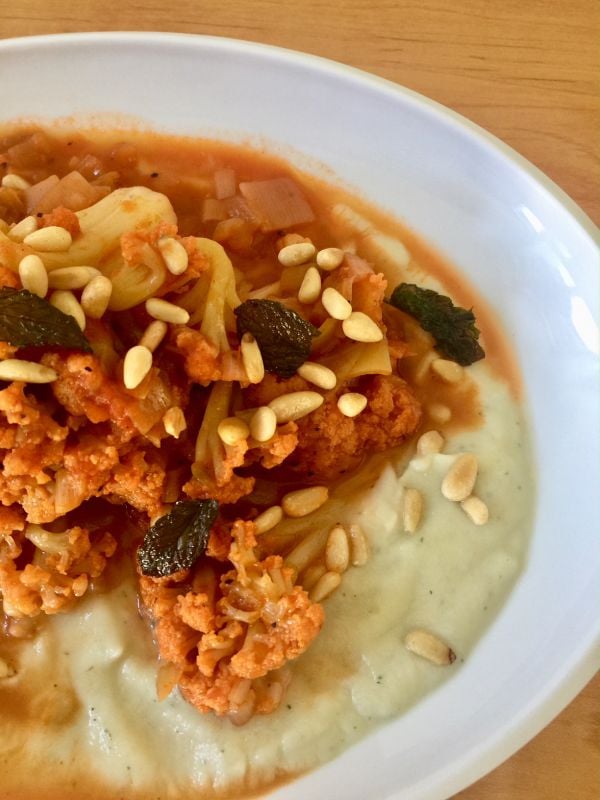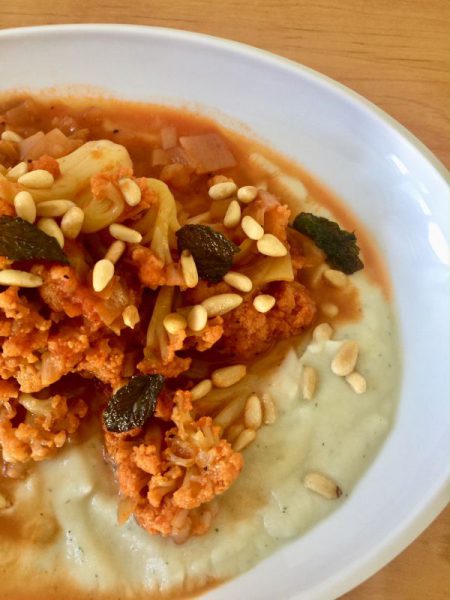 Place in a platter or individuals bowls and serve.
Kali Orexi,
Mary
© 2018 – 2019, Mary Papoulias-Platis. All rights reserved.