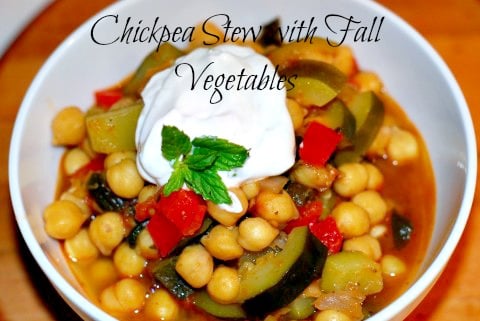 This freshly cooked Chickpea Stew and Fall hearty vegetables makes this soup one healthful and tasty dish. This recipe is made with dried chickpeas that have been soaked and cooked the day before. Feel free to substitute canned beans in this recipe. Select your favorite vegetables for this recipe, and make it your own dish. I serve this with a dollop of yogurt, but feel free to substitute sour cream, or feta as your choice of topping.
Chickpea Stew with Fall Vegetables – "Revithada"
A traditional chickpea soup made in my Greek home weekly.
Author:
Mary Papoulias-Platis
Ingredients
4 cups cooked chickpeas
1 cup water or broth
½ teaspoon cumin
½ teaspoon ground fennel
1 teaspoon dried oregano
1 zucchini, chopped
1 tomato, chopped
1 garlic clove, chopped
½ red pepper, chopped
2 cups fresh spinach, roughly chopped
1 teaspoon of olive oil
½ teaspoon pepper
1 teaspoon salt
½ cup Greek yogurt
1 teaspoon fresh mint or parsley
Instructions
Place olive oil in a deep soup pot. Add onions, spices, salt, pepper and red pepper and saute until soft.
Add garlic clove and saute for one minute.
Add the tomatoes, zucchini, broth or water, spinach and cook for 15 minutes.
Add the beans and cook for additional 15 minutes. Adjust with salt and pepper.
In a small bowl mix the mint with the yogurt.
Place a dollop of yogurt on each serving.
Notes
For Technique on Cooking Chickpeas visit: https://www.californiagreekgirl.com/?p=1387. Canned chickpeas can be used in this recipe. Just rinse and drain, then add to vegetables.
© 2010 – 2015, Mary Papoulias-Platis. All rights reserved.