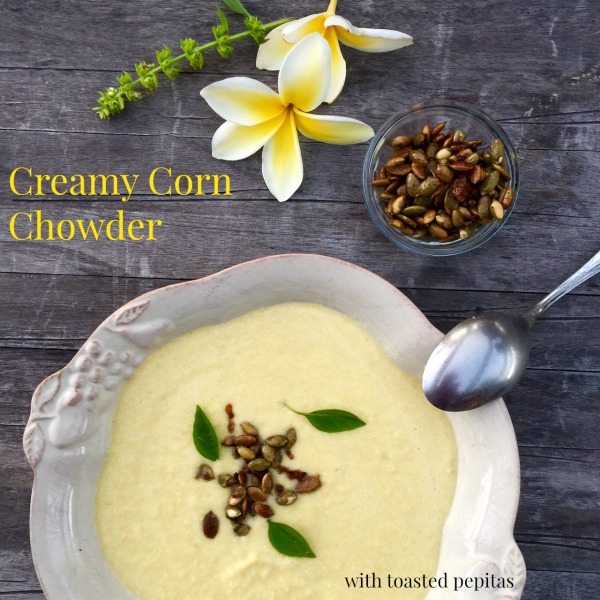 I have been hearing about The Vegetable Butcher, for quite some time now. Her name was echoing through the food community, and I as I traveled to various conferences I was hoping to catch up with her at one point. When I attended the Housewares Show in Chicago, we ventured out to Chicago's Eataly possibly taking the chance of running into her. But, we were told she was at the New York location and had opened a new restaurant.
It was just perfect timing when Melissa's Produce  invited me to attend a book signing and luncheon on behalf of Cara, introducing her new cookbook. I finally caught up with her, and it was worth the wait. Her knowledge in culinary and the handling of vegetables in the kitchen happened to be exactly what I was looking for. I chose the Corn Chowder recipe to feature today, because of the new cooking technique I learned when I read her cookbook. It surprised me the amount of flavor was gained from using the corn cobs in the soup stock.  And the entire dish with the toppings was superb. This is a keeper in my recipe box. So, I do hope you take an afternoon off and make this incredible corn chowder for your family.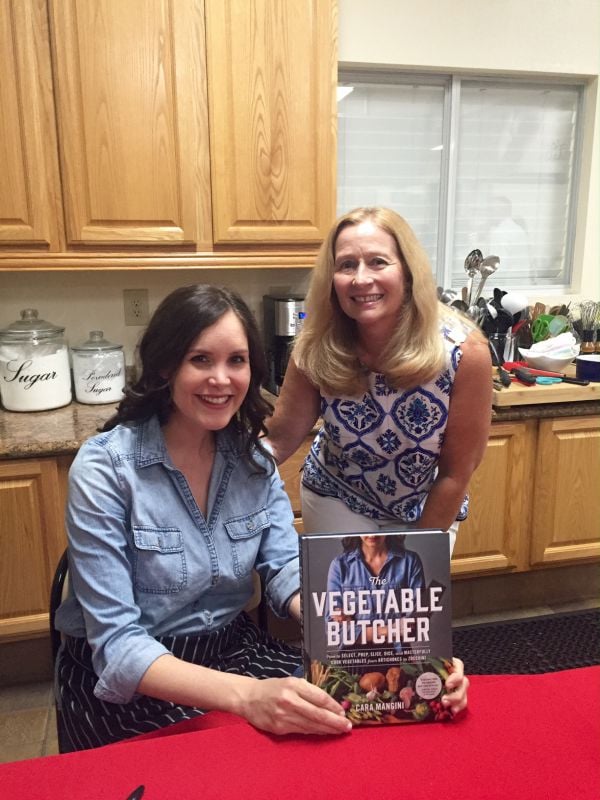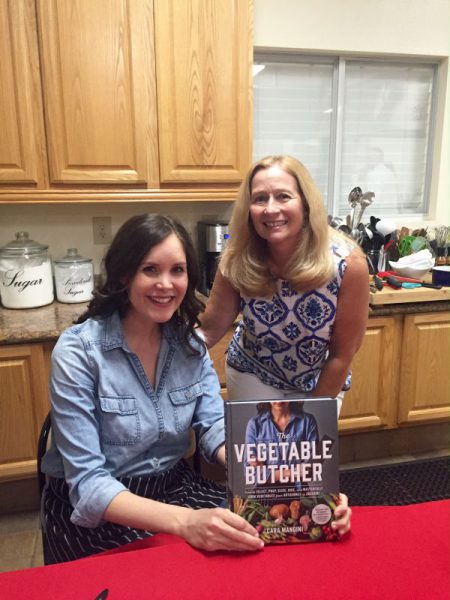 Enjoying a moment with Cara at Melissa's.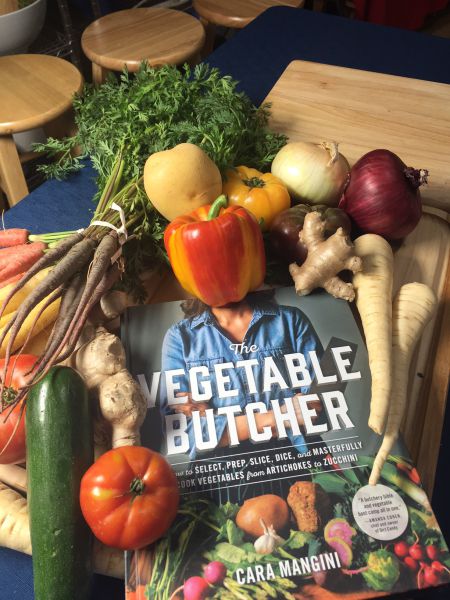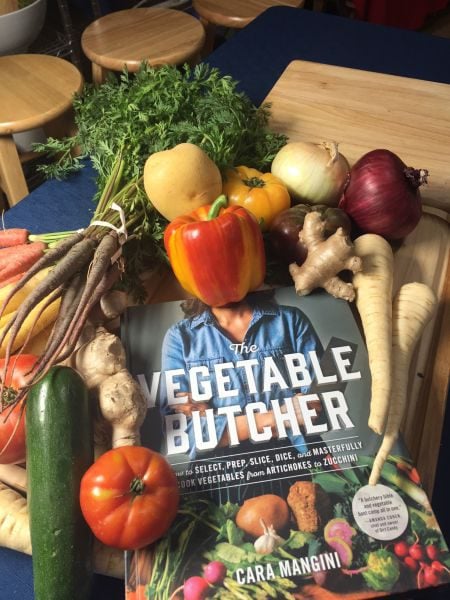 Her cookbook, The Vegetable Butcher is worth buying not only for it's unique layout design, but it's collection of cutting techniques, recipes and culinary skills for anyone who enjoys cooking at home.
My favorites from the Cookbook.
Melissa's luncheon included several recipes from Cara's cookbook, and it was all so healthy and delicious!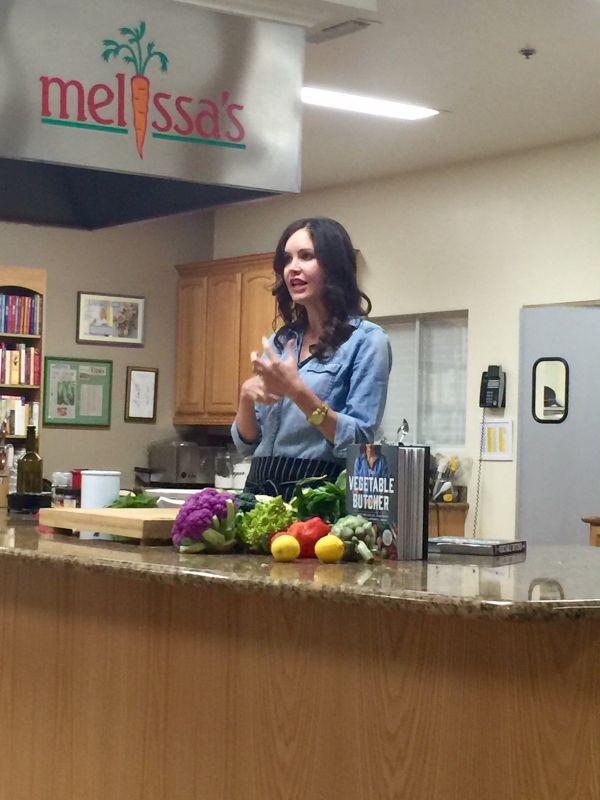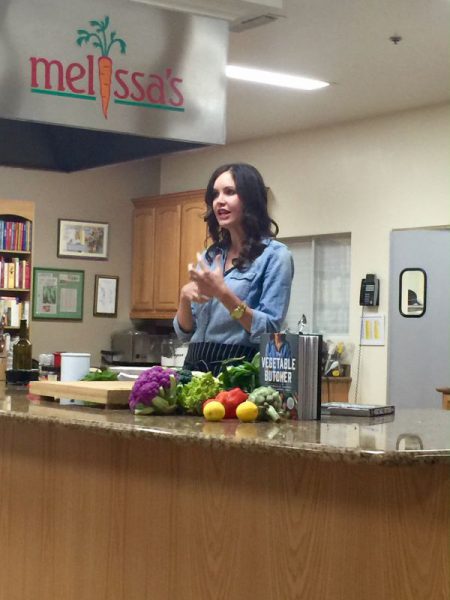 Cara discussed the importance of owning a good knife, and  handling vegetables with proper techniques for safety, as well as keeping food waste in mind.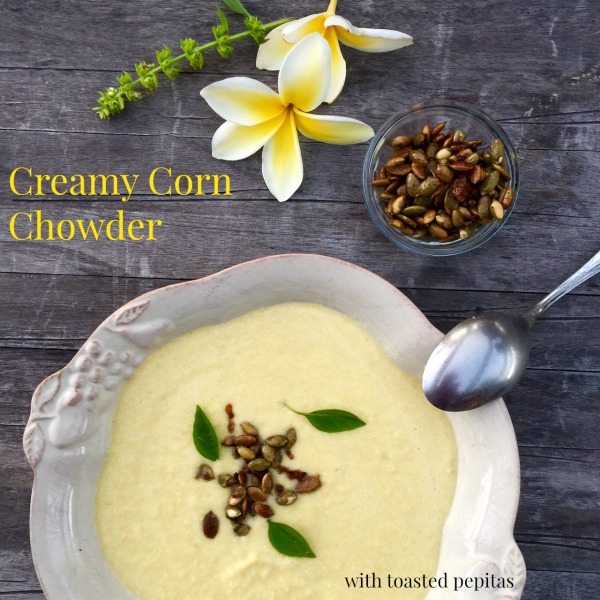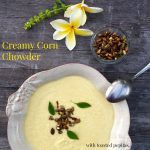 Corn Chowder with Pepitas and Cilantro
This is one book for your bookshelf. It's a lovely photographed technique based book , for everyone. This recipe is clean and fresh with a crunchy topping you should not leave out.
Ingredients
Kernels shaved from 6 large ears of corn

reserve the cobs

1

bay leaf

6

whole black peppercorns

2

tablespoons

olive oil

2

tablespoons

unsalted butter

1

medium yellow onion

cut into 1/4 -inch dice

1

garlic clove

11/2

teaspoons

fine sea salt

plus extra as needed

2

pinches

of cayenne pepper

plus extra as needed

1

tablespoon

freshly squeezed lemon juice or lime juice

1/4

cup

chopped cilantro

1/4-1/3

cup

freshly crumbled feta or goat cheese

for serving

1/4

teaspoon

freshly ground white or black pepper

1/4

cup

spiced and sweet pepitas

for serving

Your best extra virgin olive oil

for finishing

Lemon or lime wedges

for serving
Instructions
Fill a large pot with 1 gallon of water. Add the shaved corn cobs, bay leaf, and peppercorns, bring to a boil over high heat. Turn the heat down and simmer, partially covered, for at least 25 minutes and up to 60 minutes to impart as much corn flavor into the stock as possible.

Remove the cobs, bay leaf and peppercorns. Keep the stock on low.

Meanwhile, heat the olive oil and 1 tablespoon of butter in a Dutch oven over medium heat, until the butter melts.

Add the onion and cook, stirring occasionally, until it begins to soften and becomes translucent, about 3 minutes. Add the garlic, corn kernels, 1 teaspoon of salt, and the cayenne.

Turn up the heat to medium high and cook for 5 minutes.

Add 4 cups of corn stock to, cover the pot, and bring to a simmer.

Adjust the heat to medium-low and uncover pot slightly.

Simmer until the corn and onions have softened, about 20 minutes.

Stir in remaining tablespoon of butter. Once it has melted, take the pot off the heat.

Use an immersion blender or blender to puree the soup until it is smooth. (this will yield a blended soup, with some texture; to get it silky smooth, puree it in batches in a high speed blender).

Return the soup to medium heat and add up to 1 more cup of the stock if needed to thin the soup to your desired consistency.

Add the lemon juice and the remaining 1/2 teaspoon of salt, or to taste.

Ladle the soup into individual bowls and garnish each with cilantro, feta, freshly ground pepper and the pepitas, and a drizzle of extra virgin olive oil.

Serve with lemon or lime wedges alongside.

Alternatively, let the soup cool, then store it in an airtight container in the refrigerator for up to 3 days. Add more stock if needed to thin the soup;garnish and serve cold.
Step by Step for the Chowder
Here is the recipe for the pepitas, and I suggest you do not skip these – they add so much to the soup.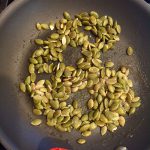 Spicy and Sweet Pepitas
Top these pepitas for your corn chowder recipe above, and get that special crunch!
Ingredients
1

teaspoon

extra virgin olive oil

1

teaspoon

sugar

1/8

teaspoon

cayenne pepper

1/8

teaspoons

ground cumin

1/8

teaspoon

salt

1/4

cup

raw pepitas (pumpkin seeds)
Instructions
Combine the oil, sugar, cayenne, cumin and salt in a small nonstick skillet over medium-high heat and cook, stirring often, until the sugar melts about 2 minutes.

Add the pepitas and cook, stirring constantly, until they are coated and begin to brown, 2-3 minutes.

Remove the seeds to a plate and allow the seeds to cool completely.

They will keep in an airtight container at room temperature for up to 1 week.
These pepitas are from Melissa's produce and can be found online or at your supermarket.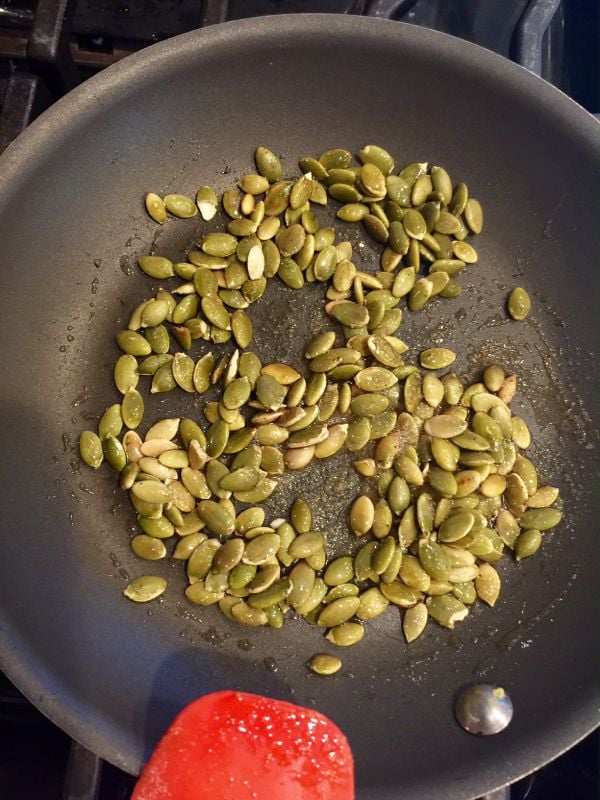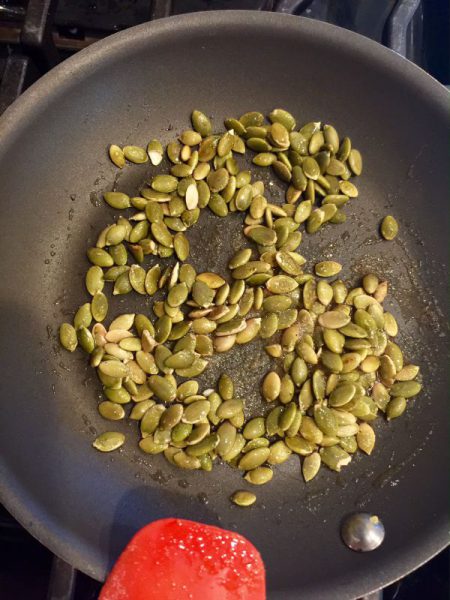 These have incredible flavor, they burn quickly so watch carefully.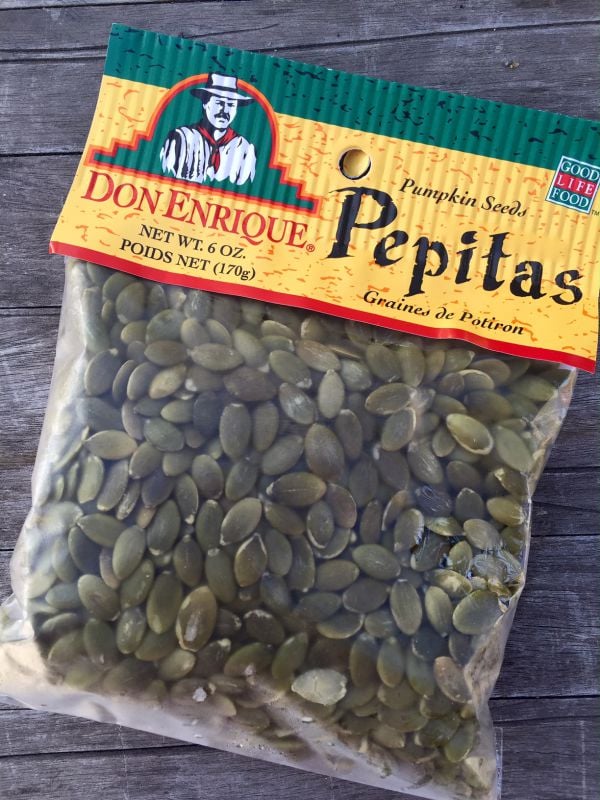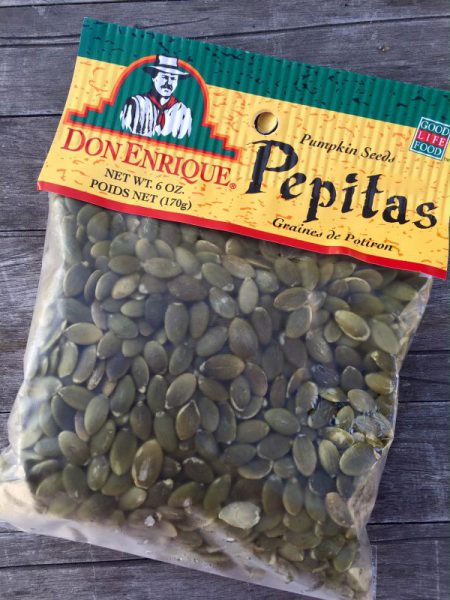 The pepitas come from Melissa's produce and can be found here online or in your local supermarket.
Soup's On!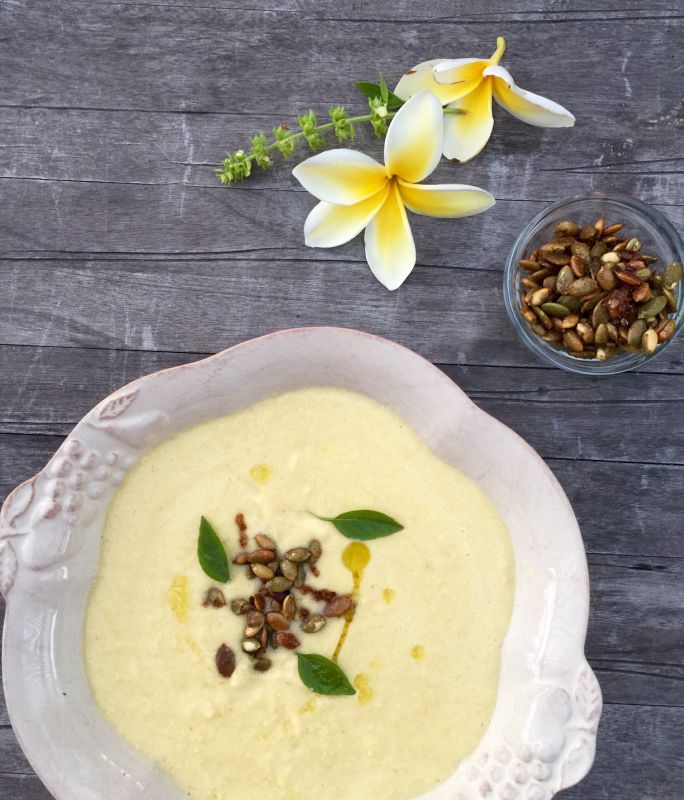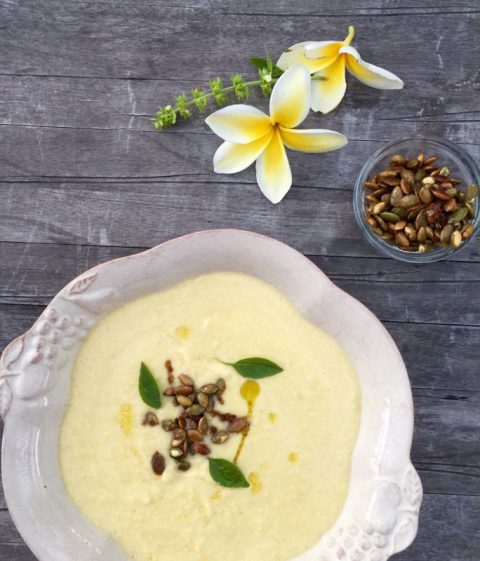 This post was from an even I attended at Melissa's Produce. The vegetables were sponsored by Melissa's.
One of my favorites recipes! Enjoy,
Mary 
© 2016 – 2022, Mary Papoulias-Platis. All rights reserved.