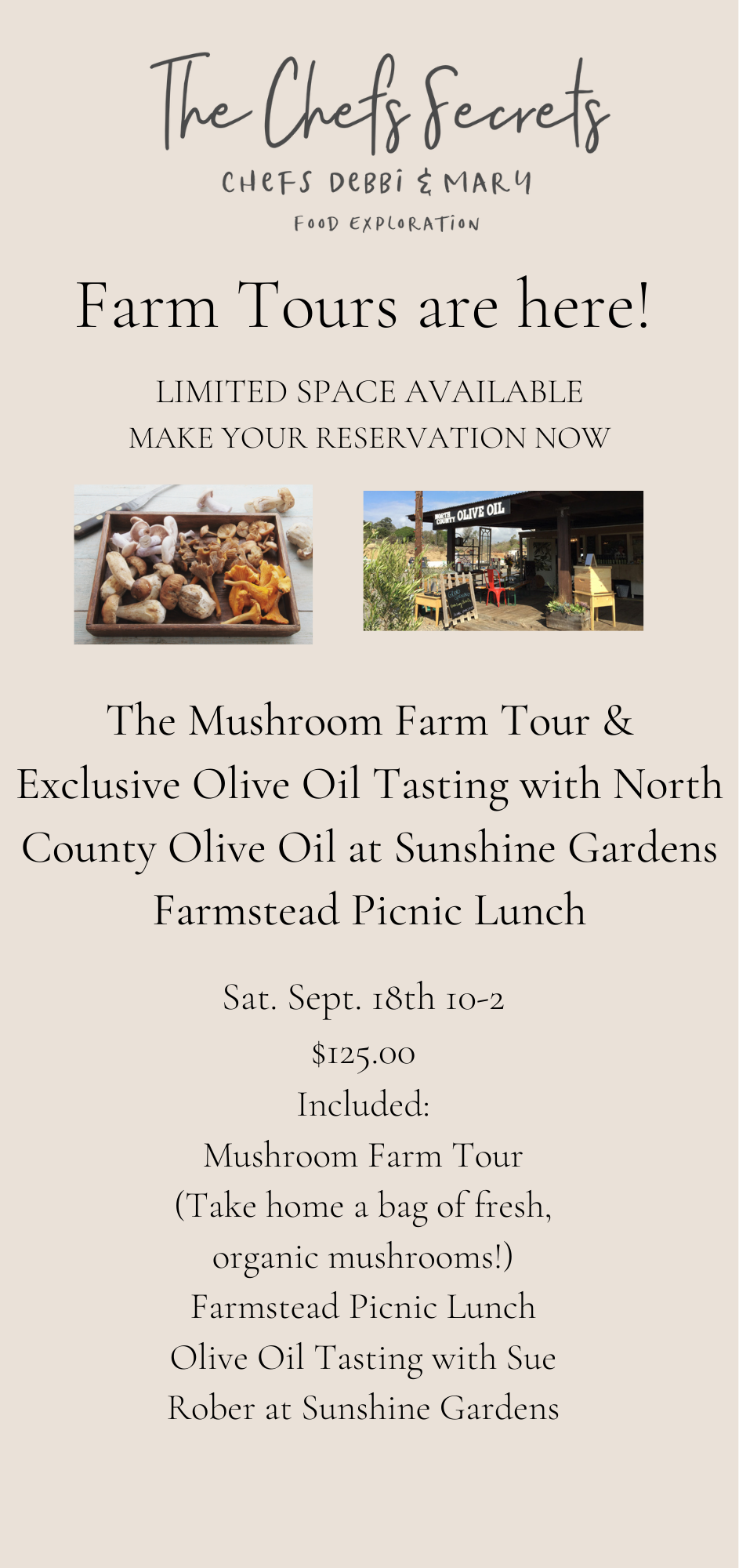 Welcome to The Chef's Secrets Farm Tour on September 18th 2021, in San Diego.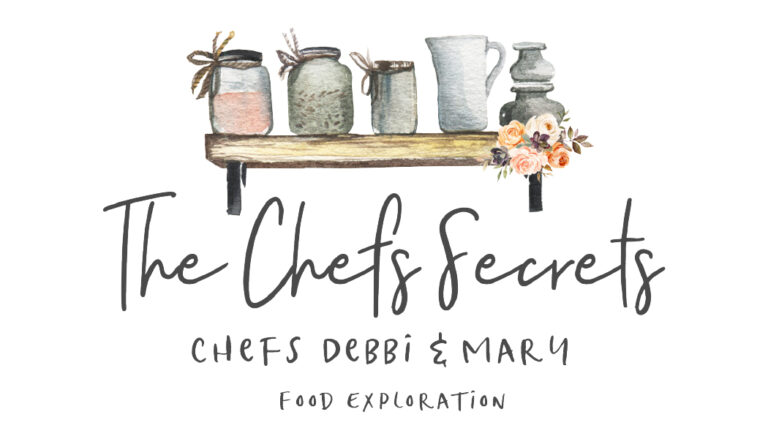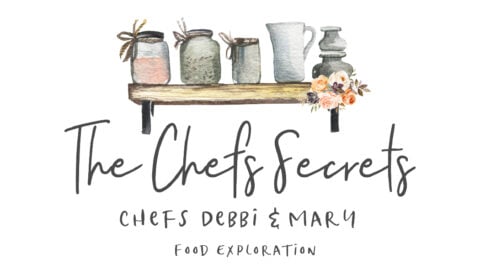 WE ARE SOLD OUT! 
Please watch for our October Tour -TBA soon. Thank-you!
Chef Debbi and Chef Mary have collaborated to bring you monthly farm tours throughout the San Diego area, that we have enjoyed visiting throughout our careers. This is our first tour of the year, and we hope you are ready to explore our world of culinary. For this tour you will be meeting us at the Mushroom Farm, with your own transportation. We encourage you to car pool if possible. We will have two stops, from the Mushroom Farm in Escondido to North County Olive Oil in Encinitas.
Directions to both locations:
This is one of my favorite stops in North County San Diego, to get a peek into this organic farm and it's operations. The owner will take us on a private tour of the facility, and at the end you will be selecting 2 varieties of mushrooms to take home with you. Mountain Meadow Farm is a family-owned business since 1952!
Wear comfortable clothing and a hat if you wish.
Closed toe shoes are required.
Don't forget to bring your camera!
If you wish tag your pictures of the Mushroom Farm on Instagram at mountainmeadowmushrooms.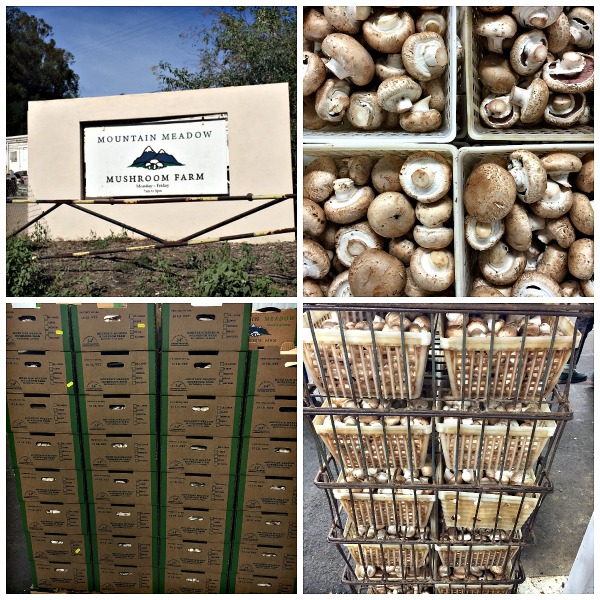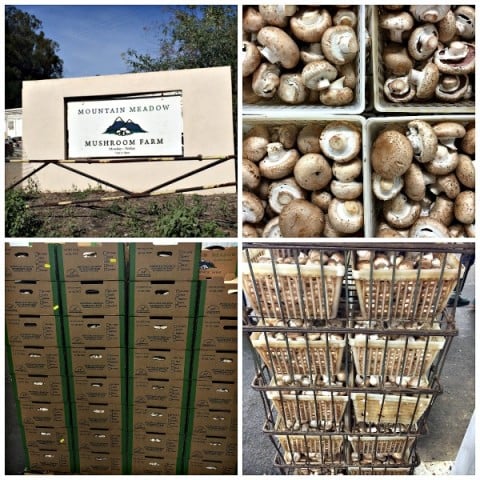 Here, you will enjoy lunch, a cooking demo and an olive oil tasting.
Our Chef's Menu:
Cheese Platter with Seasonal Vegetables & Fruit
Winter Salad with Pixie Tangerines
Mushroom Risotto
Road Home Brownies
One glass of wine will be served with lunch.
Lemonade & Spring Water will be available.
Don't miss the great swag bags that you'll get to take home!
Sue Robers, the owner will be presenting an exclusive olive oil tasting with her specialty oils. Don't miss out on her spectacular flavored oils as well and her exceptional local extra virgin olive oil. You will learn all about the industry and how its grown in California, making our state the #1 producer in the U.S. Her olive oils will be available for purchase.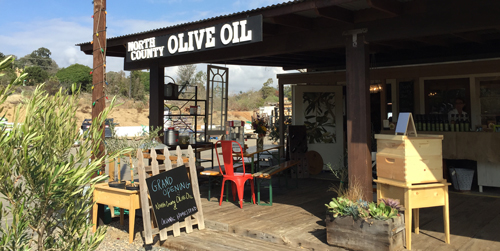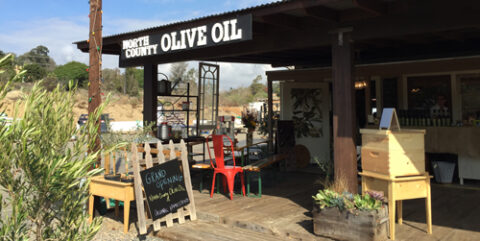 And there will be plenty of time to shop around at our local garden shops at Sunshine Gardens in Encinitas.
We suggest you car pool with a friend, if you need further assistance please notify me at : maryplatis@gmail.com.
See you there!
Mary 
Sponsored by Melissa's Produce 
© 2021, Mary Papoulias-Platis. All rights reserved.