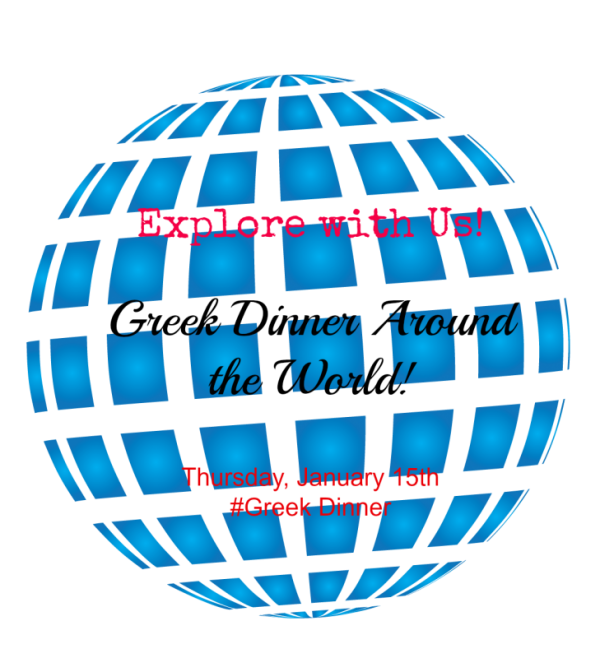 It's happening again for the second year in a row! The highly anticipated #Greek Dinner. I'm so excited to invite over friends and family for a day of celebration of the Greek cuisine. For me as you know I try and write, eat, and teach all about this healthy diet daily – on my blog, in my classes, and on social media. Phew! I 'm tired just thinking about it. But , I just returned from the Fancy Food Show in San Francisco, and tried every piece of chocolate, ice cream, and flavored popcorn that can be invented. Not only that, what about all the various cheeses, sausages, appetizers… I can go on forever.
So, I must get back on track and eat more healthy! But, what I crave the most when I get home  is my everyday go-to Greek dishes, which I will be serving. So this year I decided to drop the formality and instead have a "Meze" party with small bites from minty -meatballs to cheesy tiropetes. I'll serve up my favorite "horta' greens with my garden meyer lemons, and serve up minature ka-bobs with my favorite tzaziki sauce. Here's a sample of many of the appetizers I will start preparing early. I do the prepping of all the vegetables early, marinate all the meats and set my table. Recipes can be found here on my blog.
Please join us and learn more about this #Greek Dinner Around the World on Keri Douglas' Site: 9 Muses News. Here's a sample of what you will be reading on her site on who's attending and how this all began! 
Imagine a dinner party to celebrate Greek culture, cuisine, philosophy and heritage around the world with family, friends, and new friends. This is Greek Dinner Around the World on January 15th.
An idea that was sparked last year by the film Kiveri by Panayloti Yannitsos (@pyannitsos) and a conversation over Twitter with authors Marjory McGinn (@fatgreekodyssey), Mary Platis (@CalGreekGirl), & Peter Minaki (@kalofagas) on how to connect and promote one's work. In an instant, San Francisco Greek-American poet Katie Aliferis (@KatieA_SF) joined in and from there is history.
Why not have a dinner party with friends around the world and share and promote each other's creative ventures in books, films, art, cuisine, wine, philosophy, diplomacy, business and entrepreneurial endeavors.
One friend after another from Melbourne to Tokyo to Kazahkstan to Athens to Berlin to Brussels to London to New York to Toronto to Chicago to San Diego, hundreds of people, if not over a thousand, joined to celebrate a love for Greek culture and heritage.
Friends joined by hosting their own dinner party at home, at restaurants, universities with one olive to a full traditional Greek dinner menu. Some talked wine, olive oil, olives, heritage, mythology, diplomacy, business, art, (stolen art), films, and, of course, books. Talented friends joined, shared, promoted each other's endeavors and connected with new friends. In a year, friendships have been created that uplift the spirits across borders.
Mark your calendars and have a dinner party on Thursday, January 15, 2015 to join the Greek Dinner Around the World to honor your Greek heritage, cultural and connection to Greece.
….This is how it works and your social media information.
Follow the dinner party on social media through #GreekDinnerTwitterList on Twitter, Greek Dinner Around the World on Facebook, Instagram, #GreekDinner on Pinterest and Google+. When you are inspired, share, retweet, comment, connect, and engage with other dinner parties and enjoy!
Looking forward to sharing our pictures and dinner with you all on Thursday!
Kali Orexi!
Mary
© 2015 – 2019, Mary Papoulias-Platis. All rights reserved.