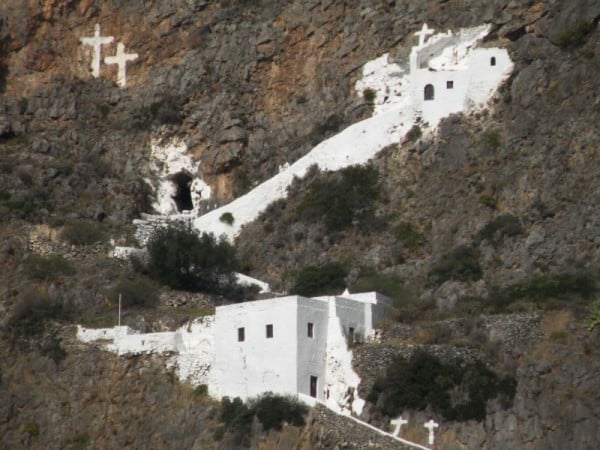 This is a short summary of a trip I had taken in a series, called Greece As I Know It – Kythera.  At the entrance of Kapsali village on the island of Kythera, standing above the port at an attitude of 100 m, you'll see the small chapel of Agios Ioannis beaming against the sun with it's white washed walls from the rocky hillside. The stone steps that lead to the church entrance is where the monk, Ioannikios, lived and restored the chapel in 1725, and this is where his inscription will greet you as you enter the church. Apparently,originally there were two churches on this site. The church Agios Ioannis was built inside the cave. Dripping water from the cave walls are thought by some to be the presence of sacred holy water.
It's once said that St. John the Theologian who according to one tradition began his writings of the Apocalypse here before he moved on to Patmos. Above the arched entrance is a two-bedroom guest house, originally built 500 years ago, where 5-6 monks once lived.  And further down the cliff , dedicated to John the Baptist, you will encounter a small ancient temple which was ruined due to barbarian invasions, since restored in the 18th century. A breathtaking site as we stood below taking this photo from the picturesque port of Kapsali.
© 2012 – 2019, Mary Papoulias-Platis. All rights reserved.