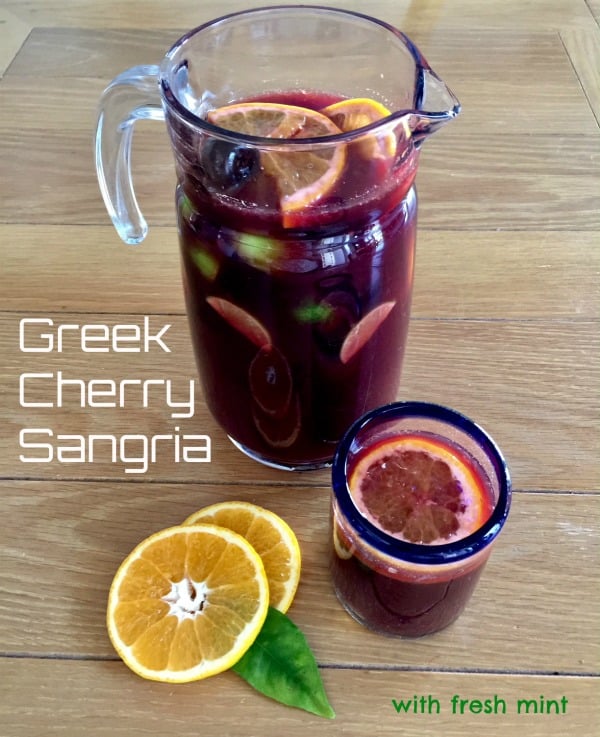 Need a refreshing new sangria recipe for your summer parties and BBQ? Fresh summer cherries were my inspiration for this recipe. Sangria is a crowd pleasing drink that can be made ahead and refrigerated before your event. In fact, a tasty sangria needs time in the refrigerator so the fruit juices meld into the wine. I chose a red blend we had in our pantry, but if you prefer more information on how to choose the right wine, Food and Wine wrote a great article on selecting the best wine for your sangria.
Once you make your first pitcher of sangria, your imagination with your choices of wine and fruit are endless. Match up your wines with fresh fruits such as watermelon, strawberries, peaches, apples, and grapes.  Change up the liquor and syrups with vodka, brandy, triple sec, sparkling water or ginger ale.  Just have fun exploring the possibilites!
Here are a few tips from that article:
No need to use an expensive bottle of wine.
Use the freshest fruit possible, to enhance your sangria. Always, thoroughly wash the fruit especially the citrus before adding to your pitcher.
Choose the fruit and spices, and herbs according to the wine you will be using.
For reds: use a wine with low tanins, which Spanish wines have so try and use them.
For whites: Avoid wines with lots of oak. They have little tanins, so any will do.
For Rose:  Select fruit-inspired wines from California.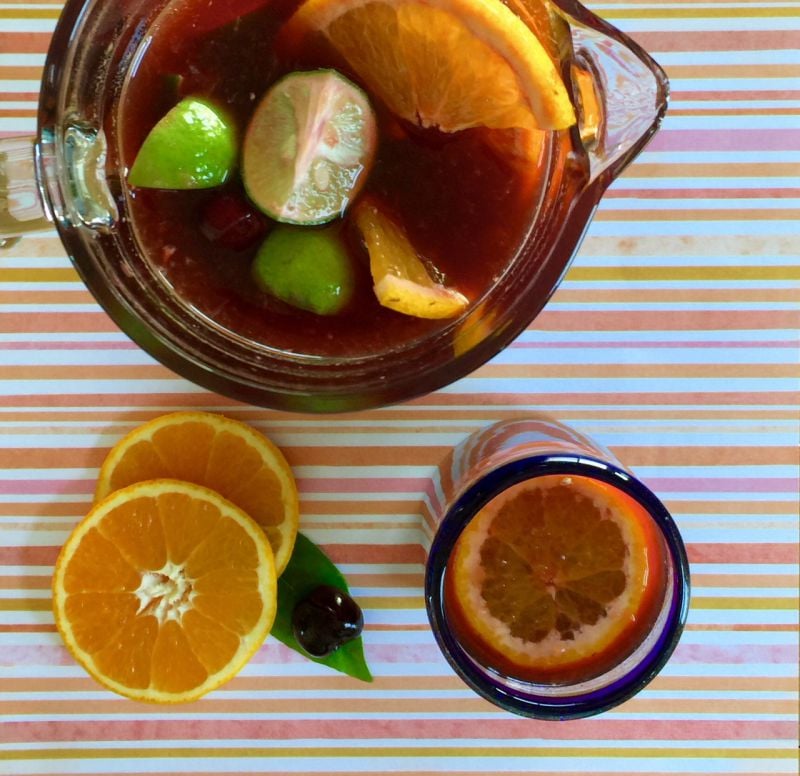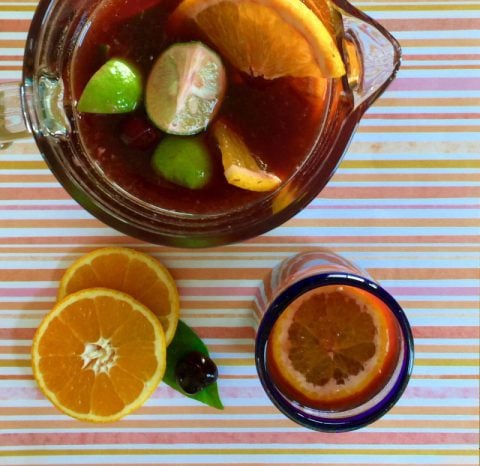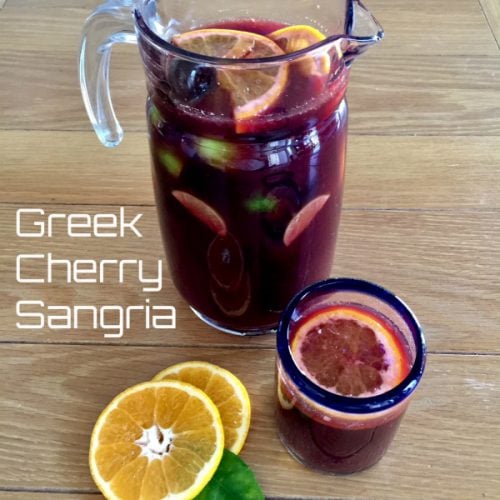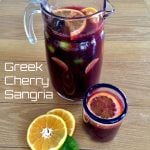 Greek Cherry Sangria with Fresh Mint
Fresh cherries are my summer's choice of fruit to add to your favorite bottle of wine, in making a pitcher of fresh sangria. Make ahead and refrigerate any your guests will just love it's refreshing taste.
Ingredients
1

750 ml

red wine such as a Merlot, Cabernet Sauvignon, Pinot Noir

1 -1/2

cups

fresh cherry juice (recipe below)

4

cups

freshly squeezed orange juice

1/2

cup

orange liquor - I used Cointreau

3

sprigs

fresh mint

1

orange, thinly sliced

1/2

lemon, thinly sliced

2

limes, thinly sliced

ice
Instructions
In a large bowl or large pitcher, add the wine, cherry syrup, orange juice and liqueur. This is a good time to refrigerate the wine overnight.

Add the fresh cherries, oranges, lemon, limes and mint and refrigerate for 2-4 hours. If you are refrigerating overnight, add the above with the 2-4 hours before serving.

Serve on ice, and garnish with fruit slices.
I used fresh cherry juice for this sangria recipe. I added the cooled cooked cherries to the sangria along with the other fruit. Or skewer them for a garnish for each glass.
Fresh Cherry Juice for the Sangria
This simple recipe for the cherry juice makes all the difference in the world. Strain the juice and add it to the sangria, and take the cooled whole pitted cherries and use as a garnish or add to the pitcher.
Ingredients
1

pound

fresh pitted cherries (about 4 cups)

1

cup

sugar

1/2

juice

fresh lemon

1 1/2

cups

water
Instructions
In a medium saucepan add the cherries, sugar, lemon juice and water. Bring to a boil, the simmer for about 10 minutes.

Skim with a spoon any froth from the top of the cherries as they cook. Discard.

With a slotted spoon, remove the cherries and set aside. Cool. Add to the sangria or use as a garnish for the glasses.

Continue cooking the syrup until slightly thickened. Cool and add to the sangria.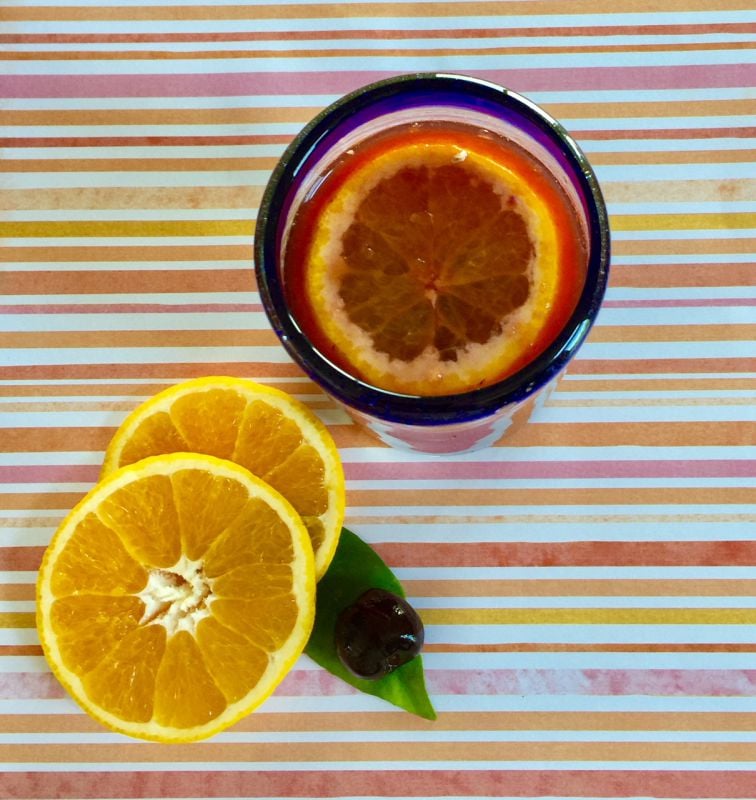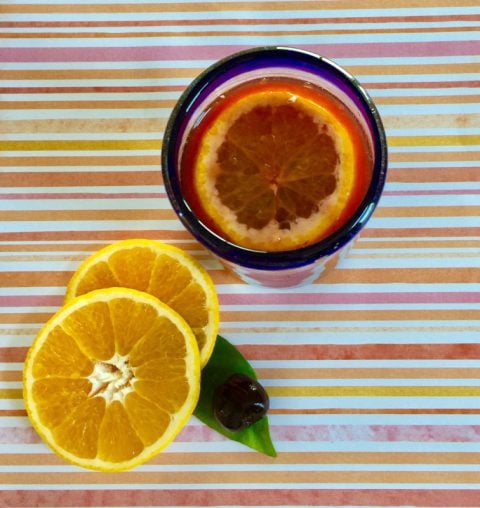 Wishing you a wonderful summer,
Mary
© 2018 – 2019, Mary Papoulias-Platis. All rights reserved.