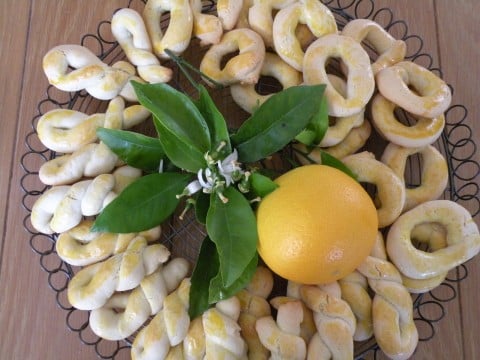 Buttery and deliciously fragrant, these Greek Easter Cookies "Koulouria" are expected to be on the table every year during Easter.  I put aside a day to prepare these only because this is an old family recipe that requires a large bowl and a uniquely way of mixing the ingredients together. The reason they are so soft and light is because the dough is hand mixed until it's the right consistency.
I add a little bit of orange zest to mine, for that California twist!  This recipe has been handed down to me from my Aunt Liza and Mother, watching them for years molding these cookies with their beautiful hands. These cookies can be wrapped up tightly for a dip in your favorite cup of coffee or milk!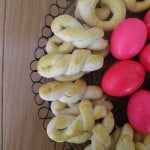 Greek Easter Cookies "Kouroulia"
Make these traditional Greek Easter cookies and enjoy with a cup of coffee or one tall glass of milk!
Ingredients
2

boxes (4 lbs)

Cake Flour (1 1/2 - 1 3/4) boxes

1

pound

powdered sugar

1

pound

sweet butter,softened

1

cup

half and half cream

6

teaspoons

baking powder

1

teaspoon

baking soda

8

eggs

separated

2

teaspoons

vanilla

1

tablespoon

orange zest

Juice of one orange

1

teaspoon

water

2

egg yolks
Instructions
In a mixer or with a hand mixer, add softened butter and beat on medium until light in color. Place in a large mixing bowl.

Clean the mixer bowl , add eggs yolks and powdered sugar and beat until smooth.

Add beaten sugar mixture to the butter mixture, and mix by hand until thoroughly blended.

Clean mixer bowl once again, add the egg whites and beat until stiff. Leave in bowl. Set aside.

In a cup, add 1 teaspoon of baking soda. Add the orange juice and while mixing together add to the large bowl. Mix into batter with hands.

Add the cream, vanilla, and orange zest and blend into the batter. Add the baking powder and blend again with hands.

Add the egg whites to the batter, slowly mix with hands until incorporated.

Now slowly, add the first box of cake flour and mix with one hand as you blend. Continue adding half of the second box and blend. If it pulls away from the bowl as you blend, you may stop. If not, continue to add until the batter is pulling away from the bowl. If you can, form the cookie from the dough, if not add the rest of the box.

To form the dough into a ring, pull off a small ball of dough, roll into a long rope and for a circle, pinch the ends together. Place on buttered sheet pan. 

To form a twisted cookie: Pinch a large ball and roll out  and twist as you would do with a knot.

Beat the eggs and water together in a small bowl, and brush lightly on to the  tops of the cookies.

Pre-heat the oven to 350 degrees. Bake the cookies for 15-20 minutes until the bottom of the cookies are slightly brown.

Recipe can be cut in half.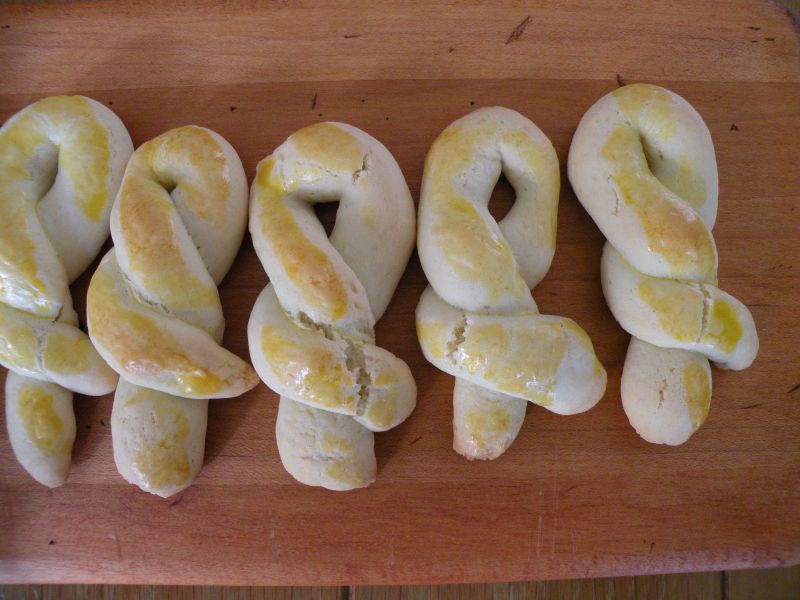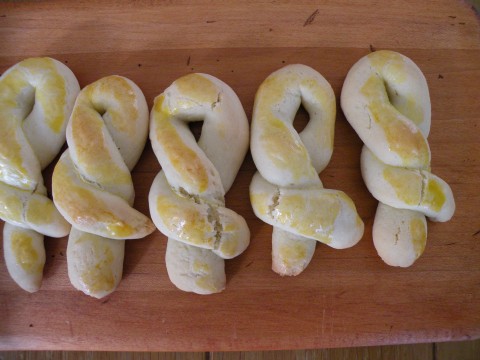 Happy Easter! Kalo Pashca!
Mary 
© 2011 – 2023, Mary Papoulias-Platis. All rights reserved.