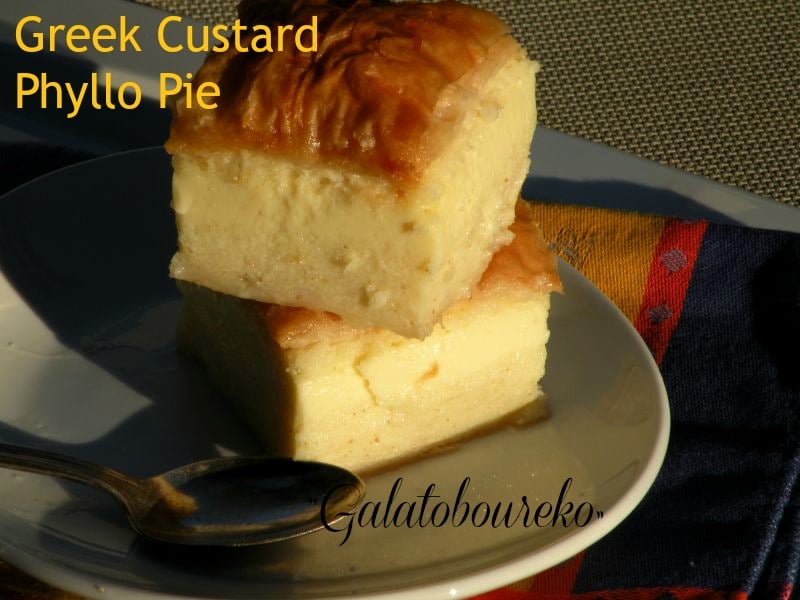 For thousands of years Greeks have been using thick sheep and goat's milk to make this rich custard pita pie called Greek Galatoboureko. It's a sweet, delicate pie, with it's many layers of crispy phyllo leaves. In Crete and Northern Greece, it's still called by it's Turkish name Bougatsa. Every town has there own version, varying the style, ingredients and flavorings. This dessert can be eaten hot or cold. I love it straight out of the oven, warm- while on the other hand the next day it's delicious cold for breakfast or for an afternoon snack. Bougatsa is filled custard without the syrup, and it's sprinkled with powdered sugar, a perfect breakfast. Both require making a  custard, so Galatoboureko is often a special treat for company or a special occasion. Below is a excerpt from my collection of Greek Cookbooks. In this book, And the Greeks, it describes how "sweetmeats" all began. If you have trouble finding phyllo, you can but it online at Filo Factory.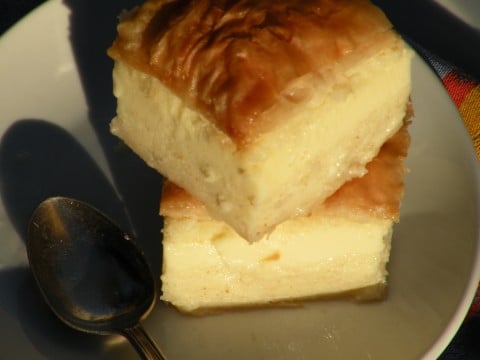 This is a very rich custard dessert, so I suggest you cut the pieces small in size, 2-3 inches square.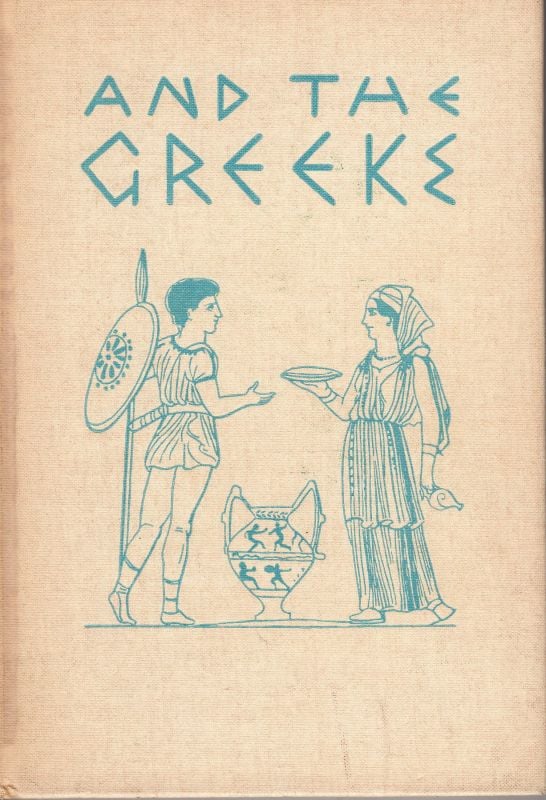 From my special book : And the Greeks by Allan Macdougall 1942. He was a clever man who first thought up the use of sweetmeats; For he added thus a pleasant lengthening to the feast, and filled the mouths and save the jaws from idealless. -Alexis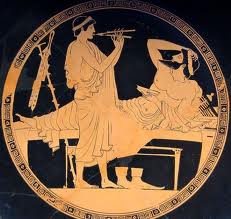 Please note: This recipe comes from my sister-in law Vicky. We made this together several times and she is a pro when making this! One thing to remember to adjust is the size of the pan in the recipe from a 11×17 to two smaller pans if needed. We are both caterers and use much larger pans than the average household pans. We both love to cook for a large group!
Greek Galatoboureko
This luscious custard pie is very traditional in the Greek cuisine. Set some time aside to make this but it's worth every bite! It can be served warm, room temperature, or cold. Note: This recipe requires a large baking pan.
Ingredients
Filling
1/2

gallon

of whole milk

1

cup

of semolina

10

eggs, separated

2

cups

sugar

1

tablespoon

vanilla
Syrup
1 1/2

cups

sugar

1 1/2

cups

water

2

cinnamon sticks

1/2

lemon, squeezed

1/2

pound

butter, melted for brushing phyllo

1

pound

phyllo, defrosted
Instructions
Scald milk in a large pot and cook on low.

Slowly whisk in semolina stirring constantly, and bring mixture slowly to a boil and stir until slightly thickened like pudding about 15-20 minutes.

Remove from stove and cool.

Beat egg yolks, 2 cups sugar, and vanilla in a mixer for 5 minutes until pale and fluffy.

In a separate bowl beat egg whites until stiff peaks form.

Slowly whisk eggs yolks into cooled milk mixture.

Fold in egg whites.

Pre-heat oven to 400 degrees.

Butter a deep 11x17 inch baking pan, with 2-3-inch sides.

Place one sheet of phyllo in pan and brush with butter.

Repeat layering until 1/2 of the pound of phyllo.

Pour the custard over the phyllo.

Repeat layering the remaining phyllo on top until all of the sheets are used.

With a sharp knife or scissors, slice through the top layers of the phyllo making 2 or 3 inch squares.

Bake for 10 minutes, reduce to 350 degrees and bake for 45 minutes, or until golden.

Turn off oven and leave pastry in the oven for 10 minutes. Test with a knife, with it comes out clean it's done.

While the pastry bakes make the syrup.

Place all the ingredients in a medium pot. Bring to a boil and simmer for 10 minutes. Let cool.

Pour the cooled syrup over galotoboureko.

Cut all the way to the bottom with a sharp knife, and serve warm.

Or cool and place in the refrigerator and serve cold.
Recipe Notes
This recipe can be halved, and placed in a smaller pan. Can be frozen before cooking, defrosted, and baked. I cut the 11x17 pan , 4x6 to create 24 pieces.
Note: This filling puffs up quite a bit, but as it cooks it deflates. This is what makes the filling so creamy.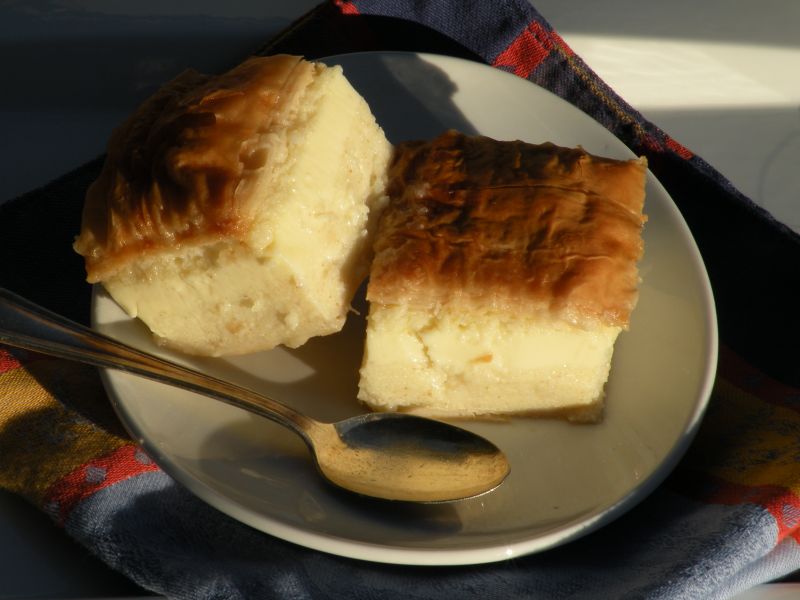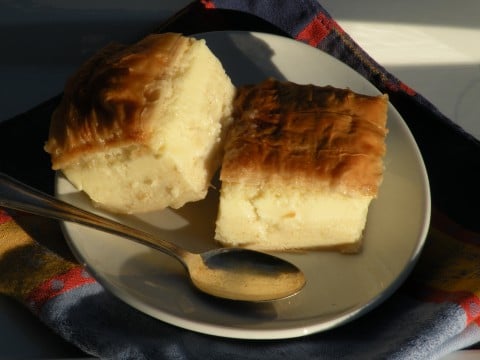 If you are a fan of custard like I am, you may want to try these recipes below from my blog:
Custard with Orange in Phyllo Rolls Bougatsa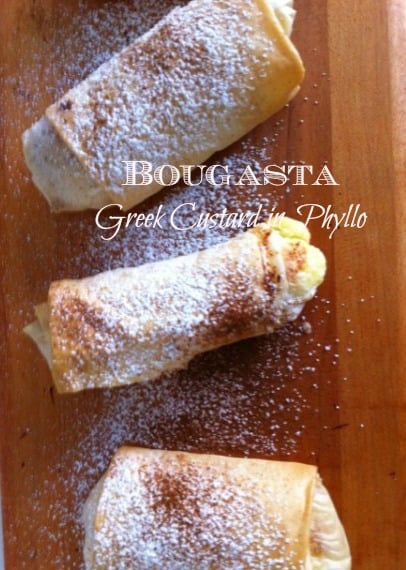 Greek Custard with Cinnamon Galiopita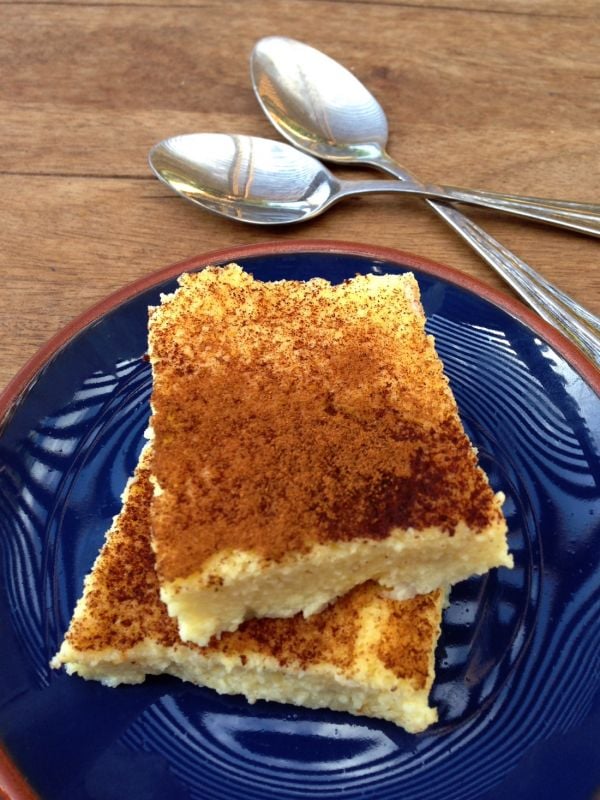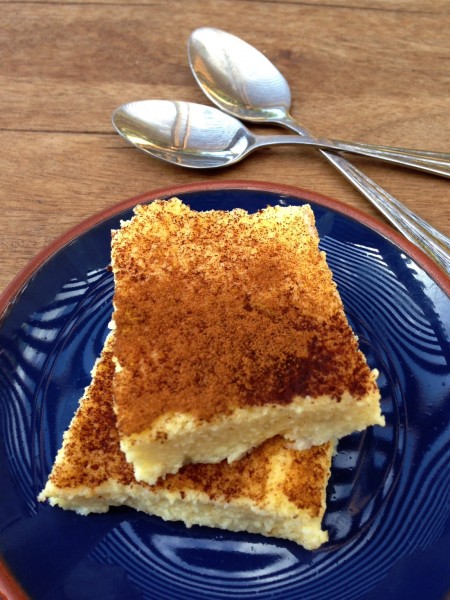 This recipe is a special holiday treat!
Enjoy, Mary 
© 2012 – 2023, Mary Papoulias-Platis. All rights reserved.