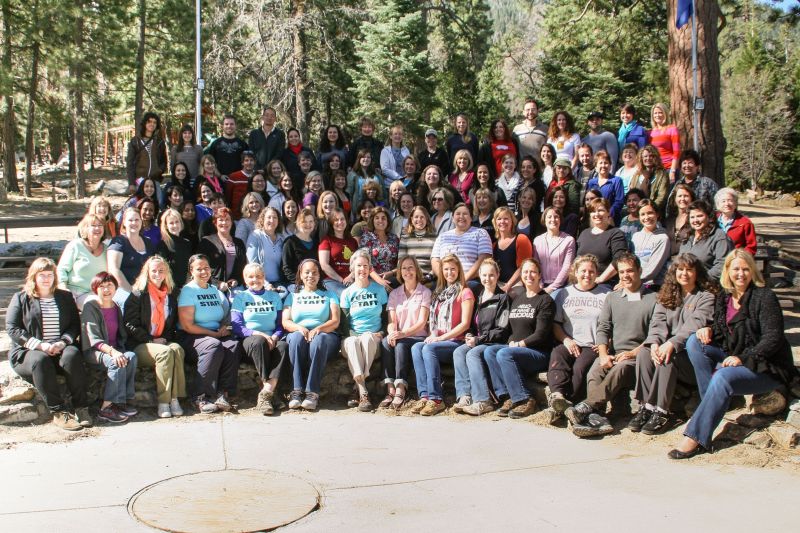 All of you have been waiting to hear how this Greek Girl survived last weekend's camping experience. Well, I have to say we did sleep in a warm cabin, shower with hot water, and were served warm dinners daily! Most of you would shout out, "this isn't camping!" and I have to agree with you. But as you can see from this picture that this weekend fed our souls, added to our creative being , and created long-time relationships with the food blogging community of bloggers.
I met many new friends representing our various states that traveled far, as well as local San Diego Food Bloggers which will encourage our local group to grow. Wherever they arrived from, these friends shared family stories, failures,and triumphs; that we will always remember and carry with us for a lifetime as we also embark on our new adventures. The bonding that occured this weekend was priceless.
I have to admit I was enjoying myself and relaxing (due to high elevation) I forgot to take pictures! That's totally not like me ,so I apologize to the sponsors and speakers I have only 5 pictures total!!! What was I thinking….Here are the four remaining.
Here is an example of how talented one of our bloggers Susan Silverberg, The Home Artist, was as she painted this lovely camp tree during one of our presentations.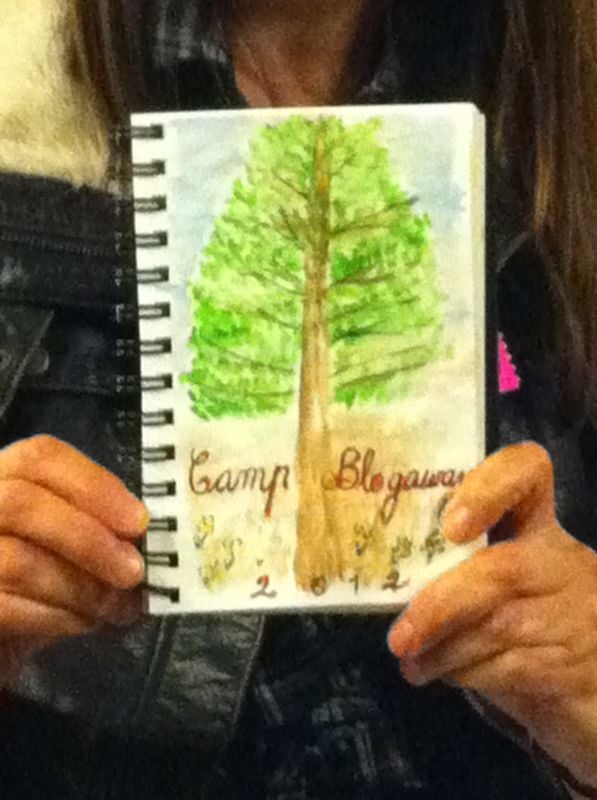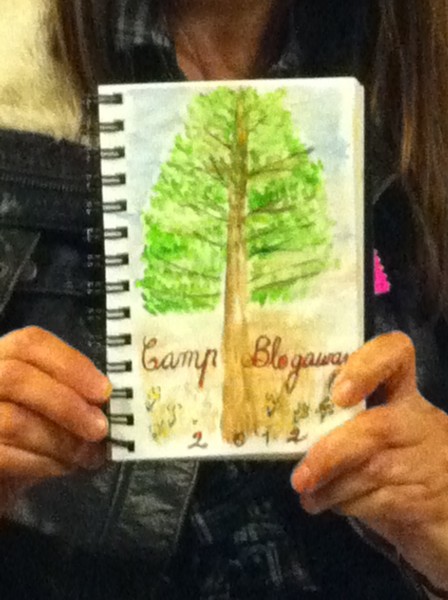 Throughout the weekend we had many sponsors supporting our event through giveaways, presentations, and tastings. A big shout out to all of you for your kind donations and time!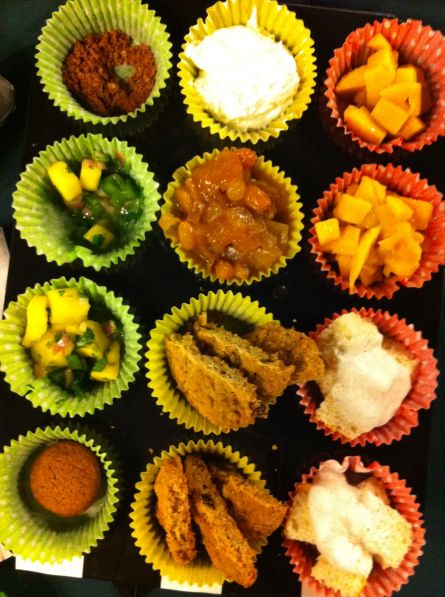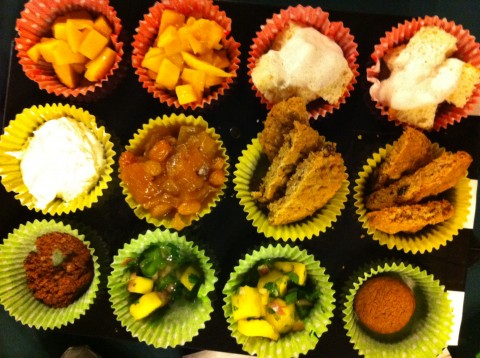 Here is an example of one of the activities we gladly participated in with the Mango Commission. A superb deconstructed tasting of three small bites using mangoes. This was definitely a taste explosion in my mouth.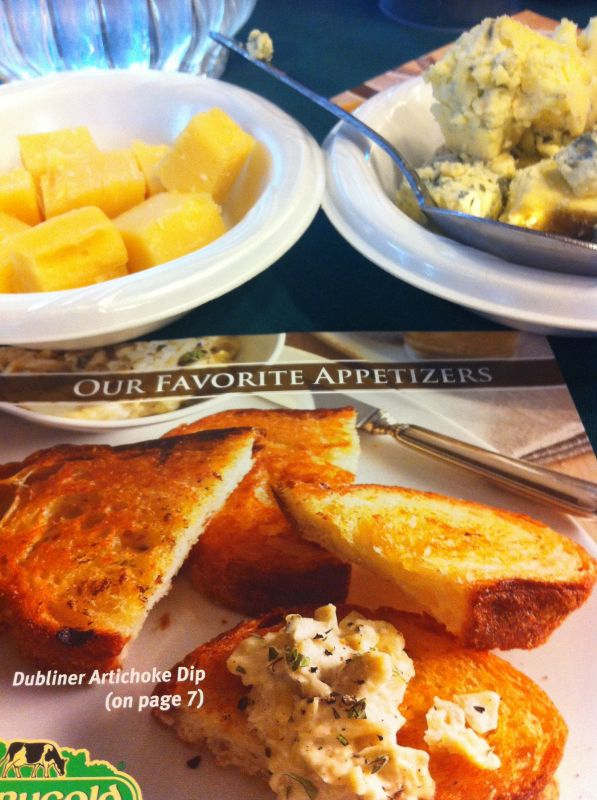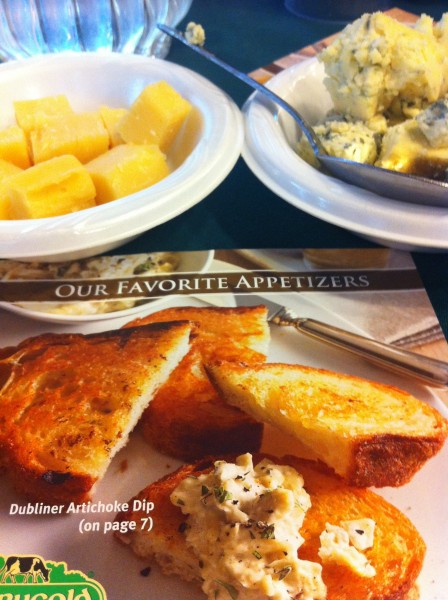 Kerrygold also had a presentation of their delicious butters and cheeses. Three cheese tastings that were salty, sweet, woodsy, nutty….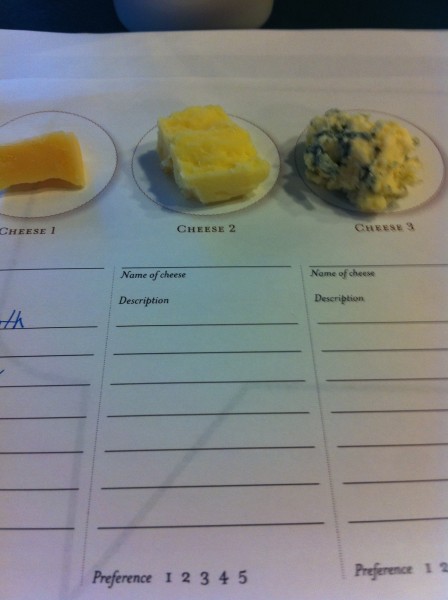 I also have to say the speakers encouraged me, inspired me, taught me to think like a professional, and have fun at the same time of doing all of the above! Hats off to all the speakers!  Sorry, no pictures. I was light-headed!
The last picture will have to do! This is the swag bag of goodies I have to pour through in the next couple of days. I'm so excited to dig in and get started on some new food posts!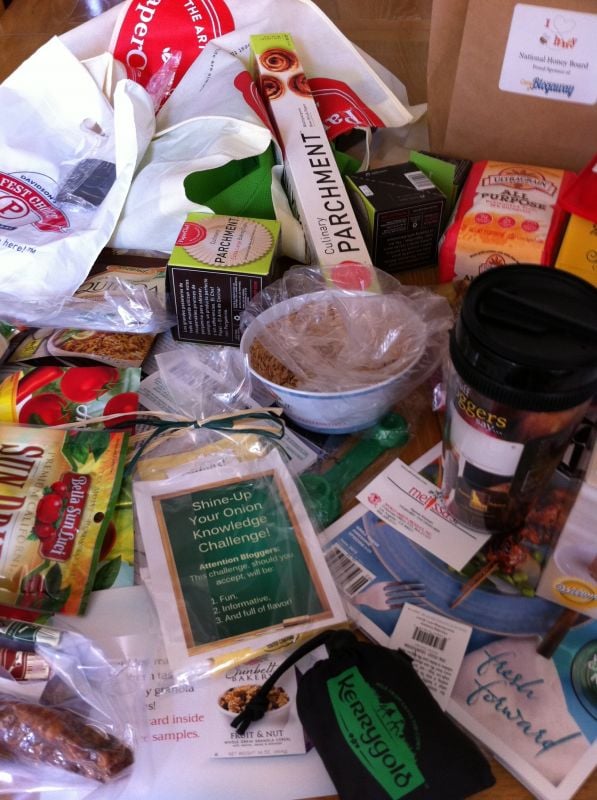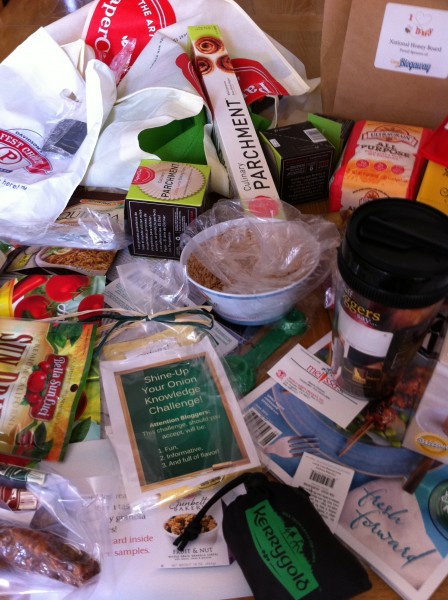 Thanks to: National Onion, Sunbelt,  Safest Eggs, Wilton,OXO, Mooney Farms, ConAgra,  Scharffen Berger, Mrs. Cubbisons, and Paisano Sausage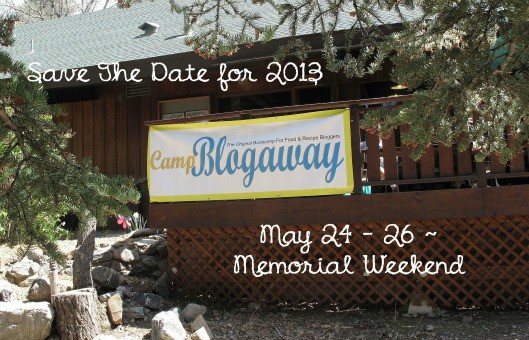 I would like to thank Patti Londre (Worth the Wisk) for all her hard work and imagination that went into making our lovely weekend such a successful event! For those of you who would like to attend next year…
© 2012 – 2015, Mary Papoulias-Platis. All rights reserved.