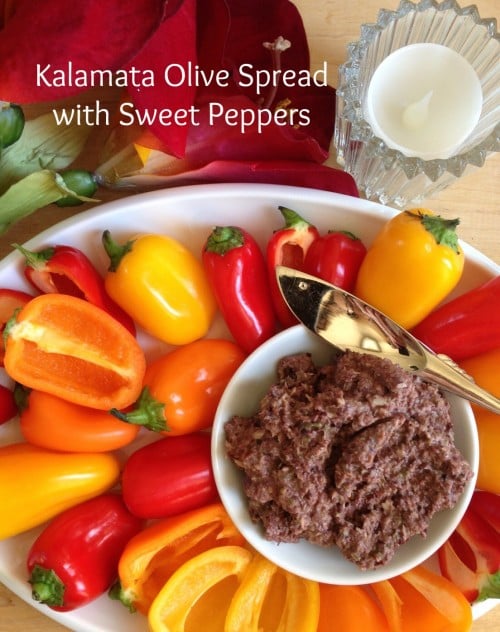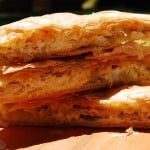 Top row: Hummus Dip, Greek Garden Salsa, Ouzo Shrimp. Greek Meatballs with Yogurt Sauce, Cheese-Stuffed Filo Triangles, Marinated Peppers Second Row: Lemon-Marinated Chicken Ka-Bobs, Eggplant and Parsley Dip , Leek and Feta Pie, Cover: Kalamata Olive Spread
Planning a great party for the holidays or any time requires a balance of several flavors and textures. Here is a sample of Greek Holiday Party appetizers you can include at your next party.  Many of these dishes can be made ahead of time to allow you time with your guests!  To prepare for a smooth evening here are a few suggestions. Here is a a schedule that may help you with your planning: Each individual recipe has the details as to when to freeze and how. All recipes can be found under Appetizers.
Freeze ahead appetizers: The Cheese and Feta Triangles, Leek pie, Grape Leaves Several Days Ahead: Hummus, Bell Peppers, Marinate Chicken, Roast Peppers, Eggplant Dip
Make the Day Before: Chicken Ka-bobs, Meatballs, Cook Grape Leaves and Refrigerate, Marinate and BBQ or Roast Shrimp
The Day of the Party: Bake the Leek Pie,  Make the Greek Salsa,  Cut the Bread,  Assemble Platters,  Bake Cheese Triangles as your guests arrive.
More tips:
1. Select and label all your appetizers platters ahead of time. You don't want to be caught without the right size at the last moment.
2. Set your table days ahead. Include a nice candle, flowers, or centerpiece.
3. Plan your menu so that most of your appetizers can be served at room temperature .
4. Set up your drinks and bar the night before.  Always have an ice bucket available.
5. Make sure you stock up on toothpicks, forks, and napkins, and deserts plates  next to your appetizers.
6. Buy fresh bread and crackers for your table. Slice bread a couple of hours in advance and place in zip-lock bags.
© 2010 – 2014, Mary Papoulias-Platis. All rights reserved.