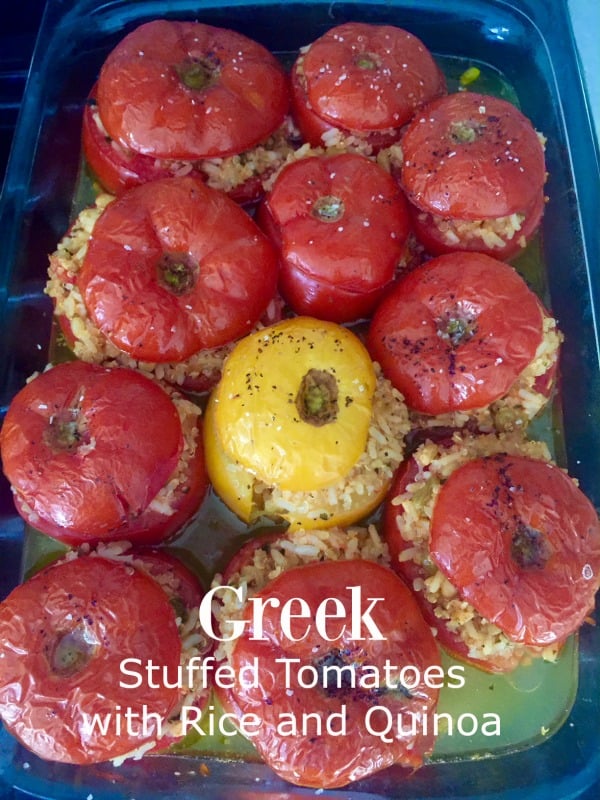 The best way to welcome summer if you love Greek food, is to make these delicious stuffed tomatoes called "Yemesta".
When I traveled to Greece a couple of years ago, one evening in Athens I was craving rice stuffed tomatoes. It took several trips up and down the city's restaurant area, before I finally spotted them on the menu. It was worth the walk and wait. I can still taste them, with all the aromatic herbs in the filling. The reason is was difficult to find them is because traditionally, they are made with lamb or beef.
I waited all season long to have garden tomatoes in my beds, so I could make my favorite dish. Many times this recipe calls for a variety of vegetables such as zucchini, red and green peppers, and eggplant. I had such a large harvest of tomatoes this year, I decided to use only tomatoes.
My friend Debbie, grew and sent me three Greek tomato plants called "Thessaloniki" this year, and they produced a big bumper crop. Feel free to mix your vegetables, the outcome will be the same. I wanted to make this a vegetarian recipe, so I added a mixture of both quinoa and rice. But, you can choose either all rice or all quinoa, just adjust the liquid and double the amount of quinoa or rice to 2 cups.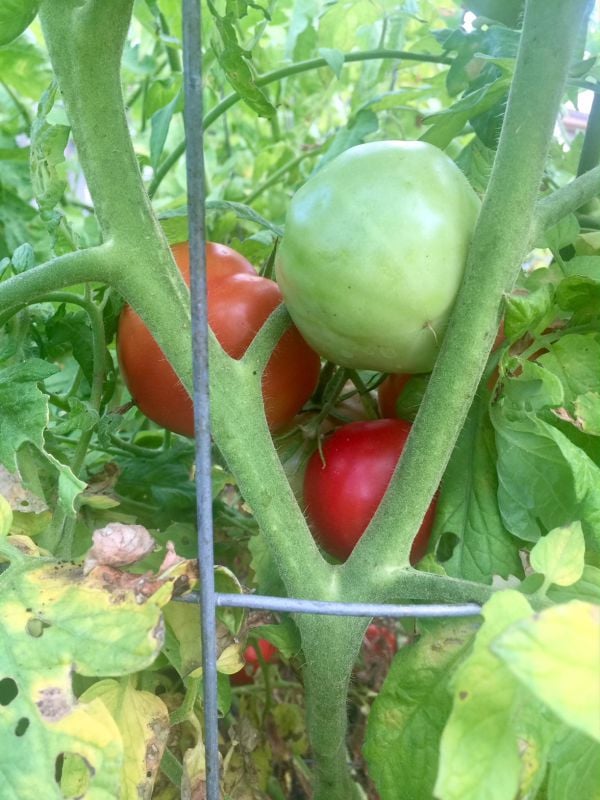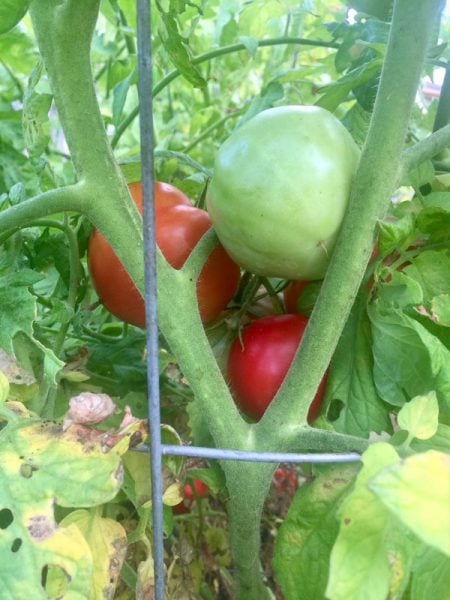 I used a 11×13 pan, to bake my tomatoes, which allows 11-12 tomatoes to fit snugly in the pan. Adjust the pan to the tomato sizes.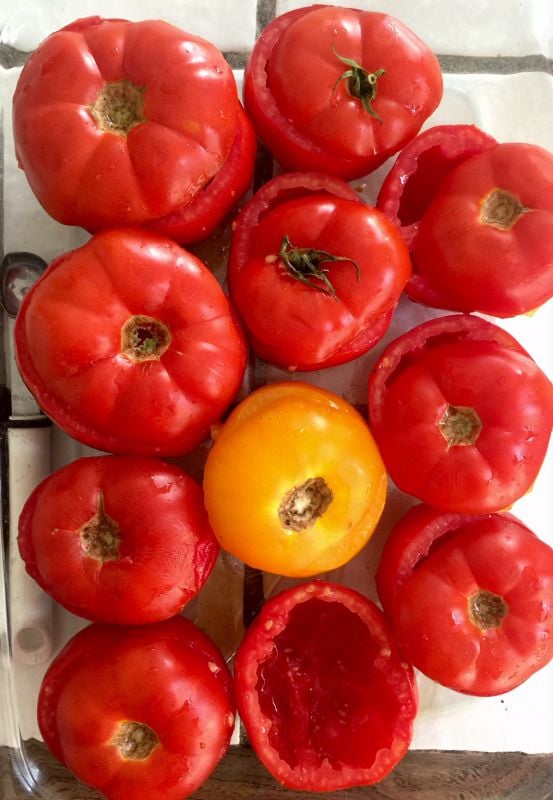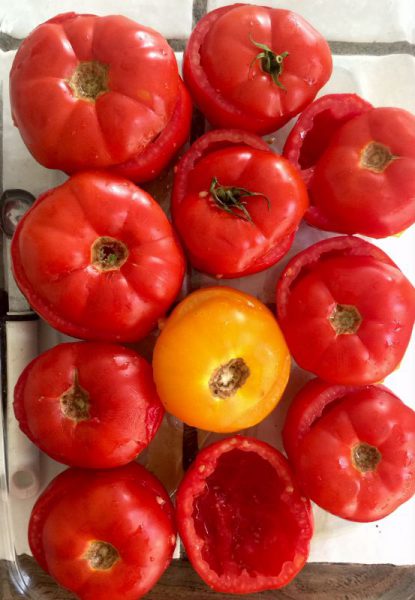 With a sharp knife cut off the top of the tomato, (about 1/4-1/2 inches.) Use a spoon or a apple core to scoop out the flesh and save to a bowl for later use. Do not cut through the bottom. Season the inside of the tomato with a pinch of salt.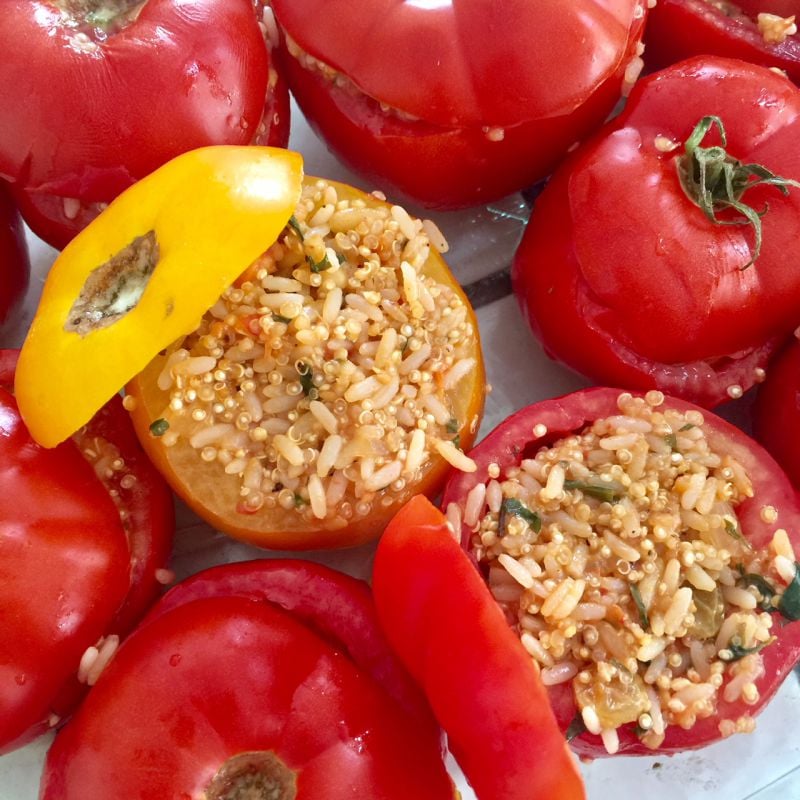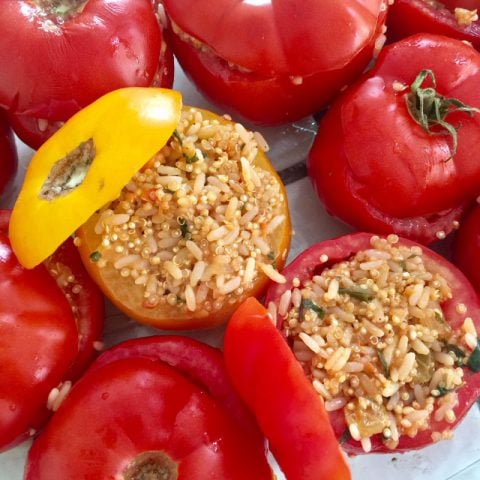 Fill each tomato with the filling and place the top back on to the tomato.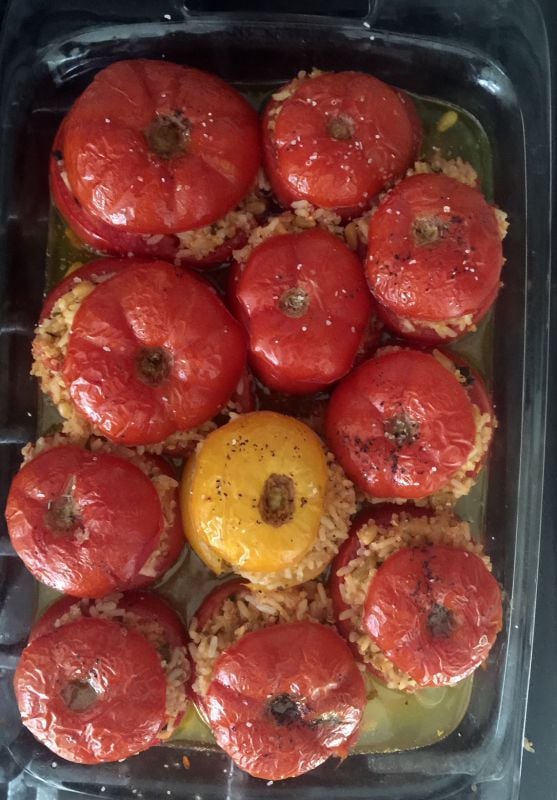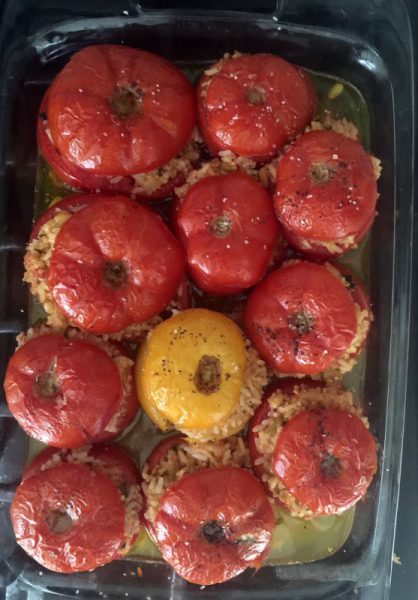 Add the broth or water, add a pinch of salt and pepper, and a drizzle of EVOO and bake covered in the oven at 350 degrees for 25-45 minutes. Remove foil and bale until lightly browned. Remove and let sit for 12-15 minutes and serve. If you have too much juice in the bottom of your pan, remove and set aside to add later to your plate.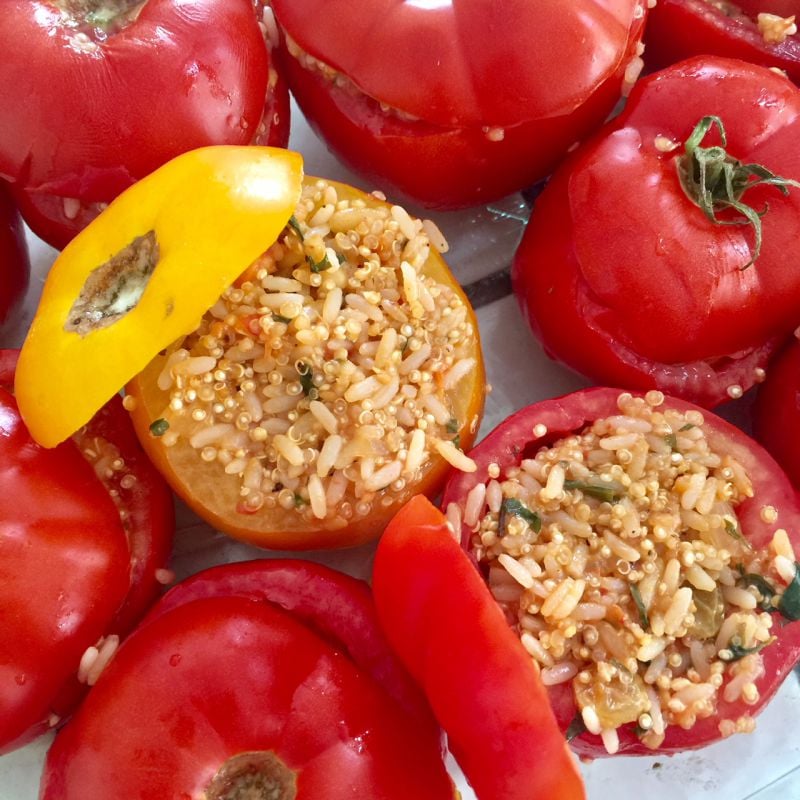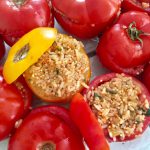 Greek Stuffed Tomatoes with Quinoa/Rice
Make this a complete meal by adding quinoa in place of meat. I used both rice and quinoa and they were delicious. Either way, summer tomatoes can't be beat in this dish!
Ingredients
10-12

fresh tomatoes

1

onion, finely chopped

2

cloves

garlic, minced

1 1/2- 2

cups

water or broth

1

cup

quinoa

1

cup

converted white rice (Uncle Ben's) or organic white rice

1

teaspoon

salt

1/4-1/2

teaspoon

pepper

2-3

tablespoons

fresh parsley, finely chopped

1

teaspoon

fresh mint, finely chopped

1

teaspoon

dried oregano

1/4

cup

pine nuts

1/4

cup

raisins

2-4

tablespoons

extra virgin olive oil
Instructions
Pre-heat the oven to 350 degrees.

Use a sharp knife and cut off the top of each tomato. Scoop out the flesh from the inside of the tomato and place in a bowl. Drain the juice from the tomatoes into another bowl and save. This is to be added to the rice mixture later. Replace the top to the tomatoes.

On medium heat, add two tablespoons of olive oil to a large skillet and add the onions. Cook on medium until softened. Add the garlic, and cook for 2-3 minutes longer. Add 1 1/2 cups of water or broth, quinoa and or rice to the skillet, along with the drained flesh from the tomatoes.

Add 1 teaspoon each of the salt and pepper, parsley, mint, oregano, pine nuts and raisins. Add reserved tomato juice as needed.

Cook on low heat until the juices have absorbed and the quinoa and/or rice is cooked about 15-20 minutes. Let cool for 10 minutes.

Place the tomatoes, snugly into your pan. Add the mixture to the tomatoes until filled to the top. Replace the top. Continue until all the tomatoes are filled.

Sprinkle the tops of the tomatoes with olive oil, salt and pepper. Add water or broth to the bottom of the pan reaching 1/2 inch up the sides of the pan.

Cover with foil and bake in the pre-heated oven at 350 degrees for 20-45 minutes. Uncover and cook for 10-12 minutes until lightly brown. Let sit for 15 minutes before serving. Remove the juices and set aside. Serve alongside the tomatoes.
Recipe Notes
If you chose to use all rice or all quinoa, make sure you use 2 cups of the selected grain. And adjust the water or broth.
Kali Orexi!
Mary
© 2018 – 2021, Mary Papoulias-Platis. All rights reserved.