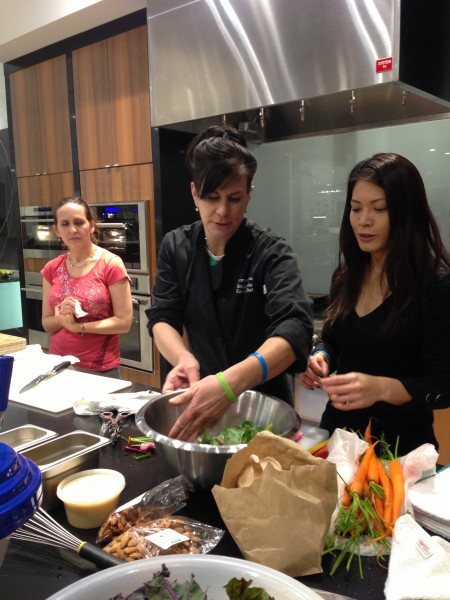 This month at the Center for Healthy Living join me for a cooking class as we explore healthful soups and main dish salads. Let's  start the New Year with classes to benefit your health and well-being. These two classes can jump-start you with new eating habits and cooking techniques to become a better cook at home. Come try either Healthful  Soups and Main Dish Salads and begin the New Year off on the right foot.
Why cook at home ? Here are my reasons I choose to eat at home:
It keeps you away from fast food restaurants.
Help controls your salt level in your food.
Portion control is easier to maintain.
Enables you to incorporate more vegetables into your diet.
Encourages cooking with fresh ingredients more often.
Lastly, I hope it  brings the joy of cooking back into your house.
January 15th  6:30-9:00
Healthful Soups and Broths
Classic Winter soups you can serve as main courses for your family and friends.
Cooking Technique: You will learn to make fresh vegetable and chicken broths.
Menu:
Greek Egg-Lemon with Orzo
Vegetable – Lentil
Fresh Rosemary White Bean
Roasted Butternut Squash with Apple
Cost:  $55.00
January 29th 6:30-9:00
 Hearty Main Dish Salads 
 Re-energize your family weekly meals with these nutritional simple salads.
Cooking Technique: You will learn the basics to making Homemade Dressings from scratch.
Menu:
Roasted Salmon with Cucumbers and Green Beans
Avocado, Fennel, Grapefruit with Shrimp
Pork Tenderloin Island Salad
Asian Chicken Salad with Savoy Cabbage
Cost: $55.00
Also included:
A Recipe packet
Sit-down Dinner with the Guests
Please bring an apron for participation
Click the Event Calendar date for the class you are attending in the box on the right and register.
Hurry class is limited to 12 people.
Thank-you and I can't wait to see you in class!
© 2013 – 2015, Mary Papoulias-Platis. All rights reserved.