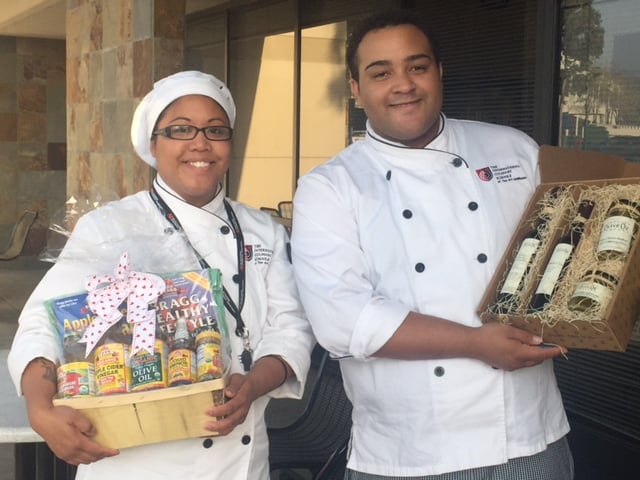 Have you ever wonder if it's worth your time and effort to attend a new conference whether it's in your town or in another city?
I have often asked myself that question repeatedly, especially right before pushing that "pay" button on my computer. Why is it so difficult to decide such an easy task?
I continue to contemplate the following questions over and over again in my head trying to make my decision.
Do I have the time and energy to attend?
How can I be productive?
Will I get anything out of going?
Will I have fun?
Do I know anyone there?
Well, I have attended several conferences this year and yes to my surprise I have thoroughly enjoyed every moment. I always try to take something away from the day or weekend, whether it's finding a new brand, or feeling the energy from the innovative speakers, or just being brave enough to meet new people. And over time, I have embraced and loved the many wonderful relationships I have developed during these past few years.
The reason I'm writing this post for you today is for you to imagine what can happen unexpectedly in the days to come.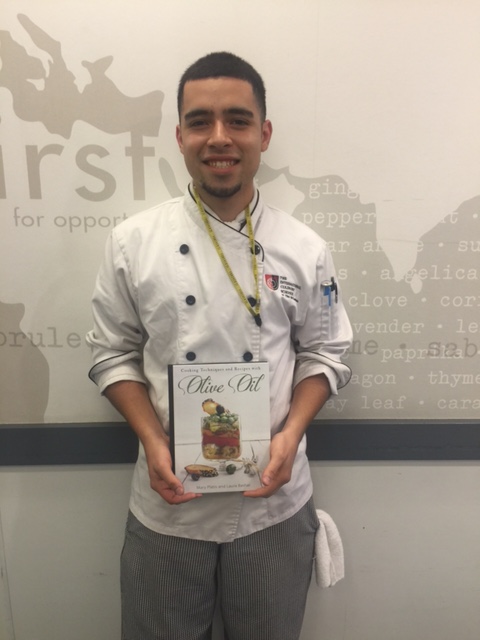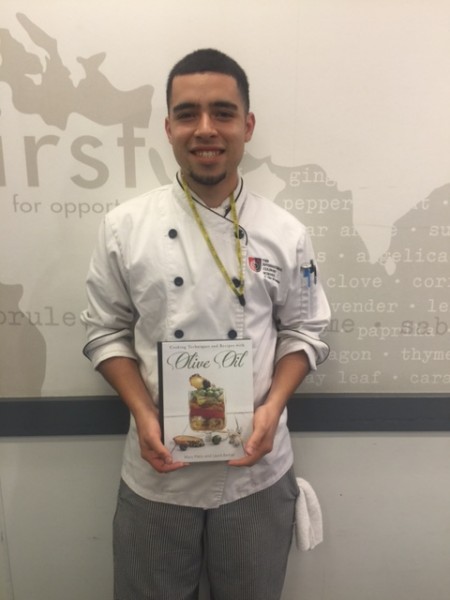 For several years I attended Camp Blogaway, a food blogger's conference, orchestrated by our hero Patti Londre from (Worth the Whisk).  I attended the weekend classes, not having any expectations on how the it would unfold. I wanted to enjoy a weekend with fellow bloggers, food representatives, and friends in a beautiful mountain-getaway without any noise. Just chatter and laughter was on my list for the weekend.
At last year's conference I happen to sit at a table of new faces and met an incredible dedicated culinary chef Liz Thompson. We both had an idea at camp, and acted on it in the following months. Afterwards, we spoke many times on the phone coordinating our event. We both agreed it should start with the students at Liz's culinary school.  The school was in San Bernandino, about 1 1/2 hours away.  I agreed to come out and do a presentation and olive oil tasting with Liz's baking group. If there's one thing I totally loose myself in, it's teaching. I drove and drove that morning from San Diego and got there just on time. This took several hours of planning with Liz but it was all worth my time.
I was introduced to the young culinary students and began my presentation. Trying to keep it short and meaningful to these students, was my initial goal. They so surprised me! They continued to ask questions and thoroughly got into the subject. The best part of the day was when the students agreed to experiment with substituting olive oil for butter in their recipes. And they agreed to let me know how their process and recipes evolved.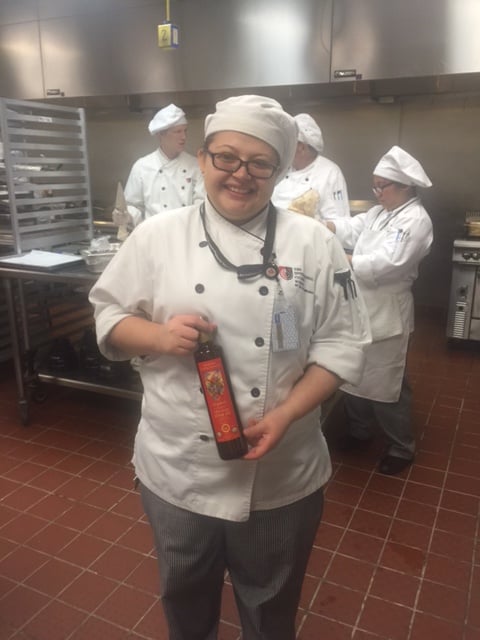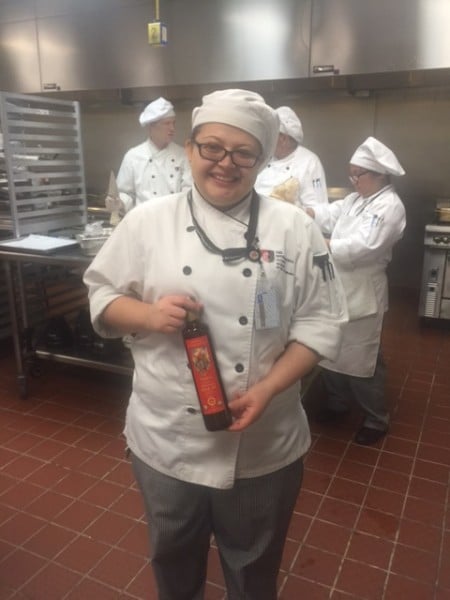 Liz, the Chef and instructor then realized we should run a cooking contest using olive oil. I was fortunate to reach out and receive bottles from several olive oil companies; Bragg Olive Oil,  George Menzelos  from Arianna Trading, and Temecula Olive Oil. They were all generous supporters to provide the class enough oil to experiment with in their classrooms. Several months later the contest came to an end and as you can see the student winners were thrilled.
If you'd like more information on cooking with olive oil, you may want to purchase my cookbook below.
Such a small idea and gesture at a dinner table in the mountains with several food bloggers, became a winning idea.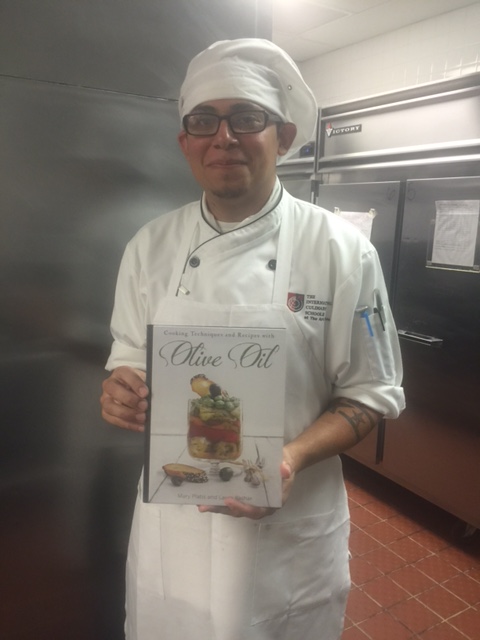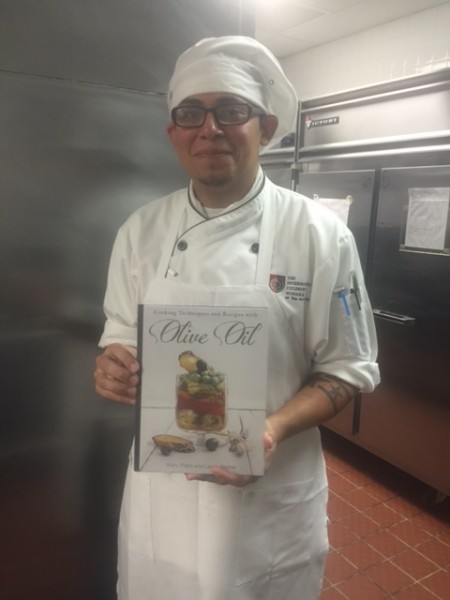 If this gives you any inspiration to join and attend a nearby event – please GO!
Here are a few tips for you:
Start small, and attend a meet-up or talk in your coomunity.
Go with a stack of cards, intending to meet as many poeple as you can. But, be sincere.
Sit with new people and introduce yourself, try and move out of your comfort zone.
Attend smaller break out sessions where you can get more personal.
Be positive, because it does spread around the room.
Listen , listen, listen.
Be prepared and go with homemade cookies, snacks or drinks for a weekend conference and share.
Most importantly  – make new friends and follow up with an email.
And lastly, sit back and enjoy, and it will happen.
Just like it did this one time for Liz and me.
A BIG thank-you to our sponsors Bragg Live Foods, Arianna Trading, and Temecula Olive Oil.
Here is our group picture of all the Camp Blogaway attendees from this year!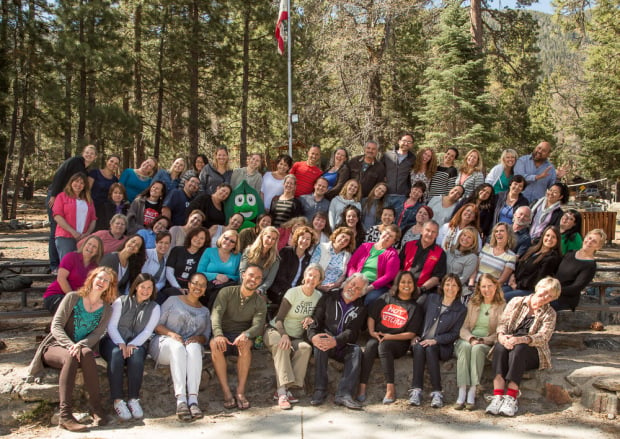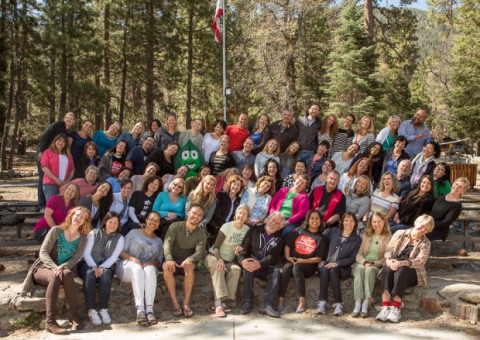 And a special thank you to Patti for making this experience a possibility!
© 2015 – 2019, Mary Papoulias-Platis. All rights reserved.