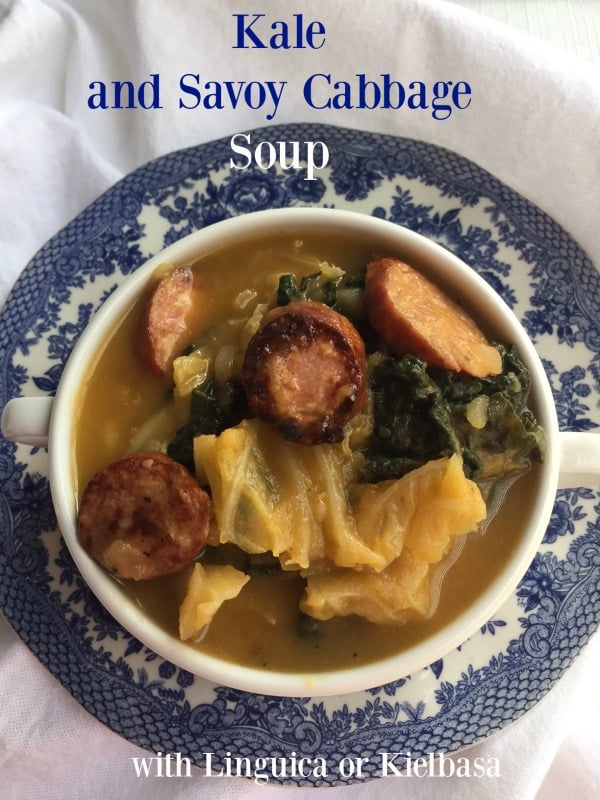 Hearty Soups are the answer to staying healthy during these cold winter days. This hearty Portuguese soup is full of kale, potatoes, and savoy cabbage, and it fits that bill. These are commonly grown winter vegetables found in most European gardens. Kale of course being the new green in the American cuisine, has been used in soups for centuries. I chose to also add savoy cabbage, one of my favorites for a variety of flavor. But, feel free to add whatever you have growing or is in season where you live. You can omit the sausage, and add mushrooms for a vegetarian soup. The potatoes thicken the soup and you cam make it creamy or chunky. For the sausage, select your favorite which might include Loukaniko (Greek), Linguica (Portuguese), Keilbasa (Polish), Chorizo (Spanish).
One of the new trends in 2017, is convenience : Saving Time in the Kitchen!
I happen to receive a new Melissa's Organic Soup Starter Kit all packaged and ready to go for a quick soup dinner. No fussing over the vegetables, they bring you the basics in this handy pick me up kit. Just wash, trim and/or peel!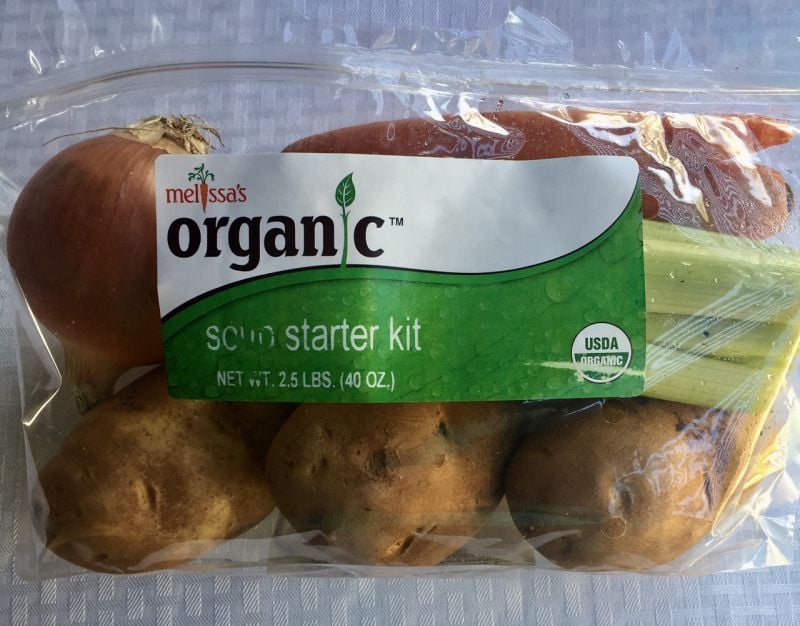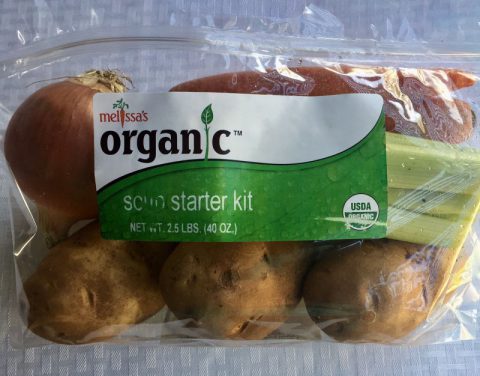 Included are these basic soup vegetables,and as you can see they're hearty and healthy items. All you need for a big pot of soup, just add rice, noodles, a store-bought chicken and you have soup!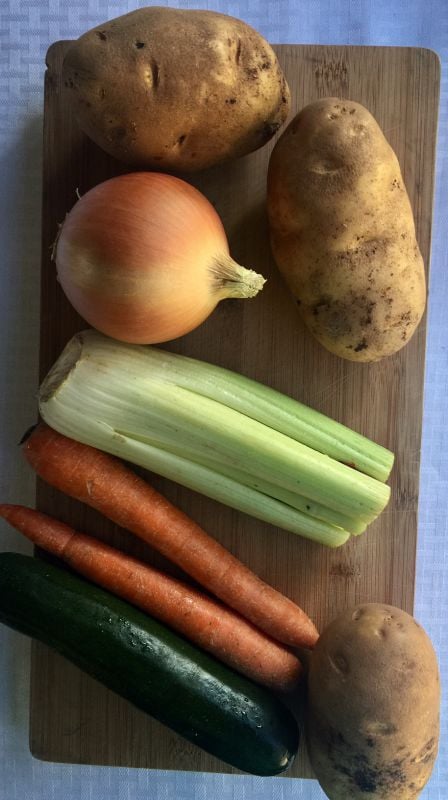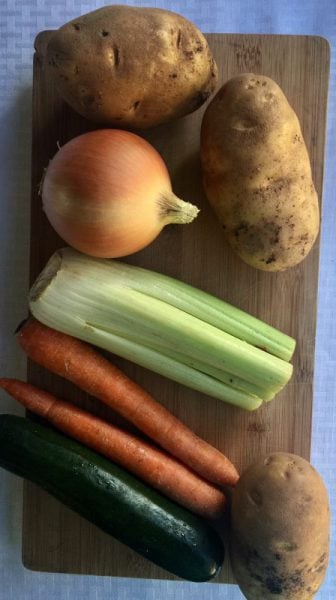 In my recipe I also added dark green baby kale and savoy cabbage .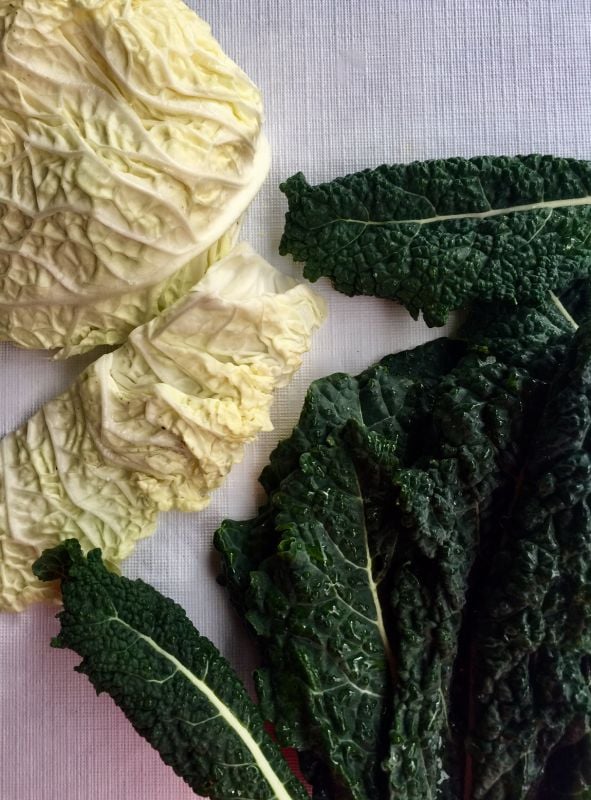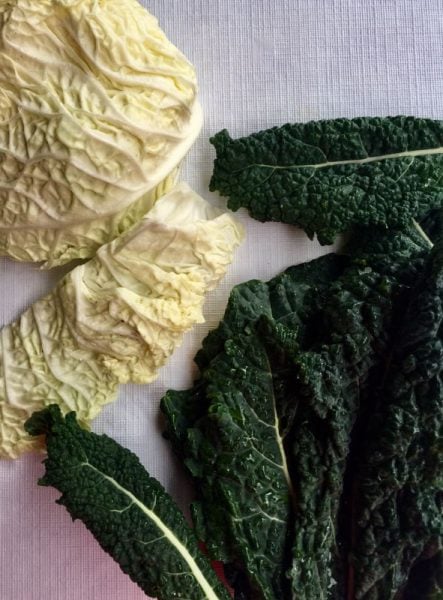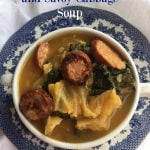 Kale and Savoy Cabbage Soup with Sausage
This soup is very common in European kitchens. It's basically everything you grow in a winter garden. Adding the sausage makes it a popular traditional Portuguese soup. Omit the sausage, saute mushrooms for a vegetarian meal.
Ingredients
1

yellow onion, diced

3

cloves

garlic, peeled, minced

2

large

potatoes

7-8

cups

broth or stock

2 -4

tablespoons

olive oil or more

3-4

teaspoons

kosher salt or more

5-6

cups

kale and/or savoy cabbage

2

sausages, sliced

freshly ground pepper

spanish paprika
Instructions
In a stock pot, over medium-heat add 1-2 tablespoons olive oil.
Add the diced onion and minced garlic and a pinch of salt.
Cook until translucent.
Add the peeled and diced potatoes and a pinch of salt and cook for 2-3 minutes.
Add the stock and a pinch of salt and bring to a simmer. Cover and cook for 10 minutes.
Heat a frying pan with 1-2 teaspoons of olive oil and saute sliced sausages or mushrooms, until slightly browned. Remove and drain on a paper towel. Reserve the oil.
Before adding the greens to the soup, use a potato masher and mash the potatoes to your desire. I mashed half the potatoes and let the other half chunky.
Add the kale and/or cabbage and bring the soup to a simmer. Cook until kale is tender. Add the sausage, Spanish paprika, salt and pepper to taste.
Add a couple of teaspoons or more of the reserved fat for extra flavor.
Before serving top with a drizzle of olive oil and serve warm.










Recipe Notes
For sausages use Loukaniko, Chorizo, Linguica, or Kielbasa. Or omit the sausage, and add mushrooms.
© 2017, Mary Papoulias-Platis. All rights reserved.