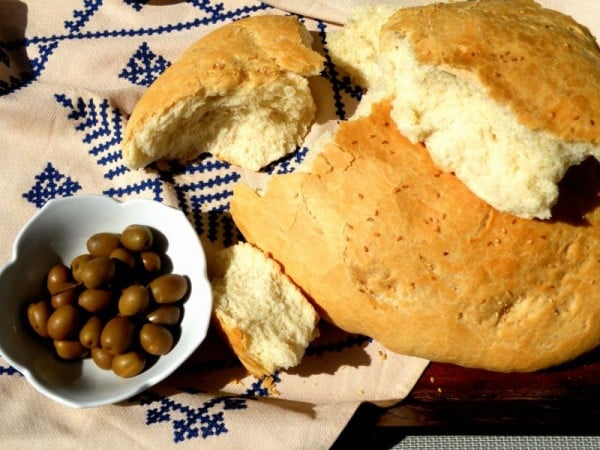 Clean Monday is celebrated with Lagana Bread, throughout Greece as the beginning of the Lent season for the Eastern Orthodox Religion, which lasts 40 days.  Patras is known for their elaborate carnival and celebration of this special day. The countryside's hills are brightly covered with flying kites, families having an outdoor picnic, and special foods are prepared and eaten. You may want to find a taverna where the menu serves up salads, olives, halva, along with this special bread, made only for this day.
Clean Monday is a special day where they call upon the Christians to begin the holy season with "clean hearts and good intentions". It's also a time to clean their spiritual houses, and begin rededicating themselves to a more holy and righteous way of living.
Today in Greece, this day is considered the first day of Spring! Greeks tend to celebrate with less fasting and more in outdoor activities and picnics. Traditional foods on this day may be octopus, olives, and shrimp. Along with eating and having the day off from work, kite flying, dancing, listening to music, and being together with family is the modern day approach.
I must begin by saying I have never heard of this bread until my sister-in-law, Vicky, called me last year, late Monday night, insisting I put this strange -sounding bread on my blog immediately. Only thing wrong is that she called Monday evening at 10:00 p.m. and the day was over!  By the way, this bread is eaten on " Clean Monday" only, which now has passed. I stayed up late that night, went through all of my many Greek cookbooks looking for something that sounded to me like the word "lasagna"!  By now, I was seeing double looking for several hours, so I went to bed, hoping to find one soon. The next  morning with a clear mind I went looking again.  I reached for "The Food and Wine of Greece" by Diane Kochillas, and found it.
Start a new tradition with your family, and I hope this recipe is a Spring  and Lent activity you can enjoy every year.
This recipe was posted last year, but I have updated the details of the holiday, but kept the recipe the same.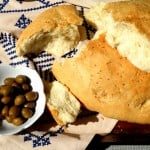 " Lagana" Bread for Clean Monday
This bread is made on Clean Monday, which is the beginning of the Lent season in Greece.
Ingredients
3

envelopes instant dry yeast

1/4

cup

sugar

7 to 8

cups

bread flour

2 1/4

cups

warm water

1

tablespoon

salt

5

tablespoons

substitute olive oil for lent, or butter

Olive oil

Sesame seeds
Instructions
In a small bowl, dissolve the yeast, sugar,and 1/4 cup of the bread flour in warm water. Cover and let stand for 15 minutes until begins bubble.

In your mixer bowl, or a large bowl, place 7 cups of flour and salt, mix with a whisk to blend.

Make a well and add melted butter.

Add yeast mixture.

Stir well with a wooden spoon.

Start your mixer on medium and mix for 5-8 minutes until it comes together and becomes smooth.

Or, place flour on your surface and knead for 10 minutes by hand.

Shape dough into a ball. Rub with olive oil. Place in an oiled bowl, cover and leave to rise. Let stand for 2 hours until doubled.

When dough has risen, remove from bowl and knead until it's down to it's original size.

( At this point I placed it in the same oiled bowl and placed it in the refrigerator covered.)

Divide into two balls - if you made the entire amount. Only one ball if you halved it.

Lightly oils your pan(s).

With a rolling pan, roll out the dough into a flat oval shape about 15 x 6 inches. Cover and let rise for 45-50 minutes until doubled.

Place in sheet pan and brush with olive oil and cover with sesame seeds.

Bake for 30 minutes in a 450 degree oven until golden brown. Place on wire rack to cool immediately.
Recipe Notes
Makes 2 large loaves I made one and cut this recipe in half. I used my mixer with the dough hook, and it worked beautifully. I also made it up the night before, let it rise once, and placed it in the refrigerator, let it rise one more time in the baking sheet pan and baked it in the morning-fresh. My bread was not flat, but high and fluffy.
Best of Health,
Mary
© 2011 – 2023, Mary Papoulias-Platis. All rights reserved.