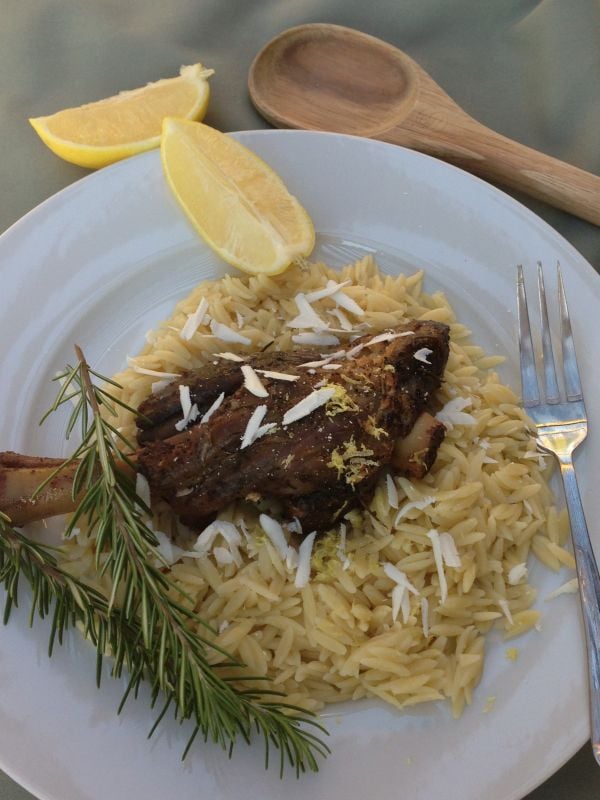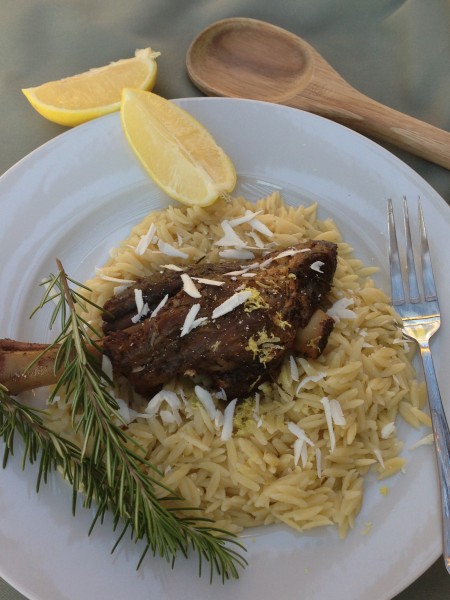 Lamb shanks are one of our "best-sellers" for our catering company and at home with our family. We don't make this dish very often, but when we do it's for a holiday or for a special occasion. A simply made marinade whisked and poured over the shanks for tenderness is made to enhance their rich deep lamb flavor- then later used to add to the orzo which we serve alongside the shanks. Serve these shanks the day they're made or they can be made the day before and re-heated for a larger crowd.
Lamb Shanks with Rosemary and Garlic Served with Orzo
This traditional lamb dish is marinated with garlic and rosemary for a very earthy and warm dish served usually during the holidays or for a special occasion. We serve orzo alongside made from the deep browning juices of the lamb. This dish is best when made the night before.
Author:
Mary Papoulias-Platis
Ingredients
12 lamb shanks
2 teaspoon salt
1 teaspoon pepper
4 cups cooked orzo
¼ cup tomato sauce
3-4 tablespoons olive oil
Mizithra or Parmesan cheese for topping
Marinade
4 cups red wine
2 cups olive oil
1 cup fresh lemon juice
4 large sprigs of fresh rosemary
½ cup whole fresh garlic, chopped
salt and pepper
Instructions
Preparation
Preheat oven to 400 degrees.
Salt and pepper both sides of each shank.
Place on a hot grill and brown on all sides, about 15 minutes.
(This can also be done in a hot skillet with a little olive oil.)
Place in a deep casserole or baker and pour marinade over the shanks.
Make sure there's enough liquid to cover the shanks.
Place sprigs around the shanks.
Cover the pan tightly with foil and place in the oven.
Bake for 4 hours. Remove and let cool for 10 minutes.
Serve with Orzo on the side.
Orzo
Bring salted water to a boil in a large pot.
Add orzo and cook until al-dente.(almost done)
Drain and place back in the pot.
Add 3-4 tablespoons of olive oil to pasta and stir gently to cover. Set aside.
While the shanks are resting, add about 1 cup of strained lamb juice to the pre-cooked orzo and stir. (You can add ¼ cup tomato sauce if desired)
Place over low-heat and re-heat until warm and add more juices if needed.
Serve with lamb.
Sprinkle the dish with Mizithra or Parmesan cheese.
Placing the shanks on the BBQ gives them a glazed browned crust which is important for keeping the shanks juicy.
This also can be done inside in a very hot skillet.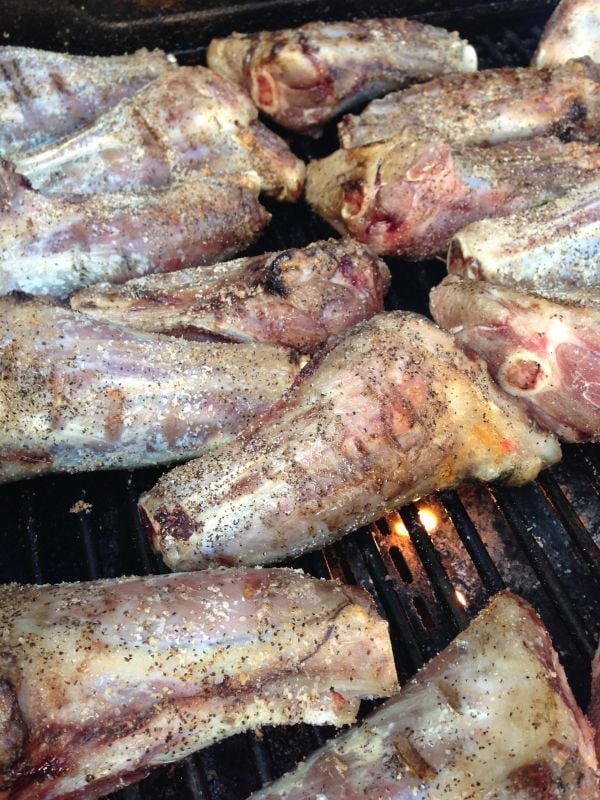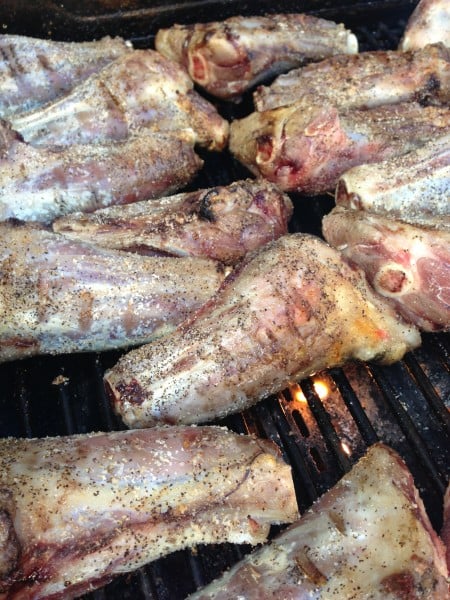 © 2012 – 2013, Mary Papoulias-Platis. All rights reserved.