This year's Natural Food Expo West took place at the Anaheim Convention Center. It was the largest show ever!  More exhibitors displayed their goods, record number crowds filled the floor's hallways, and buyers were eagering looking for the next food trend in the marketplace.  I attended the show for three days and discovered many new products, new front-list books to read on nutrition and our food system, and innovative new materials for my business and cooking classes.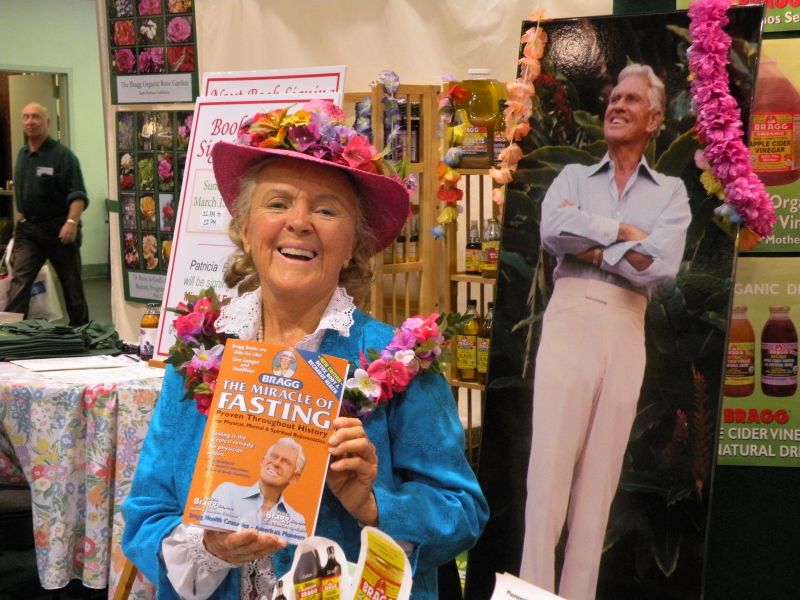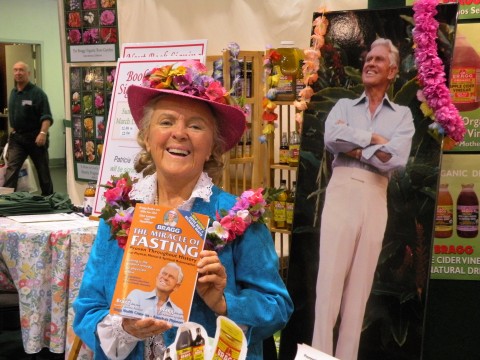 As I approached the hundreds of booths in the largest display floor, I came upon the Bragg booth, where Dr. Bragg was beginning a book signing. Here she's holding up her latest book on The Miracle of Fasting. When it was my turn, we discussed my cooking blog and what I did for a living, and she was kind enough to sign an extra copy for a give-away on my site.
We began what became an hour long visit, including a photo opportunity!
After she realized I was of Greek decent  she began to tell me of her travels to Greece, and their recent  purchase of Kalamata Olive Oil from a small farm in Greece , which is on it's way to America by ship for their new product list. http://bragg.com/index.html
From this short encounter, with many people waiting patiently for their turn in line to meet her,  I was introduce to her staff and had a lovely time discussing the subject of what makes a good olive oil. I also had the opportunity to meet Dr. John Westerdahl  PHD, MPH, RD, CVS, Director of Health Science for the company. He has many wonderful videos out on nutrition and you can find him here: http://www.youtube.com/watch?v=NxVuWQZBKAI talking about Avocados and their nutritional value.
Here is the book she signed for me to give you as a give-a-way, The Apple Cider Vinegar , Miracle Health System.
This best-seller explains the powerful health benefits of organic apple cider. Learn to use this natural source for many of your daily needs.  Included is a nutritional list of vegetable proteins, and tips on how to improve your overall health.
To enter to win this book, leave a comment below on your best tip for staying healthy! Simple as that. It can be your favorite morning pick-me-up, how you stay fit, best snack ever, or your secret to being happy. I will select the winner randomly. Please don't forget to leave your contact information. Good luck!  And thank-you Dr. Bragg!
© 2011 – 2022, Mary Papoulias-Platis. All rights reserved.