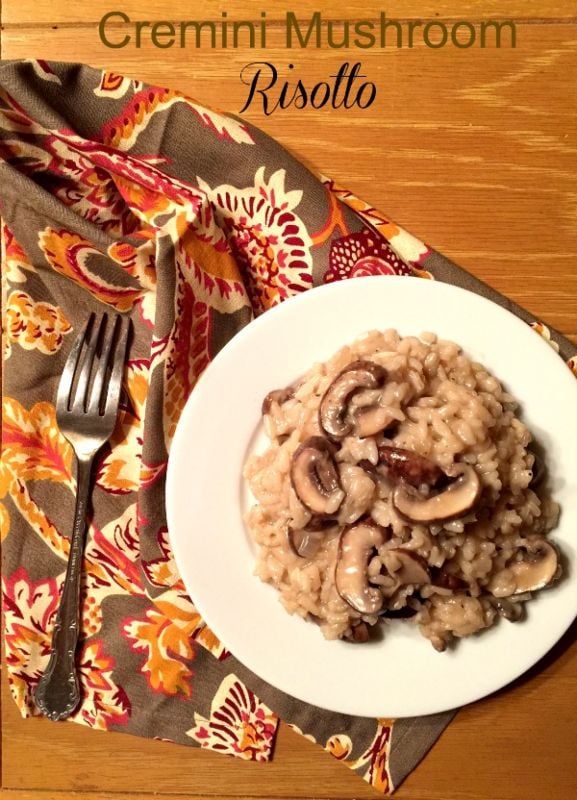 Last Saturday, I had the opportunity to visit a San Diego's Mountain Meadow Mushroom Farm with our local Les Dames group, and a Mushroom Risotto recipe for you all. We met up at the farm and our tour began outside with the owner, as he began by showing us the busy outside production area. We walked over to sectioned off  areas for the casing materials of Sugar Beet Lime, Grape Pomace and Peat Moss. He explained how important it is to use high grade compost for the production of high -quality mushrooms. The compost is compressed and made into long narrow rolls, so they can maintain the temperature of around 160-180 degrees. If the rows become too hot, they begin to smoke-not a good thing. This farm works in pristine conditions to be able to obtain all their sustainable practices.
On the weekends, they have mushroom compost available for the community to pick up. I have been sending my husband there for years to pick up compost for my roses and garden. Mushroom compost has no weeds and is one task I can eliminate  from my gardening chores. Just call ahead of time, for times and information.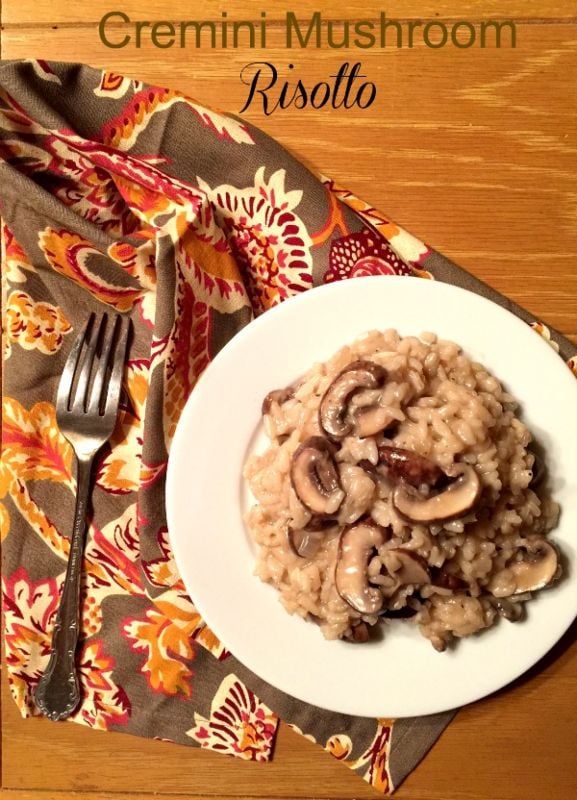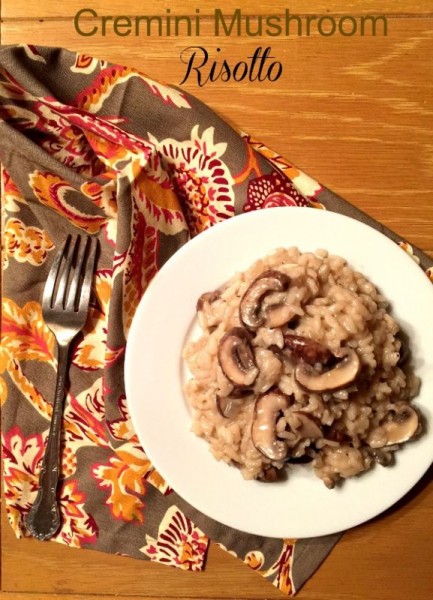 Back to the Farm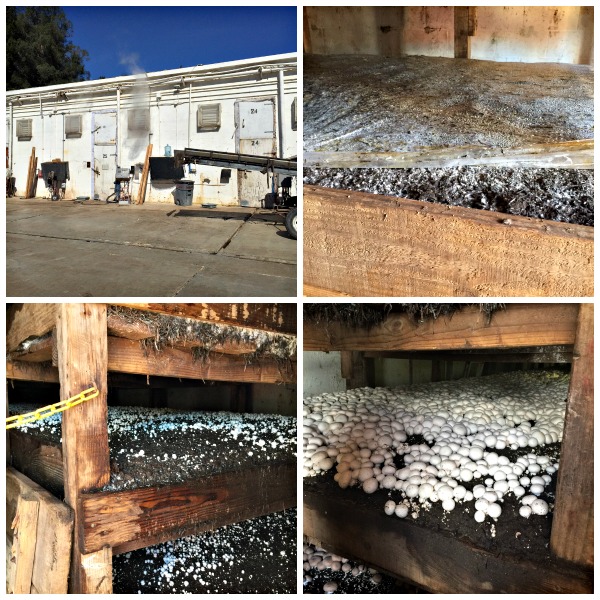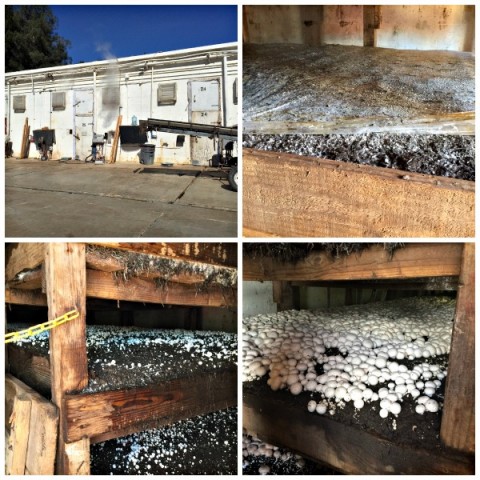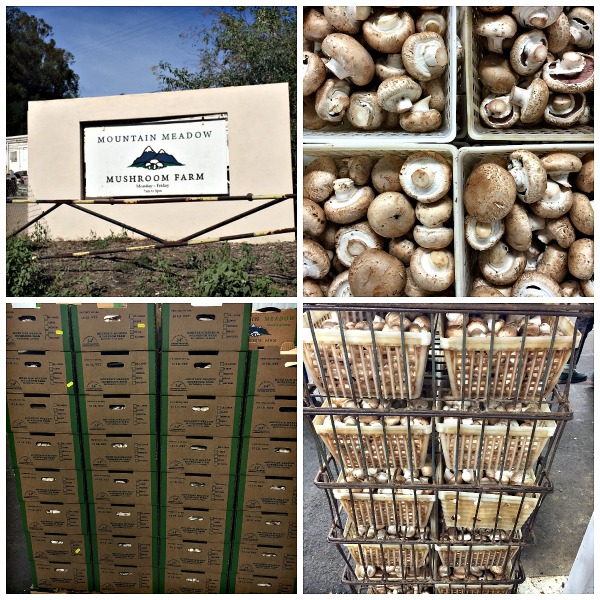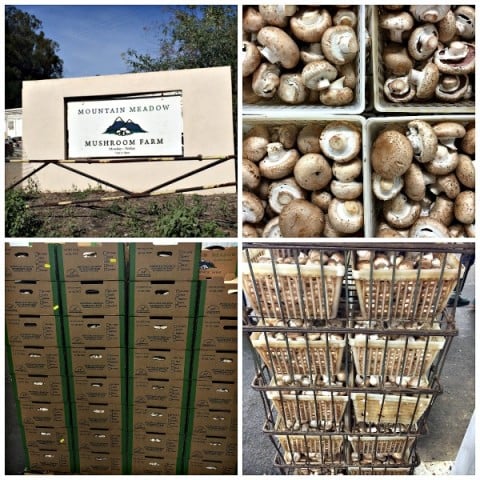 Along with making the compost which is a very active and precise method followed by the farm, they maintain several buildings for the growth of the mushrooms. These building are called Compost Rooms. In these room the mushrooms will grow to various stages, and when mature will be hand-picked by the workers up to 12,000 lbs. per building a day!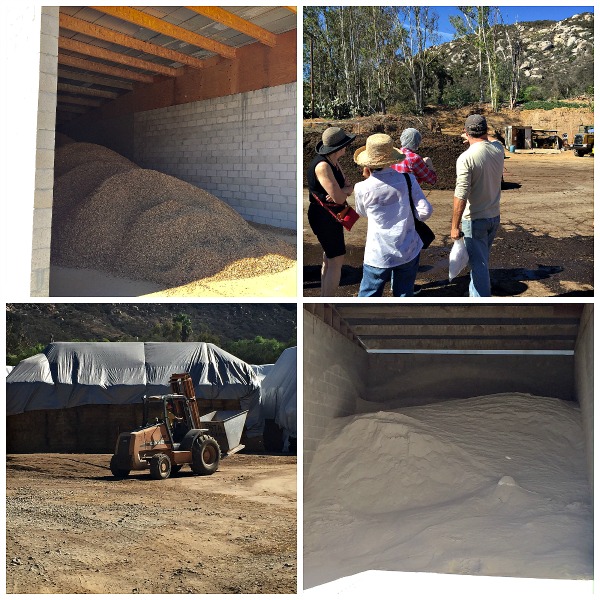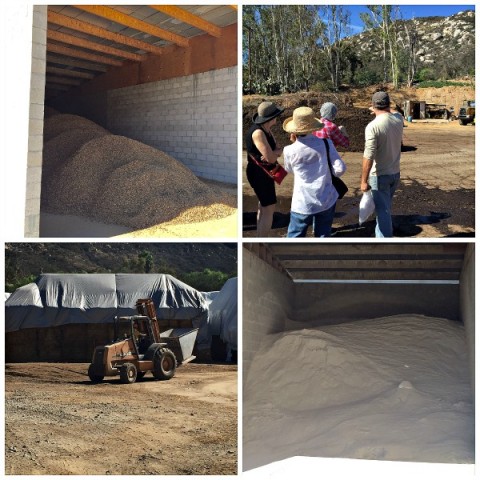 There are Six Phases of  Mushroom Farming
Phase 1 -Making mushroom compost. Piling in thin rows to prevent too much heat occurring. (pictured above by the tractor)
Phase 2 – Filling the beds and Peak-heat. Here they continue the process which pasteurizes the compost. (building pictured below, with the steam pouring out)
Phase 3 – Spawning. The rice seed is installed and inoculated with the mushroom spores. Here they begin to adhere to it and grow. As it grow it produces CO-2. As it heats up in the building , air conditioners are  turn on to begin the cooling process, called Flushing. Flushing can take 11 days to be completed. Harvesting then begins. (pictured below in all three stages)
Phase 4- Casing is made to hold moisture for the compost. First ingredient for the casing is the Sugar Beet Lime. Secondly, the Grape Pomace is added. and Thirdly, the Peat Moss is added.
(pictured above in the bins)
Phase 5 – Pinning Process. Mushrooms continue to grow, as much as double their size in 24 hours. This is day 8 to 9 in the growing process.
Phace 6 – Harvesting. An interesting fact is that they can pick up to 12,000 lb. a day of mushrooms.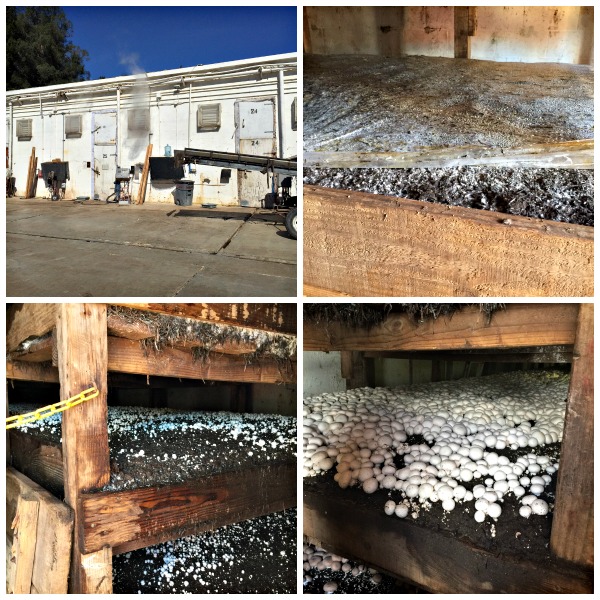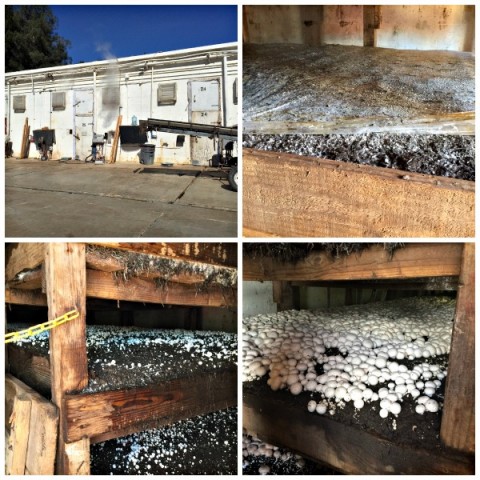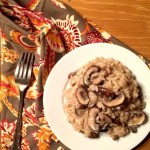 Mountain Meadow Mushroom Tour and Risotto Recipe
This is my go-to recipe for risotto. I added all cremini mushrooms but feel free to add several varieties.
Ingredients
1

small onion

diced

2

tablespoon

olive oil

1 1/2

teaspoons

salt

8-10

mushrooms, sliced

2

garlic cloves, minced

1/2

teaspoon

pepper

3/4

cup

vermouth or wine

1 1/2

cups

Arborio rice

6

cups

stock or 1/2 stock, or 1/2 cup water

3/4

cup

Parmesan cheese and extra for topping

drizzle of olive oil on top
Instructions
Place the stock in a saucepan and keep warm.

Heat a heavy bottom pan over medium heat and add the oil.

Add the onions and salt and sweat until clear about 6-8 minutes.

Add the garlic and cook another 30 seconds.

Add the mushrooms, season with pepper and cook for another 5 minutes, until all the liquid evaporates.

Add the arborio rice and toast for 3-4 minutes. Stirring constantly.

Add the vermouth and stir until absorbed.

Add the warm stock one cup at a time, allowing it to absorb before adding the next.

The risotto will take 25-30 minutes. Remove from heat and add the grated cheese.

When serving add the olive oil and top with extra grated cheese.

Serve immediately.
Recipe Notes
Risotto is ready when you scrape the bottom of the pot with a spoon and a line is drawn.
When you are ready to make another risotto here are a few more recipes!
Pumpkin and Pancetta Risotto with Parmesan
Spring Garden Vegetable Risotto
Enjoy making your Risotto,
Mary 
© 2015 – 2022, Mary Papoulias-Platis. All rights reserved.