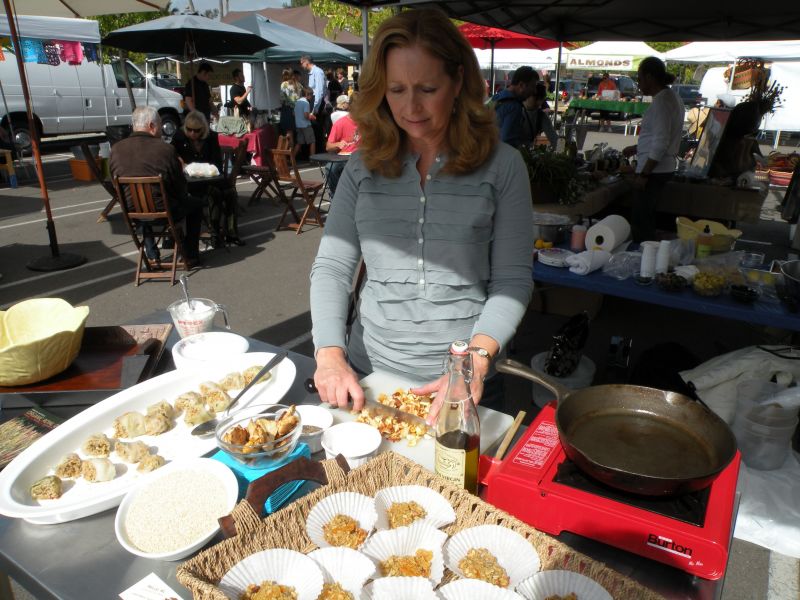 This Sunday I had the opportunity to teach about seeds and grains at the local Rancho Santa Fe Farmers' Market.  My theme today was "quinoa". A seed from South America with 8-amino acids, with iron and fiber!  This seed is referred to as having the highest amount of protein. I had three different dishes to showcase with this seed;  stuffed cabbage with quinoa was served with a yogurt sauce,  a roasted root-vegetable and mushroom quinoa hash, and a fresh market basil-vegetable quinoa salad. For a sweet, I had an apricot-nut and quinoa cookie.
It was a beautiful morning with lovely music, and many pleasant happy vendors, coming out to sell their products. There' s a special feeling when you arrive at the market early and watch as everyone sets up their tent, in preparation for the opening.  The event couldn't have happened without the help of the following list of vendors who contributed to my open-air cooking demo. I was able to walk around the market and pick out fresh vegetables, mushrooms, olive oil, herbs, and feta cheese from the various booths and incorporate them in my dish.  During the event I had several questions about quinoa and I would like to share them with you in a quinoa post in a few days, and how beneficial eating quinoa can be to you and your family.
Nicolau Farms – www.nicolaufarms.com
Daniel sells goat cheese feta and was kind enough to donate several containers for my demo that day. They are located in Modesto with around 150 goats on their ranch. Goat cheese is the cheese used mainly in Greece. I was happy to find them because their flavor and texture is the closest to what I had eaten in Greece. Drop by and visit Daniel he's a great guy and carries fresh wonderful products.

Thyme of Essence- www. thymeofessence.com
Akram Atties sells California organic olive oils, with his wide variety of  organic spices. He's definitely an expert in the area of helping you select the right olive oil for your needs. He was also kind enough to bring over a bottle of his most aromatic organic extra-virgin olive oil. It enhanced the flavors of my dishes along with all the sauteed vegetables, herbs and mushrooms added to the quinoa salads.  I solely combined his organic olive oil and lemon juice for a simple and fresh dressing.
Sage Mountian – www.sagemoutain.com
The most beautiful greens and fresh vegetables that can be found, are here every Sunday. I was able to pick up fresh bright-green broccoli, tender spinach leaves, and young fresh garlic to add to one of my salads. They were brimming with an earthy taste and a crisp morning bite . A real treat for my guests. Thank-you Sage Mountain for your generosity.


Chanterelle Mushrooms  – It was my luck to be next to this wonderful stand selling mushrooms.  As I walked up he handed me a bag  full of these golden morsels. Their aroma and earthy freshness, filled the air as I sauteed them in olive oil. It drew more people that any other scent!  Thank-you for being so generous with such a perfect product.
Archie's Acres – www.archiesacres.com
As I approached her stand on Sunday I could smell the sweetness of her freshly picked basil, as it lead me to her lovely farm stand. I was able to pick up an entire plant to use throughout the day and I do thank her for her thoughtful donation. The smell of basil mingled throughout the sauteed vegetables and mushrooms which brought a Spring freshness to my dish.
Must try:
Viva Pops – www.vivapops.com
Fresh fruit pops that explode in your mouth with the most satisfying flavors! Lisa Altman  is the owner and develops these amazing creative bars for your enjoyment!
Miss Sushi – www.misssushisandiego.com
Kate Murray has the most creative sushi I have seen and tasted at the farmers markets!  Her flavor combinations are unforgettable. I tried her caterpillar and it was not only fresh but her sauce was memorable!  Her talents are worthy of a stop by when visiting.

We had the pleasure of listening to wonderful and lovely music all Sunday long by: Todo Mundo: www.todomundomusic.com. A combinaion of reggie, flamenico, bossa nova, and fusion was the entertainment of the day.
Visit a farmer's market today!
Mary 
© 2011 – 2022, Mary Papoulias-Platis. All rights reserved.